Two of Major Fleet's most outstanding pilots were Howard Paul Culver and Torrey H. Webb.
Howard Paul Culver was born in Eau Claire in 1893 and grew up in Ashland, Wisconsin. Paul, as he preferred to be called, graduated from St. John's Military Academy in Delafield and received a degree in Mechanical Engineering from the Illinois Institute of Technology. He learned to fly at the Curtiss School of Aviation in Newport News, Virginia. Culver was a test pilot and flying instructor during the first World War and was an army airmail pilot from May 15 to August 9, 1918. Of the first airmail pilots, Culver was the only one who had more than four months of flying experience. During his airmail service, Culver flew over 3,000 miles, logging 48 hours of flying time and suffering only one forced landing in 36 trips.
After graduating from Columbia and serving in the army, Lieutenant Torrey Webb completed his aviation training at Ellington Field, where he came to Major Fleet's attention. His good record spoke well for him, and Fleet hired him for the airmail service. Webb flew over 3,500 miles as an airmail pilot, spending 45 hours in the air. As did Culver, Webb suffered only one forced landing in his airmail career.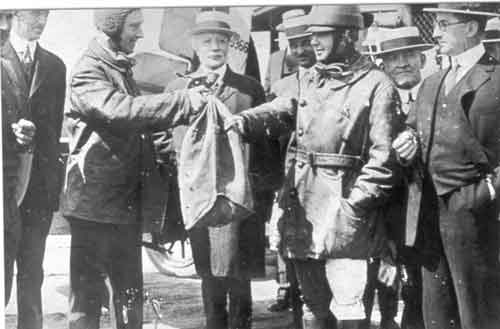 Lieutenant Torrey Webb poses with a bag of airmail before it is loaded into his Curtiss Jenny JN-4B airplane on the morning of May 15, 1918.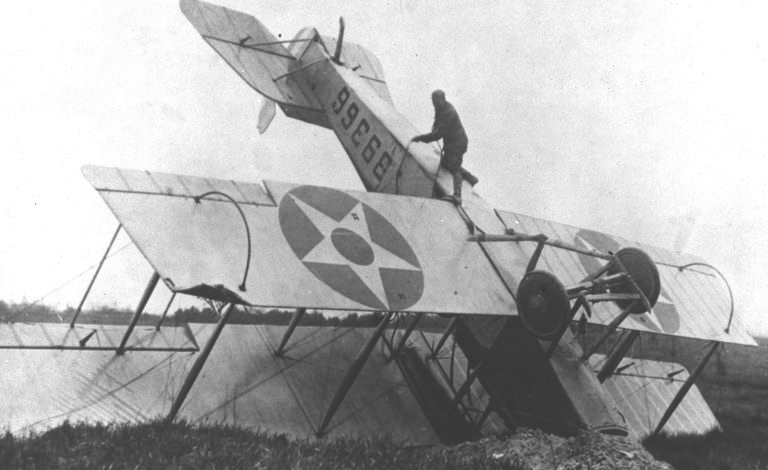 Lieutenant Webb crashed his Jenny airplane nose first into the ground on one flight. Fortunately, Webb emerged unscathed from the accident.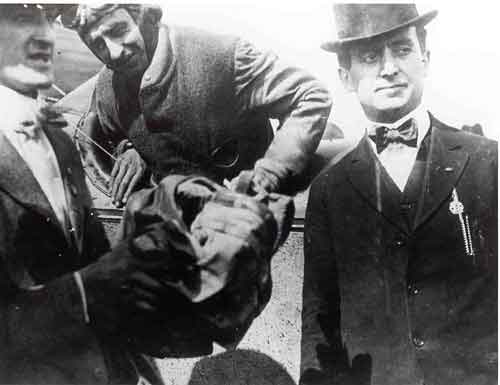 Lieutenant Paul Culver poses with dignitaries and the first bag of airmail before leaving on his historic flight on May 15, 1918.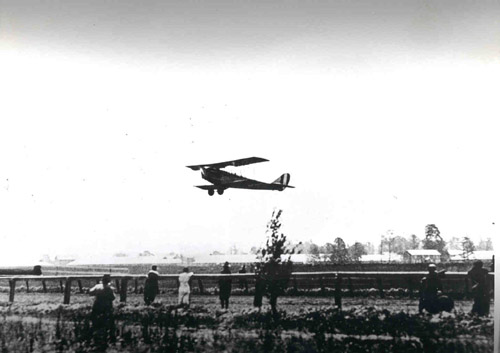 Lieutenant Torrey Webb, May 15, 1918, on takeoff in his Jenny from the landing field the Army had set up at Belmont Park in New York.
---
Learn more:
CULVER
H. Paul Culver made his historic airmail flight between Philadelphia and New York on May 18, 1918. Culver waited and waited that day for Lieutenant Boyle to arrive with the mail from Washington, D.C., not knowing that Boyle had crashed his airplane in Maryland and the mail was not coming. Culver finally took off for New York at 2:15 pm, carrying the 200 letters from Philadelphia. He landed safely at the Belmont Park race track, which was being used as a temporary airmail field.

On May 30, 1918, Culver had a particularly close call when he flew out one afternoon after waiting all morning for a fog to lift. With postal officials impatient for the pilots to keep to the schedule, Culver finally took off at 1pm in the fog. He was forced to climb to 4,000 feet to get above the clouds. He tried to track his progress through breaks in the cloud cover, having an erratic and unreliable compass. When he thought he was near Philadelphia, he came down to break under the clouds, breaking free of them at only 800 feet, directly over downtown Philadelphia. Culver quickly pulled back up and continued on as best he could to Bustleton airport.
WEBB
Although the JN-4 "Jenny" was most often used by the army airmail pilots, the service did experiment with another airplane. Lieutenant Webb was asked to fly a Curtiss R-4 aircraft on June 6, 1918. Webb was to carry the mail from New York to Boston on a trial run to connect the two cities by air. Webb carried a passenger, mechanic Robert Heck, with him on the flight. Lost because of bad weather during the trip, Lieutenant Webb landed in a pasture to get his bearings, then continued on to Franklin Park aviation field in Saugus, Massachusetts. On landing, the airplane hit a mudhole, flipping over. Fortunately neither Webb nor his mechanic were injured. The airplane was repaired, and Webb returned to New York five days later with mail and another passenger, Boston's postmaster William Murray. Webb noted that weather wasn't much better on the way back. "Visibility was zero-zero, and I just skimmed over the telephone poles all the way."