Although he had little flight experience when hired, James C. Edgerton proved to be an excellent pilot. A month after the service started, postal officials lauded Edgerton for having made 20 perfect flights without " a stop en route, and without damaging a airplane." As an army airmail pilot, Edgerton flew 52 trips over a total of 7,155 miles, spending 107 hours in the air and making only one forced landing. When the Post Office Department took over airmail service, Edgerton moved up in their ranks, becoming the Chief of Flying.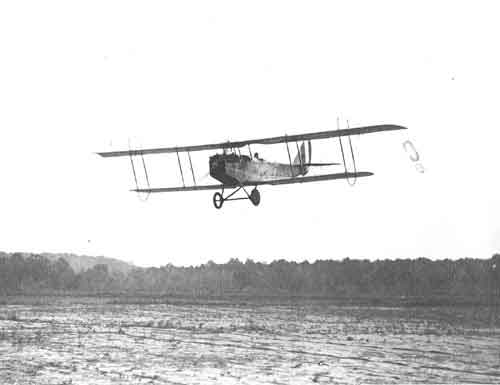 Lieutenant James C. Edgerton piloting his Curtiss Jenny JN-4B airplane on takeoff from Philadelphia's Bustleton Airport, heading for Washington, D.C.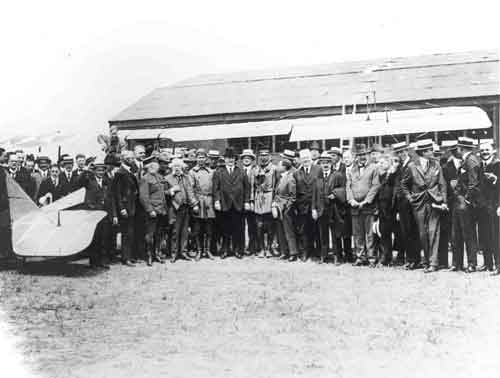 Lieutenant Edgerton surrounded by Philadelphia dignitaries prior to leaving for Washington, DC on the morning of May 15, 1918.
---
Learn more:
Carrying mail brought down from New York the second day of service, Edgerton took off at 6:30 p.m. May 16, 1918 on the Philadelphia to Washington leg of the route. Major Fleet ordered a line-up of cars to light the Polo Fields for his flyer so Edgerton would be able to find the field for landing. During his flight, Edgerton flew into a thunderstorm at 10,000 feet. "One instant the airplane became a tremendous elevator, leaping skyward hundreds of feet," he noted, saying, "then the bottom promptly falls out , dizzy fall of hundreds of feet. I was attacked by solid waves of air."
When he landed, Edgerton and his mechanic looked over the airplane for damage. The wooden propeller had taken a beating in the storm. Paint was chewed off; slivers of wood had been chipped away, unbalancing the propeller; and the fuselage had been flooded with water.