Born on March 6, 1887 in Montesano, Washington, Reuben E. Fleet attended aviation training at the army aviation school in San Diego, California. By 1918, the Fleet had become a Major and was supervising the pilot training of thousands of pilots. Major Fleet was assigned the complex task of setting up the first regularly scheduled airmail service. He was assigned pilots, airplanes and mechanics; given the three-city route to cover; and told to make everything ready in less than two months. Astoundingly, Fleet pulled everything together, and the service began on May 15, 1918, just as it had been announced it would. Fleet left the Air Service soon after that. In 1923, he formed Consolidated Aircraft Corporation. In 1949, he retired from the firm, and in 1975, at the age of 88, he passed away.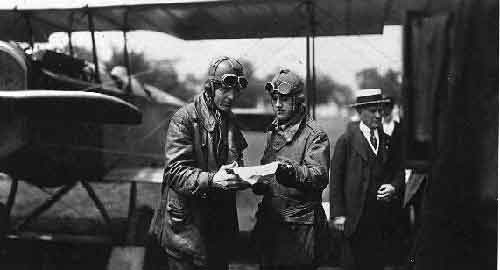 Major Reuben Fleet (left) shows Lieutenant George Boyle a map of the flyway between Washington, D.C. and Philadelphia's Bustleton Airport. Unfortunately, Boyle proved quite inept at following either a map or verbal directions and was removed from the airmail service after only two flights.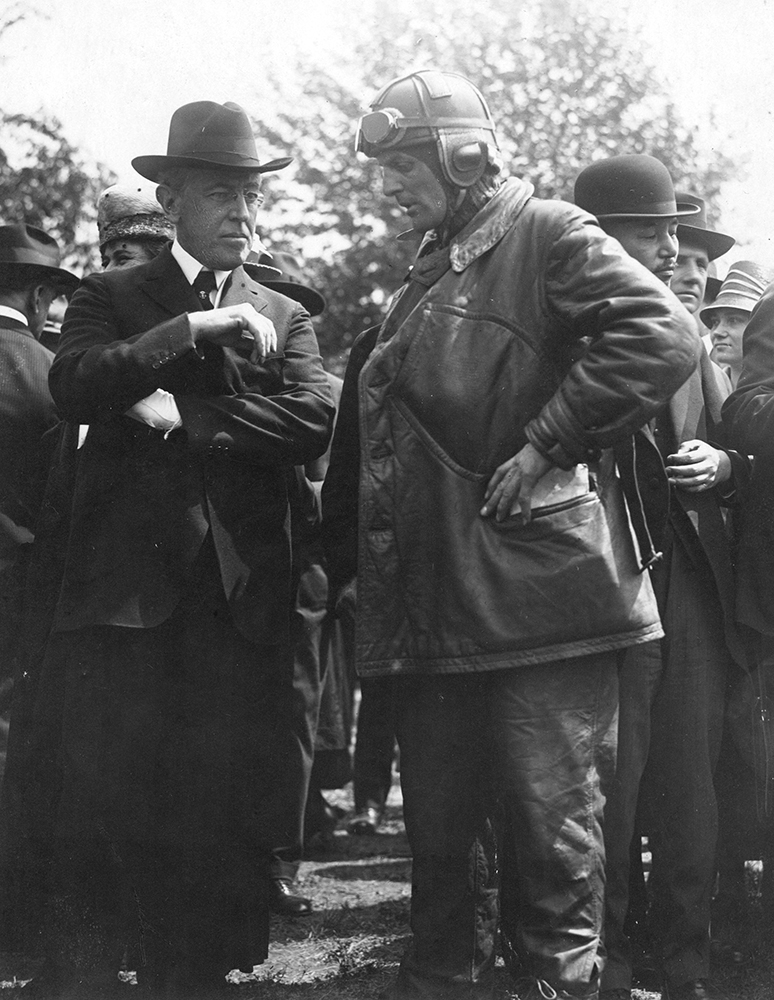 President Woodrow Wilson takes a moment to wish Army airmail pilot Major Reuben Fleet good luck on his upcoming historic flight.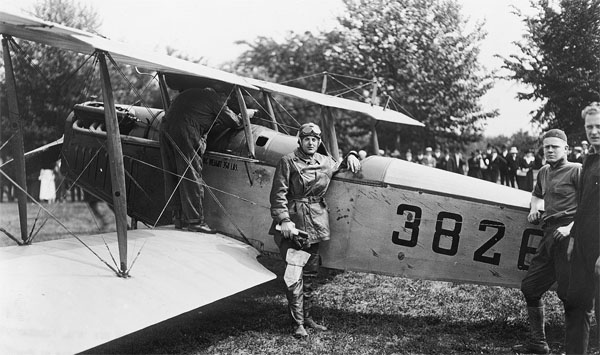 Major Reuben Fleet stands in front of a Curtiss Jenny JN-4B airplane on May 15, 1918. Fleet was responsible for getting the service up and running the first day, and flew this airplane into Washington, D.C. early on the morning of May 15.
---
Learn more:
Major Reuben Fleet faced the enormous challenge in setting up the world's first regularly scheduled airmail service. A difficult enough assignment became even harder when his airplanes were delivered only partially assembled. As Fleet, his pilots and mechanics raced to put the airplanes together, they found even more problems. The pilots used a pencil to temporarily plug a hole in one airplane's gas tank.
Postmaster General Burleson, confident of the service's success, had issued a press release announcing the May 15 start date, and even ordered a 24-cent airmail stamp to be printed and released for those flights.

Fleet had been told to pick four pilots. He chose Lieutenants Howard Paul Culver, Torrey H. Webb, Walter Miller and Stephen Bonsal. Postal officials selected two more, Lieutenants James C. Edgerton and George L. Boyle. Although Edgerton and Boyle did not have much flying experience, they did have great connections. Edgerton's father was a purchasing agent for the postal service, and Boyle was engaged to the daughter of an Interstate Commerce commissioner.
Two days before the service was to begin, Fleet and his officers (except Boyle) traveled by train to New York City to pick up their airplanes. The Jenny training airplanes had been modified for postal use and were delivered to the landing field at Hazelhurst in crates. Fleet and his crew managed to assemble two of the modified airplanes and flew one, along with a borrowed Jenny, south in preparation for the May 15 flights. Bad fog slowed Fleet's progress, and in the end he flew the Jenny that was scheduled to leave Washington, D.C. into that city just 25 minutes before its scheduled departure.