Having done good business manufacturing airplanes during the first World War, Boeing was almost out of the aircraft manufacturing business when the war, and their military contracts, ended. For a short while, William Boeing kept his company alive by selling furniture and boats. Boeing continued to work on his sea boat series. Without the hefty wartime military contracts, the company struggled until it found financial salvation in postal funds. The manufacturing segment of the company made money rebuilding some military de Havilland-4 airplanes while Boeing Air Transport snagged an important airmail contract. On March 3, 1919, Boeing and airmail pilot Eddie Hubbard made the first U.S.-international airmail flight, carrying mail from Vancouver, Canada to Seattle, Washington. Military contracts slowly returned, as Air Mail Service continued to fund the company's growth.

Boeing B80 aircraft.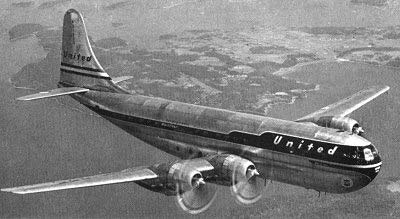 A Boeing 377 Stratocruiser in flight.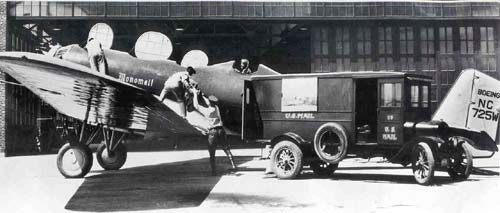 Pitcairn mailwing aircraft.
---
Learn more:
In 1925 Boeing produced its first transport airplane, Model 40 (M-40), a single-engine craft. Its successor, M-40A, built in 1927, was the first mail and passenger carrier. The company's trimotor craft, the M-80, was produced the next year. In 1930 the company introduced its streamlined Monomail airplane. Although this craft was not produced in numbers as large as the M-80, it represented another step forward in the company's airmail transportation system.
Still enjoying a series of profitable airmail contracts, Boeing was able to increase its passenger service. The B 247 twin-engine airplane, built in 1933, carried 10 passengers, 18 fewer than the M-80 could carry. The smaller passenger capacity represented an acknowledgment that passenger traffic had not grown as quickly as hoped. Until it did, Boeing and other airline companies continued to rely on airmail funds for survival and growth.
Related links:
» Historic Aircraft
» Rest of the Best - Hubbard
» Contract Airmail Route Covers
» Turning it Over