The Stinson SR-10F Reliant was part of a series of powerful cabin airplanes outfitted as well-appointed executive and business aircraft or as sturdy utility craft and airliners.
On loan from the Smithsonian Institution National Museum of Air and Space, the Stinson SR-10F Reliant on view at the National Postal Museum was used in a series of airmail pick-up experiments by All American Aviation.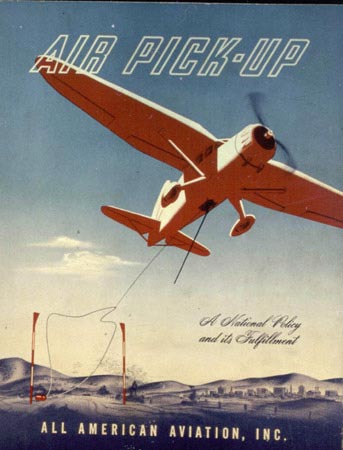 Posting advertising the All American Aviation Pickup service.

A Stinson Reliant airplane on display at the National Postal Museum.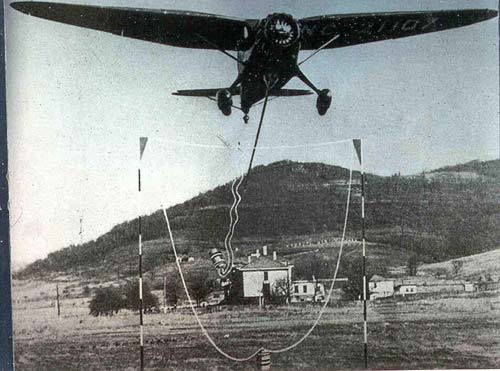 Stinson Reliant airplane making a mail pickup.
---
Learn more:
The Stinson Reliant was a ruggedly built airplane made mostly of welded chrome-moly steel tubing structures covered with fabric. The fuselage framework was faired to shape with wood formers and fairing strips. The fuselage forward of the doors was covered and faired with a duralumin sheet that included removable engine accessory panels. The single strut-braced, double-tapered wing was built with a girder-type spar with riveted square aluminum tubing ribs attached to the spars with riveted gussets. The leading edge was wrapped with duralumin sheet and the ailerons and slotted vacuum-operated wing flaps were of similar construction. The fabric-covered tail assembly was built of welded steel tubing with aerodynamically-balanced control surfaces and an adjustable horizontal stabilizer. The aircraft had a nine-cylinder Pratt and Whitney Wasp Junior radial that developed 450 hp for takeoff and it was usually equipped with an aluminum two-blade Hamilton Standard constant speed propeller. The wide-tread cantilever landing gear was equipped with low-pressure tires and hydraulically-operated disc brakes. The SR-10F Reliant came equipped with a full complement of options including: instruments for poor weather flight, 12-volt battery system, electric starter, cabin heater and ventilation system, ash trays, cabin assist straps, shatter-proof glass, roll-down windows, navigation lights, landing lights, and leather upholstery.
- Text courtesy of the Smithsonian Institution's Air and Space Museum
Related links:
» Pick up Service
» Historic Aircraft
» Contract Airmail Route Covers
» Turning it Over