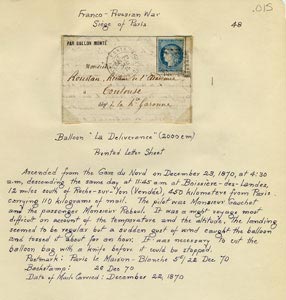 On August 17, 1859, Indiana balloonist John Wise made the world's first official airmail flight when he carried mail on an ascent from Lafayette, Indiana to Philadelphia, Pennsylvania. The Lafayette postmaster entrusted Wise with 123 letters and 23 circulars for the voyage. Unfortunately, the wind was blowing the wrong way, and Wise was forced to descend thirty miles south of Lafayette.
A few years after Wise's experiment, balloons were called upon to carry mail on an irregular basis during the Franco-Prussian War. Message-filled balloons were sent out of besieged Paris and over the Prussian lines. The first balloon lifted off from a square in Montmartre on September 23, 1870. The balloon, "Le Neptune," carried over 200 pounds of mail out of the city.
During the Franco-Prussian War, Parisians also maintained contact from within and without the city through pigeon post. The pigeons carried early microfilmed letters strapped to their legs. The letters, reduced more than 20 times onto a fragile collodion film, were rolled, inserted into quills and fastened to the pigeon. An average quill contained as many as 30,000 messages. If the pigeons survived the weather and snipers, their messages were enlarged on a screen. A group of clerks copied each message and mailed it in an envelope to the addressee. The National Postal Museum has copies of both balloon mail and microfilmed letters from the Siege of Paris.