In 1845 and 1847, Congress revolutionized mail service by setting standardized rates and authorizing production of prepaid postage stamps. During that brief transitional period, postmasters in numerous cities issued stamps of their own design now called "provisionals." Three of these great rarities, issued in the greater Washington, D.C., area are shown here.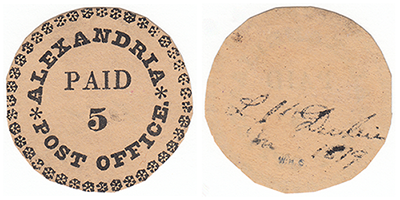 Alexandria, Virginia, postmaster provisional and reverse signed by stamp dealer "L.W. Durbin/July 1879," 1846.
Courtesy of William H. Gross.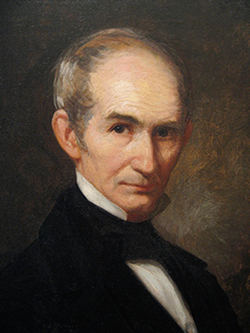 Alexandria's Postmaster Daniel Bryan issued provisionals, but few survived because patrons often affixed them with wax. This unused cutout shape is one of six known on buff paper. Daniel Bryan served as postmaster of Alexandria for thirty-three years. Alexandria was part of the District of Columbia until it ceded back to Virginia in 1847.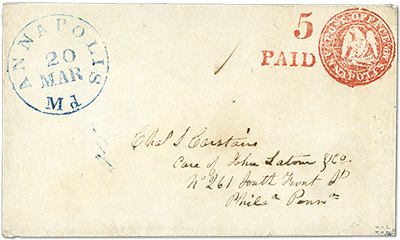 Annapolis, Maryland, postmaster provisional on cover, 1846.
Courtesy of William H. Gross.
Annapolis Postmaster Martin F. Revell issued this example of an Annapolis provisional, one of two recorded. It bears a negative eagle and shield circular handstamp. He applied the "5" and "PAID" separately.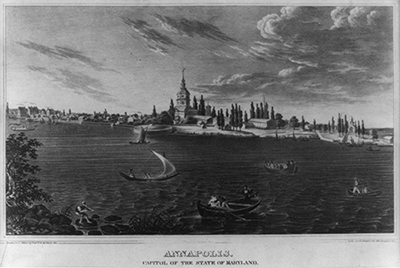 Annapolis, capital of the State of Maryland.
Courtesy of Library of Congress.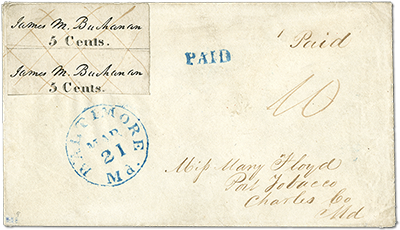 Baltimore, Maryland, postmaster provisional pair on cover, 1845.
Courtesy of William H. Gross.
This 5-cent provisional pair, issued and signed by Baltimore's Postmaster James M. Buchanan, is one of two known multiples of a Baltimore provisional on or off cover. Combined with the postmark and paid markings, receipt of this must have excited Miss Floyd.