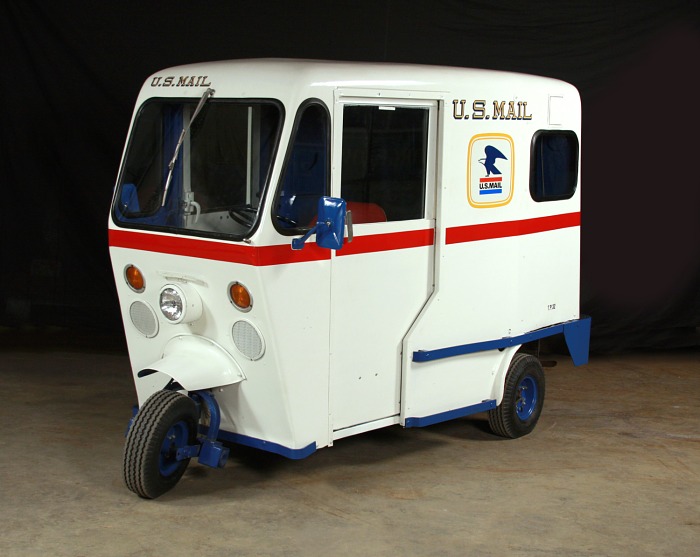 Post-war booms in business and employment fueled an increase in mail volume. More mail flowing into individual mailboxes meant more mail shouldered and delivered by America's letter carriers. As cities spread and mail volumes escalated, delivery systems were strained to the point of breaking and letter carriers were pushed to the point of exhaustion.
The Department responded by putting its carriers in vehicles. This allowed them to bring more mail on their daily rounds. The hunt for the right vehicle began in the early 1950s. Because of the vast differences in terrain and climate across the United States, from the Rockies to the desert, Minneapolis to Miami, finding the optimal vehicle was difficult. Postal officials first sought vehicles that were lightweight, maneuverable and able to withstand the rigorous demands of mail delivery service.
The first large-scale purchase of vehicles for letter carriers included this odd looking three-wheeled, lightweight conveyance known as a "mailster." They had done well in Miami, Florida, tests. But their success in that temperate climate and even terrain did not translate well to the rest of the nation. Vehicles could be immobilized in as little as three inches of snow. The three-wheel design left mailsters susceptible to tipping over if cornering over 25 miles per hour or if caught in a wind gust. One carrier even complained that his mailster was tipped over by a large dog.