NOTED AMERICAN ARTIST FRANCIS ("FRANK") D. MILLET died on Titanic. The Millet Family Papers at the Smithsonian Archives of American Art contain three folders of letters addressed to Lily Millet (his widow) and Laurence Millet (his son) in the days after the sinking. As the largest intact archive of Titanic condolence letters, they offer insights into how the disaster was perceived and communicated by high society in England and America. They also show the changing etiquette of bereavement in the Edwardian era. Although intimate personal letters such as notes of sympathy were expected to be handwritten, the rising popularity of typewriters and telegrams is evident.
Crowd Awaiting Titanic Survivors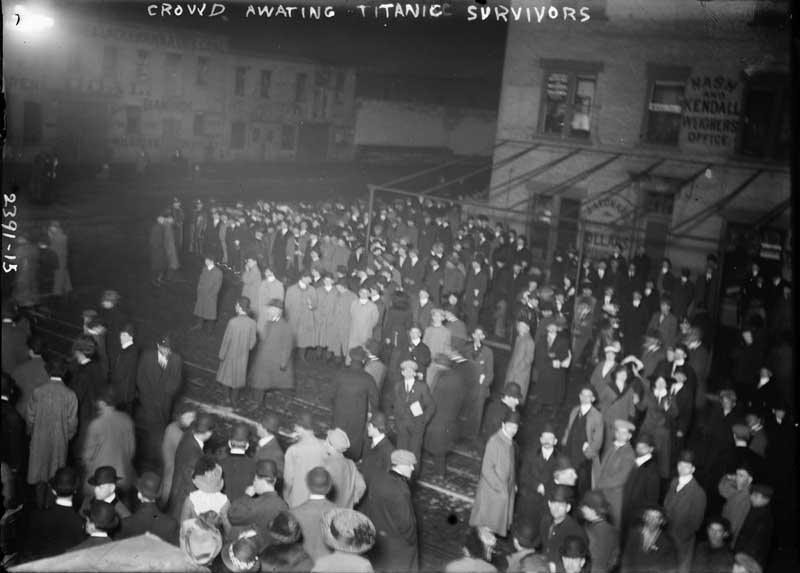 Crowd Awaiting Titanic Survivors
Courtesy Library of Congress
Condolence telegram

Condolence telegram, 1912
Theodore Ely condolence letter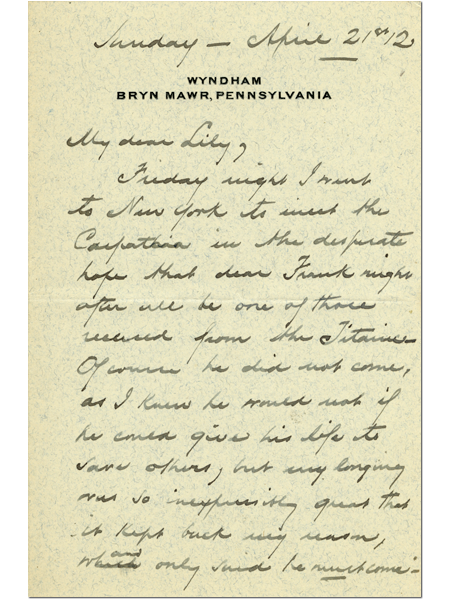 Theodore Ely condolence letter, 1912
Confusion reigned after Titanic's sinking as wireless operators and the press broadcast rumors. Thirty thousand people—including reporters, relatives of Titanic passengers, and the curious—greeted the rescue ship Carpathia when she docked in New York on April 18, 1912.
"I went to New York to meet the Carpathia in the desperate hope that dear Frank might after all be one of those rescued from the Titanic."
---
William A. Coffin condolence letter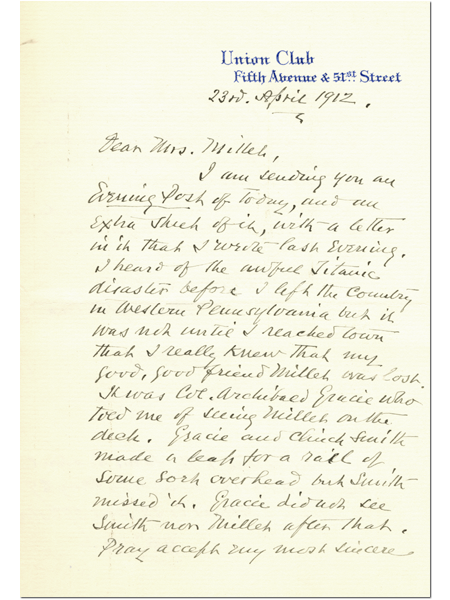 William A. Coffin condolence letter, 1912
Details of the disaster spread quickly in upper class circles. Titanic survivors J. Bruce Ismay and Colonel Archibald Gracie as well as victims John Jacob Astor IV and James Clinch Smith were all members of New York's elite, all-male Union Club.
"Col. Archibald Gracie told me of seeing Millet on the deck. Gracie and Clinch Smith made a leap . . . Gracie did not see Smith nor Millet after that."
---
Algernon S. Frissell condolence letter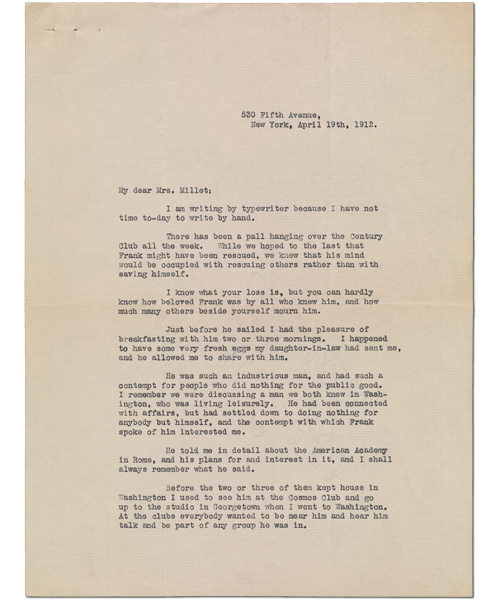 Algernon S. Frissell condolence letter, 1912
By highlighting (or inventing) instances in which men willingly gave their lives so that women and children might live, the popular press extolled the bravery and chivalry of Titanic's male passengers, especially those in first class. This writer echoes the sentiment.
"We knew that his mind would be occupied with rescuing others rather than with saving himself."
---
Mackay-Bennett Crew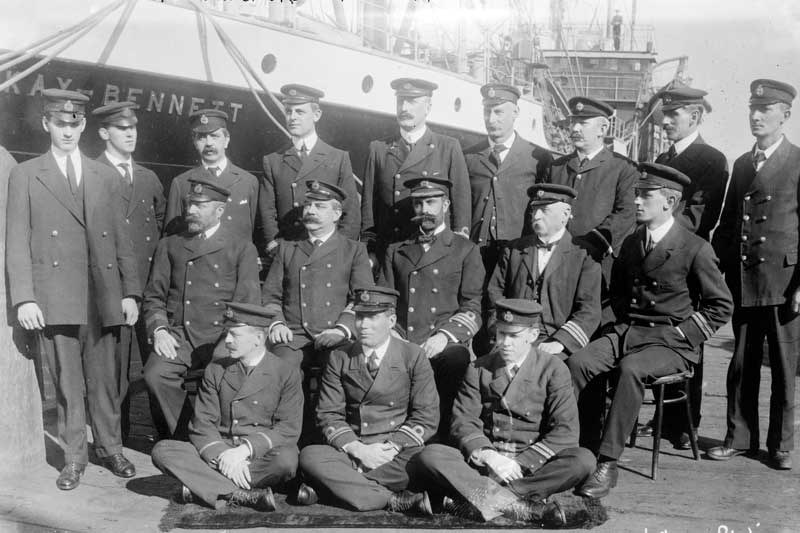 Mackay-Bennett crew
Mackay-Bennett, a transatlantic telegraph cable-laying ship, retrieved 190 bodies, including that of Frank Millet, from the Titanic wreck site and transported them to Halifax, Nova Scotia, where families waited to identify and bury their relatives.
All condolence letters on loan from Millet Family Papers, Archives of American Art, Smithsonian Institution.