HINDENBURG'S PASSENGERS, primarily business professionals and occasionally their families, enjoyed lavish onboard service and comforts. A large lounge, sumptuous meals and superb German wines, promenade decks, a pressurized smoking room and a writing room . . . all contributed to an exceptional experience. The ship's streamlined décor underscored Germany's resurrection after World War I.
For some, a voyage on Titanic offered opulence comparable to that of the finest hotels. Upper class passengers enjoyed gourmet meals and aged liquors, a swimming pool and gym, and many other comforts. Those traveling in steerage, however—primarily immigrants hoping for better lives in America—enjoyed no such luxuries. Nonetheless, passage included food, mattresses made sleeping more comfortable, and the tiny cabins boasted electric lights and running water.

Hindenburg Brochure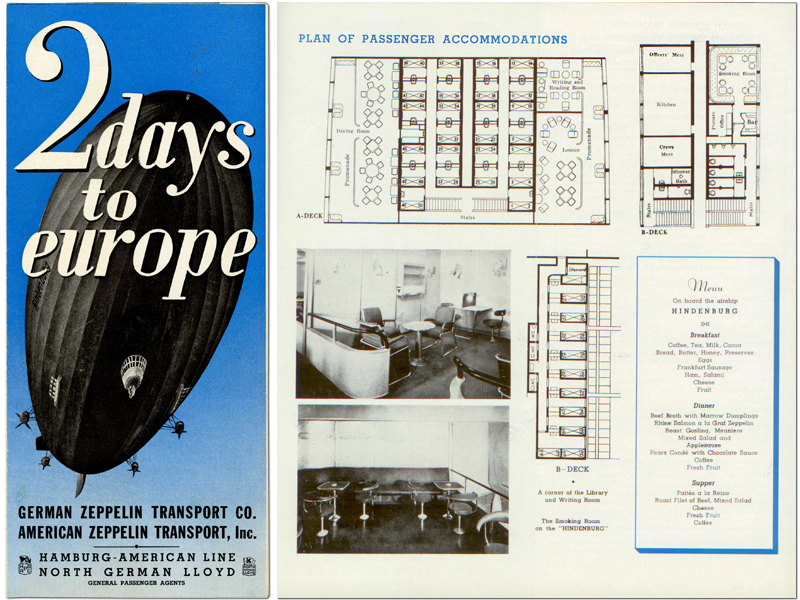 Hindenburg brochure, 1937
Courtesy anonymous
Promotional brochures extolled the luxurious life onboard. The romance of flight plus travel in half the time of an ocean voyage by ship appealed to adventurous travelers, business professionals, and famous personalities.
Hindenburg Menu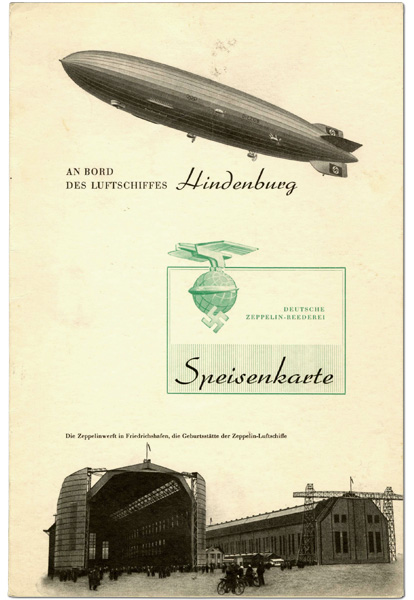 Hindenburg menu, 1936
Courtesy anonymous
Each lavish lunch and dinner had a specially printed menu. The XIth Olympic Games Berlin, 1936, flight luncheon featured clam soup, beef in Madeira sauce, cauliflower, peas, potatoes, and salad. Diners then enjoyed an ice cream bombe, hot chocolate, coffee or tea, and cake.
Hindenburg Coffee Pot, Cup, Saucer, and Napkin Holder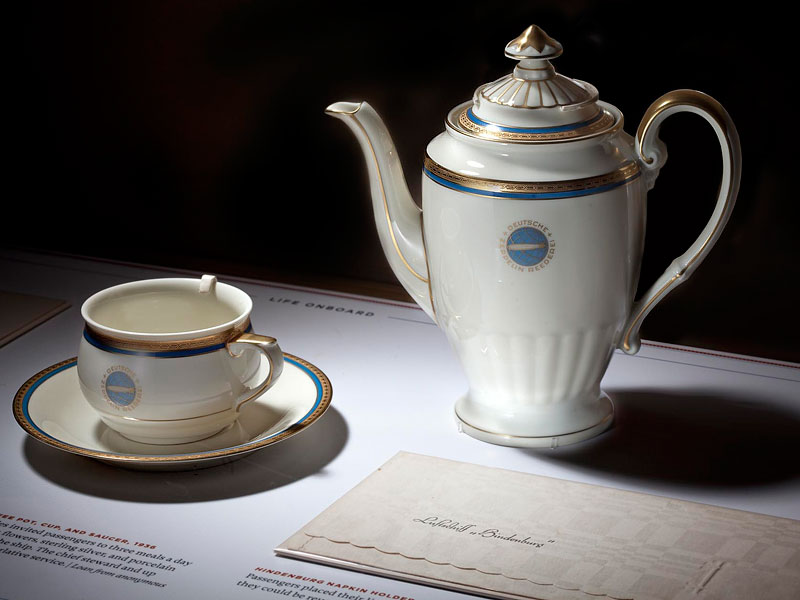 Hindenburg coffee pot, cup, saucer, and napkin holder, 1936
Courtesy anonymous. Image courtesy of Smithsonian National Postal Museum. Photo by Eric Long, National Air and Space Museum
The dining room tables invited passengers to three meals a day with white linens, fresh flowers, sterling silver, and porcelain china service created for the ship. The chief steward and up to six waiters provided superlative service. Passengers placed their linen napkins in holders after the meal so that they could be reused and save precious weight.
Hindenburg First North America Flight Card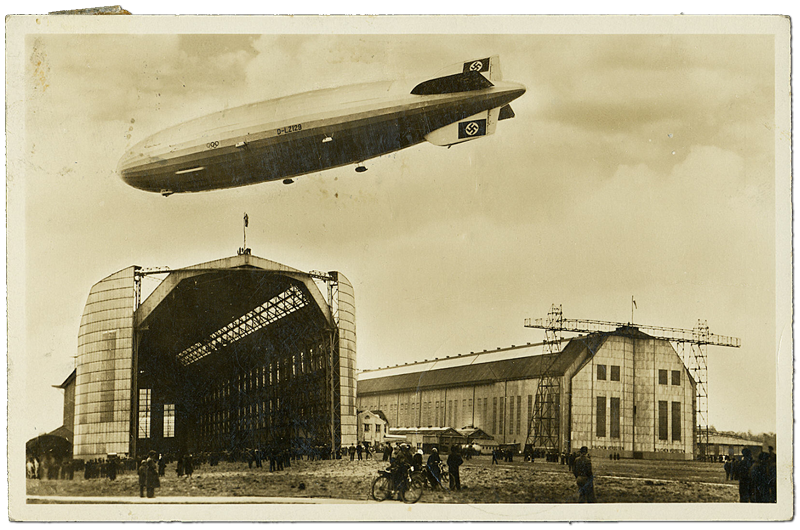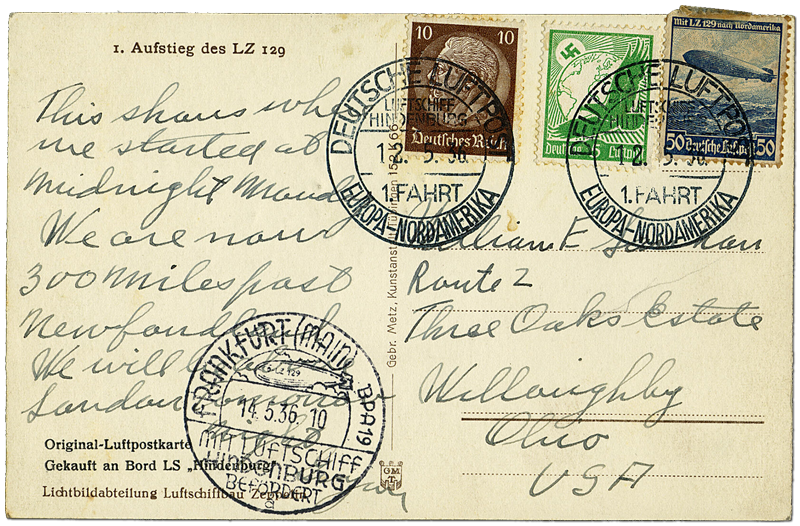 Hindenburg first North America flight card, 1936
Businessman Joseph Gogan traveled with his 14-year-old nephew William, the youngest transatlantic Hindenburg passenger to that date. The postcard, purchased onboard, received the special on board postmark and a Frankfurt, Germany, receiving cancel after arrival.
Hindenburg Sixth North America Flight Card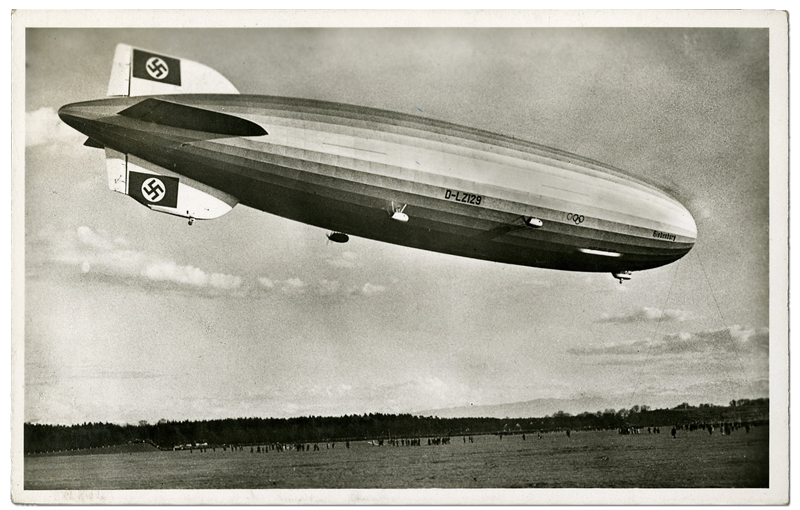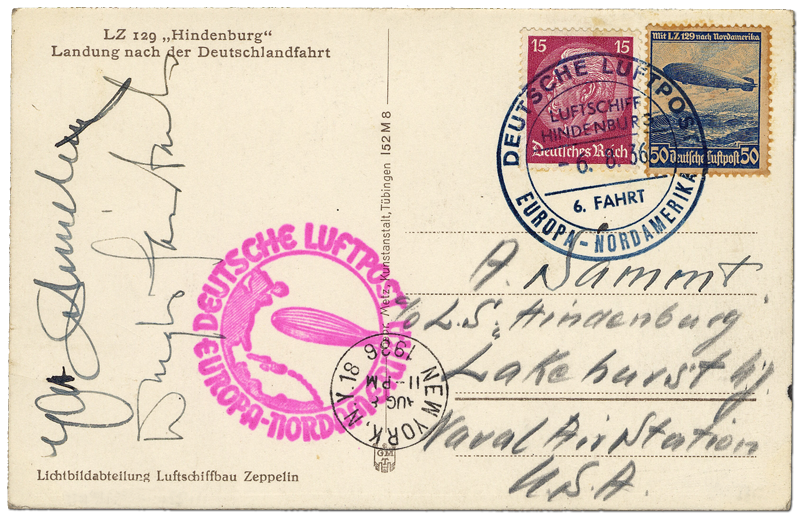 Hindenburg first North America flight card, 1936
German boxer Max Schmeling and movie actor Douglas Fairbanks, both passengers, signed this card for Captain Albert Sammt. In 1937, Sammt survived the Hindenburg disaster by jumping from the gondola and climbing through the burning wreckage crashing down around him.

Olympic Dinner Menu

Olympic dinner menu, 1911
Dinners in the first class dining saloon of a White Star liner usually consisted of eleven courses. One first class menu survives from Titanic's last night, and about half of the dishes were the same as shown here.
Etiquette book owned by Margaret "Molly" Brown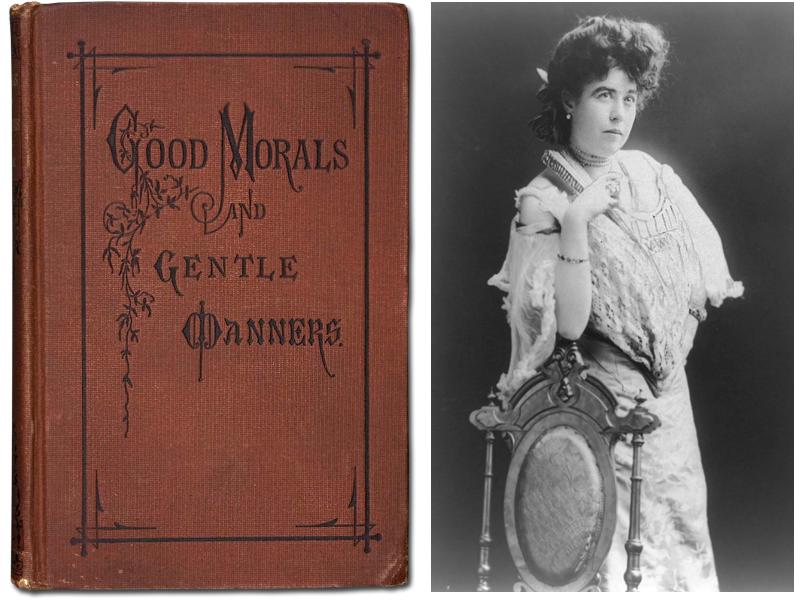 Etiquette book owned by Margaret "Molly" Brown, 1901
Courtesy Brian, Maria, and Alexander Green
Elaborate rules and manners governed the upper-class Edwardian table, and violating them was an embarrassment. Etiquette books guided those who, like Titanic survivor Margaret Brown, were not "to the manner born."
Olympic's Squash Court Photo Postcard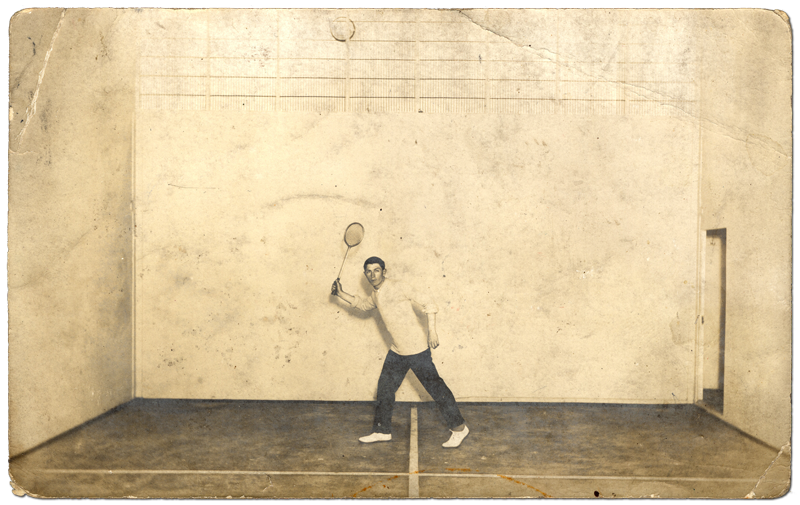 Photo postcard, 1911
Fred Wright poses in Olympic's squash court in this real photo postcard from 1911. On both Olympic and Titanic, the squash court was adjacent to the post office on G Deck.
Olympic Telegram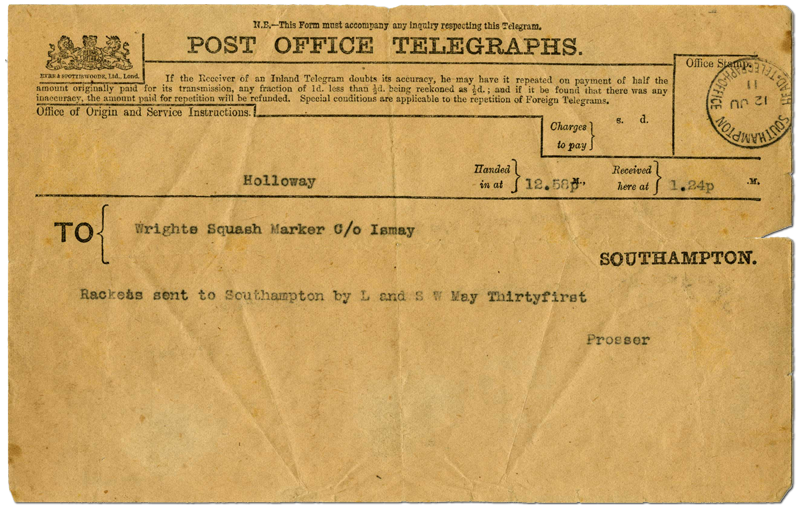 Olympic telegram, 1911
This telegram from J.H. Prosser & Sons of London advises Fred Wright, squash instructor aboard Olympic (and later Titanic), that his shipment of rackets is on its way. First class passengers paid two shillings and two pence for an hour-long squash game against Wright, who did not survive the sinking.
Fred Wright Letter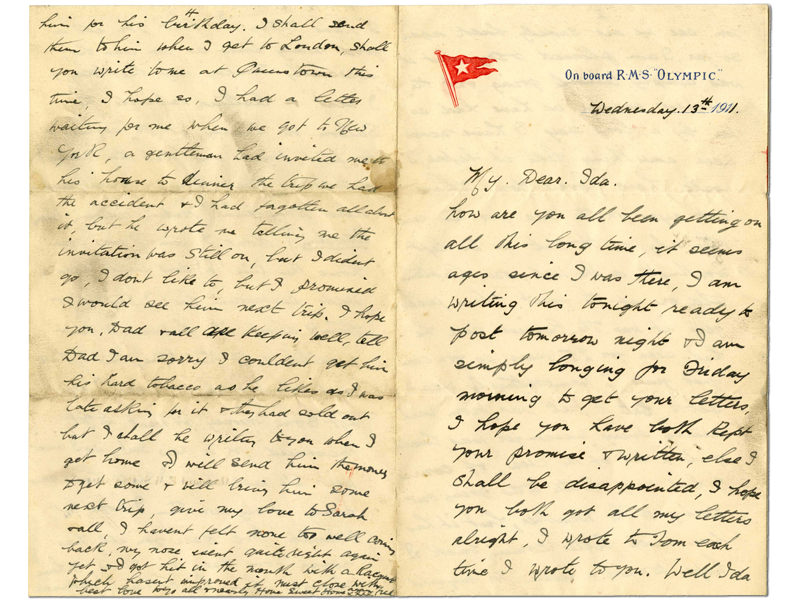 Fred Wright letter, December 1911
Written on board Olympic, Fred Wright's letter to his sister mentions Captain Edward J. Smith, the hymns sung in the Sunday church service, and Wright's interactions with passengers.
---
Photo Gallery
Hindenburg Cabin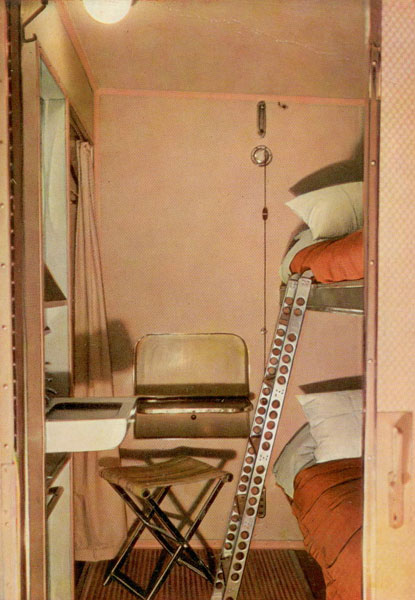 Hindenburg's cabins featured bunk beds, running water, and a desk. Single accommodations could be reserved, but all passengers shared bathroom facilities.
Courtesy anonymous
Hindenburg's Passenger Lounge

Travelers gathered in Hindenburg's passenger lounge for card games and music. They enjoyed an aluminum piano in 1936.
Courtesy anonymous
Hindenburg's Dining Room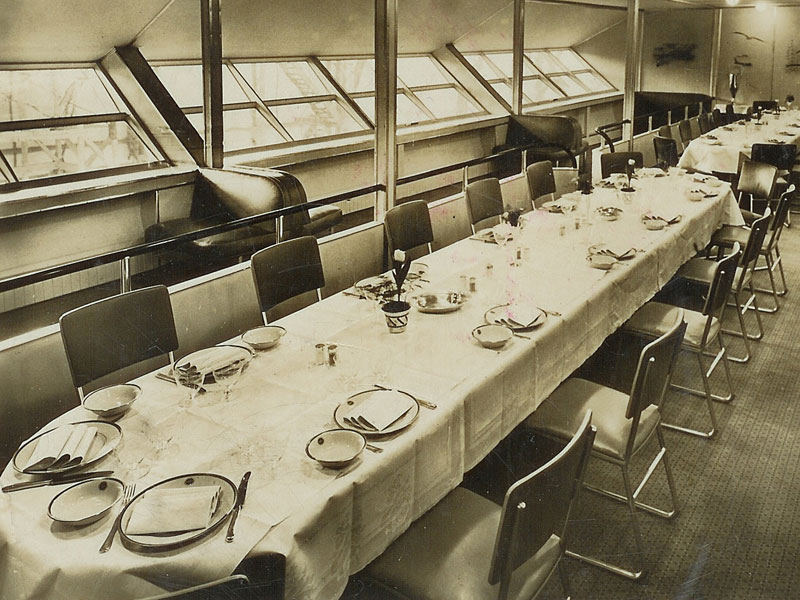 Hindenburg passengers received seating assignments for specific meal times. After dinner, many gathered in the pressurized bar and smoking lounge.
Courtesy anonymous
Hindenburg's Observation Windows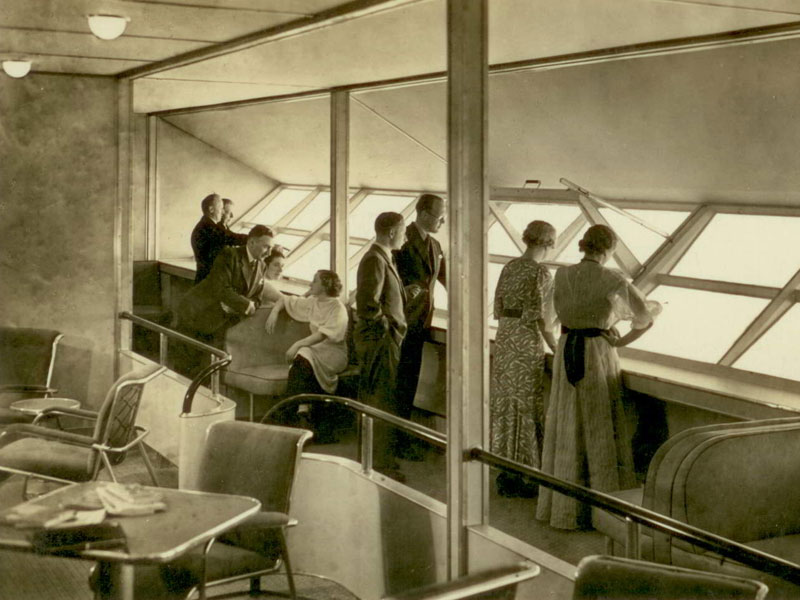 Hindenburg's passenger quarters featured observation windows on both the port and starboard sides that opened for fresh air and taking photographs.
Courtesy anonymous

Titanic's Dining Saloon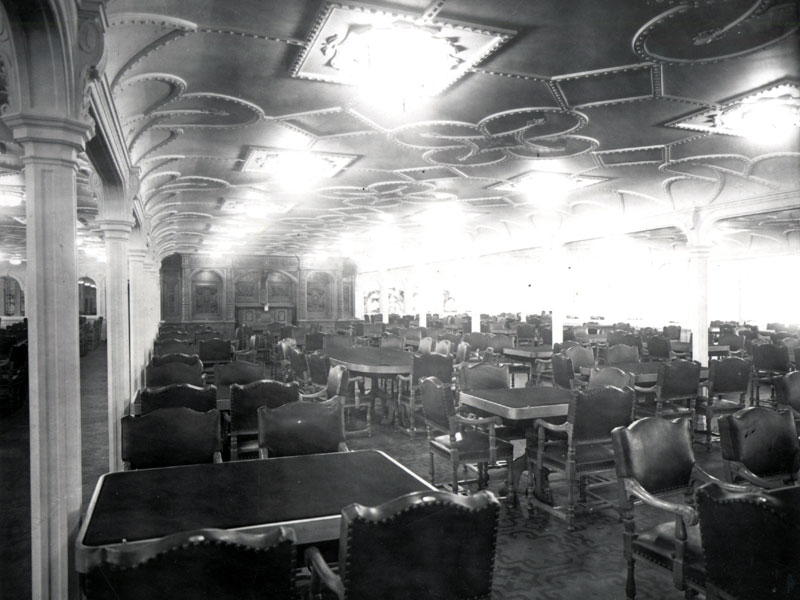 Titanic's 10,500 square foot first-class dining saloon was the largest room on the ship. It seated 532 passengers at once.
Titanic First-class Parlor Suite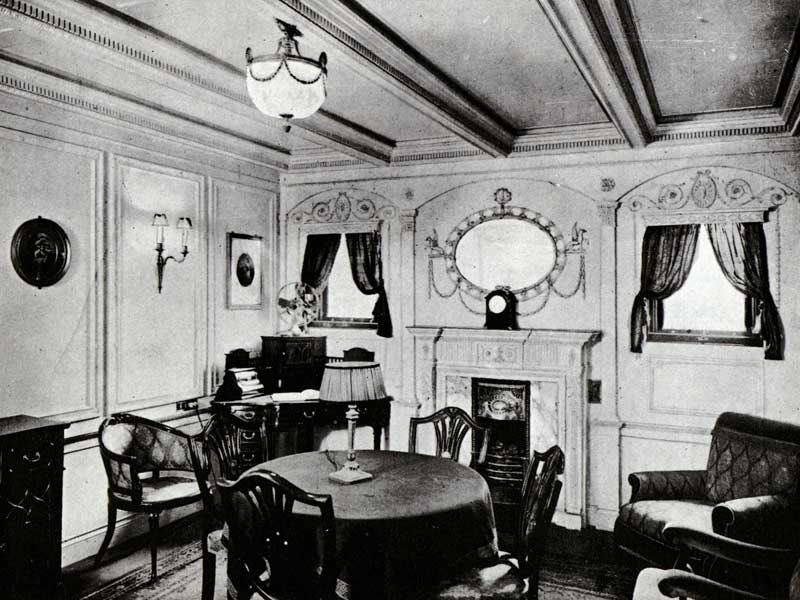 The sitting room of a first-class parlor suite on Olympic and Titanic is decorated in the Adam style. The mantelpiece enclosed an electric heater.
Commander Edward J. Smith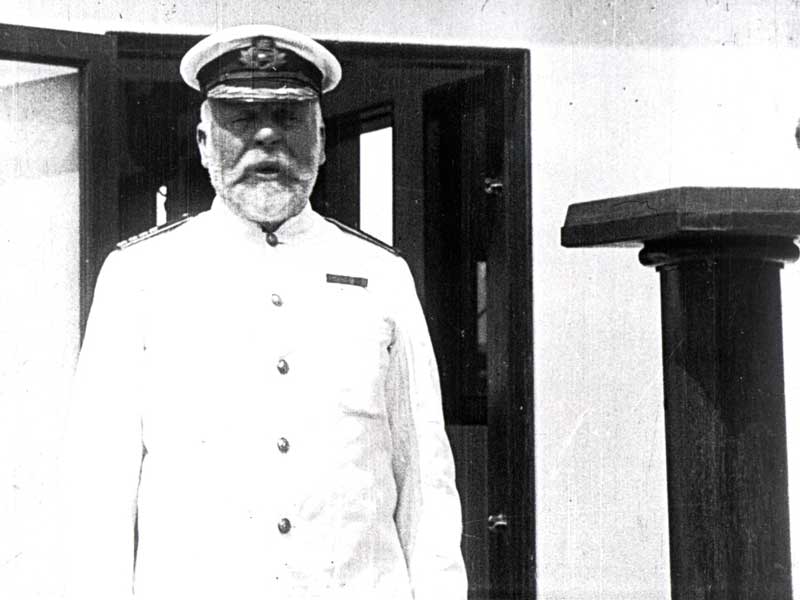 Edward J. Smith, the White Star Line's most experienced commander, was known as "the Millionaire's Captain" because some wealthy passengers sailed only on his vessels.
Courtesy Library of Congress