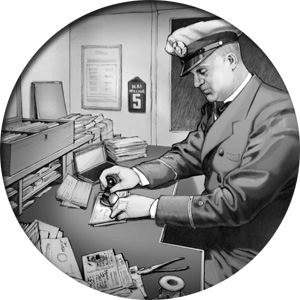 As a sub-post office of the Frankfurt post office, Hindenburg offered mail service during flight. The postmaster changed the date stamp daily to postmark mail with the special onboard marking.
---
BOTH HINDENBURG AND TITANIC underwrote expenses by carrying mail. Hindenburg was the largest flying post office ever. It provided the first regularly scheduled, entirely by air post service between Europe and North America. Titanic was the largest floating post office of its day and bore its official status in its name, RMS Titanic—Royal Mail Ship Titanic. Travelers on both ships enjoyed onboard postal service.
At least 360 of the 17,609 pieces of mail carried by Hindenburg on its fatal flight survived the disaster, much of it charred. Some of Titanic's mail may survive at the bottom of the North Atlantic; other paper artifacts have been successfully recovered from the wreck. While Hindenburg's crew had no time to save mail, Titanic's mail crew, comprised of both American and British clerks, struggled heroically to save what they could of the 3,364 mailbags while water surged into the mailroom. The North Atlantic claimed the bags and the lives of all the clerks.

Hindenburg Second North America Flight Card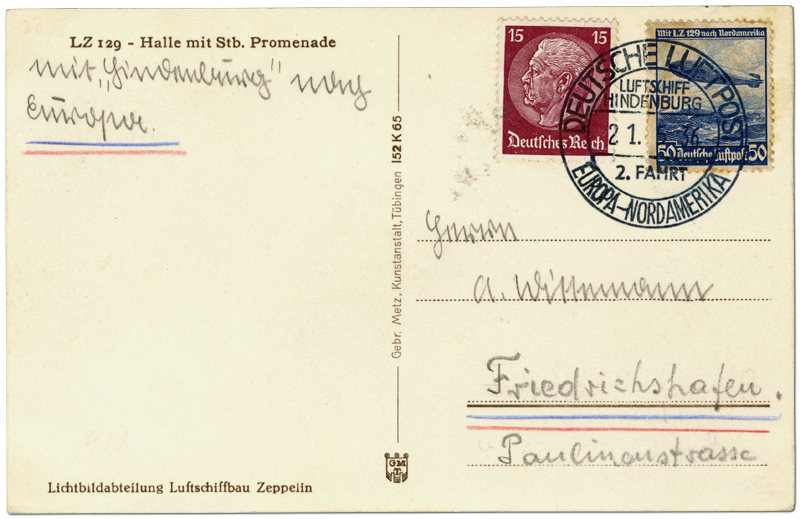 Hindenburg second North America flight card, 1936
Captain Anton Wittemann, who sent this postcard, had served on zeppelins since 1910, including as navigator on the Graf Zeppelin. In 1937, Wittemann climbed out a window in the gondola to survive the Hindenburg disaster.
Hindenburg First North America Flight Cover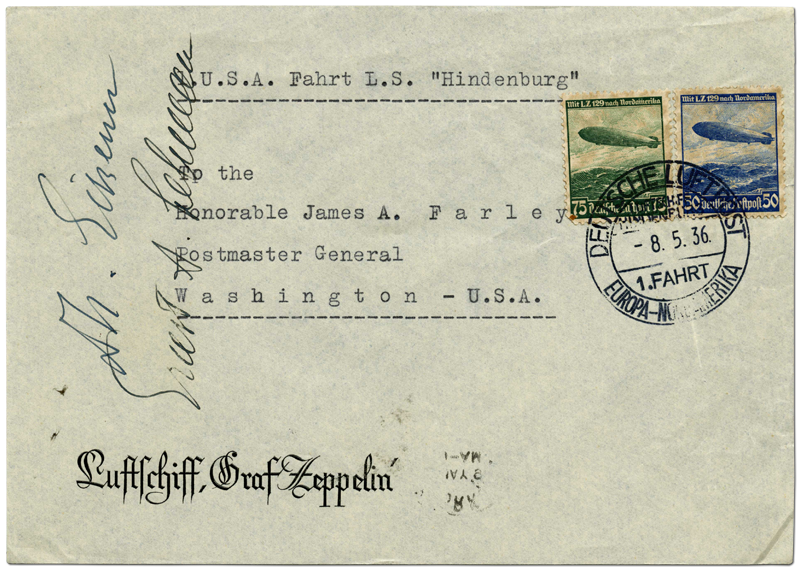 Hindenburg first North America flight cover, 1936
Captain Ernst Lehmann, who died from the 1937 disaster, and Commander Hugo Eckener autographed this envelope to James A. Farley, postmaster general of the United States. Lehmann sent the greeting using Graf Zeppelin stationery rather than the Hindenburg stationery available for purchase.
Hindenburg First North America Flight Cover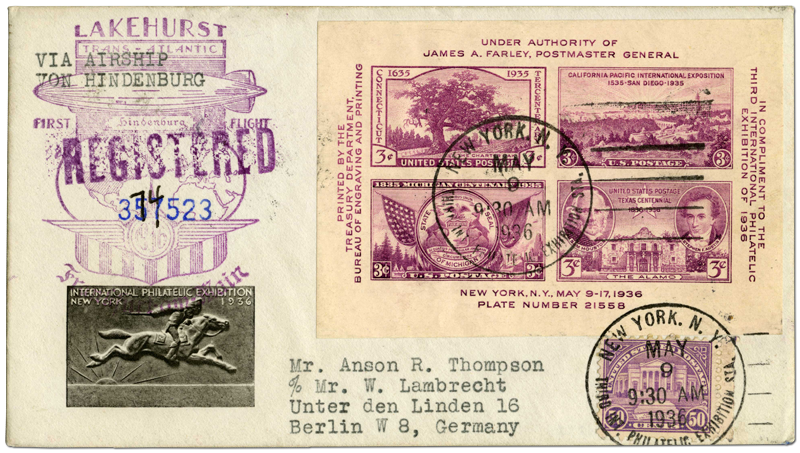 Hindenburg first North America flight cover, 1936
This registered envelope, posted at the TIPEX stamp show in New York, was flown by Hindenburg to Germany. Realizing the financial contributions of stamp collectors to zeppelin operations, Dr. Hugo Eckener attended the international philatelic exhibition.
Hindenburg Olympic Games Flight Cover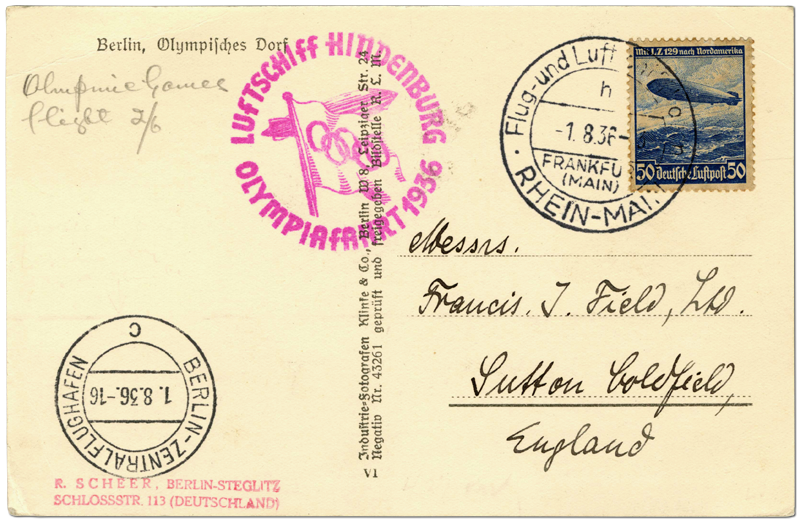 Hindenburg Olympic Games flight cover, 1936
The sender forwarded this card inside an envelope with mailing instructions for this special flight. Bearing the Olympic Games rings on its hull in 1936, Hindenburg flew over the Olympic Stadium before dropping twenty bags of mail by parachute at the Berlin airport.
Hindenburg First South America Flight Cover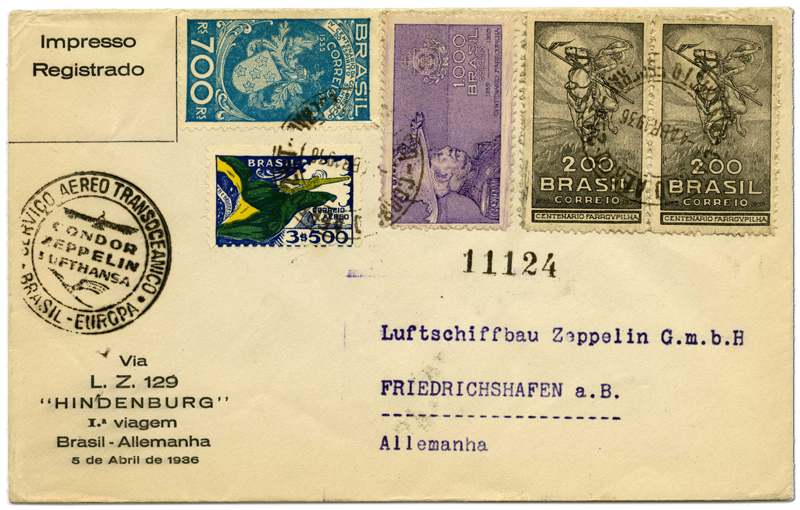 Hindenburg first South America flight cover, 1936
Graf Zeppelin's flight schedule in 1936 and 1937 took it primarily to Brazil. Hindenburg flew seven roundtrips to Brazil in 1936 and one in 1937.
Hindenburg Vatican Dispatch Seventh North America Flight Cover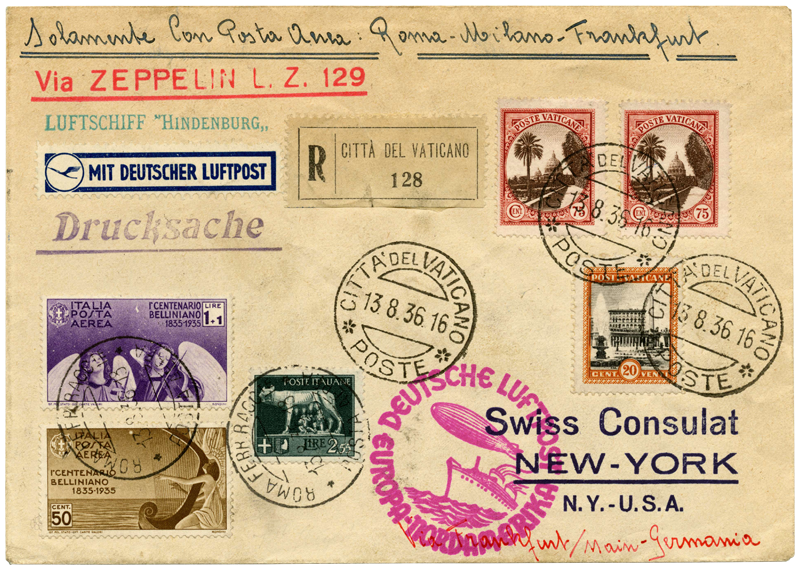 Hindenburg Vatican dispatch seventh North America flight cover, 1936
Zeppelins carried transatlantic mail originating in many European countries. This registered, printed matter-rate cover traveled by plane from Rome to Milan to Frankfurt for the zeppelin post connection.
Hindenburg Canada Dispatch First North America Flight Cover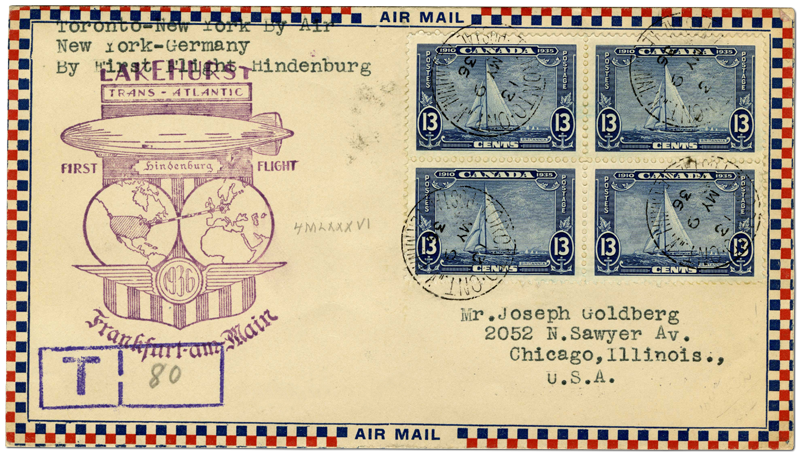 Hindenburg Canada dispatch first North America flight cover, 1936
North American countries sent mail eastbound by zeppelin through New York. This registered cover flew from Toronto to New York to Lakehurst to connect with Hindenburg. The boxed "T" marking is for postage due.

Oscar Scott Woody's Letter of Assignment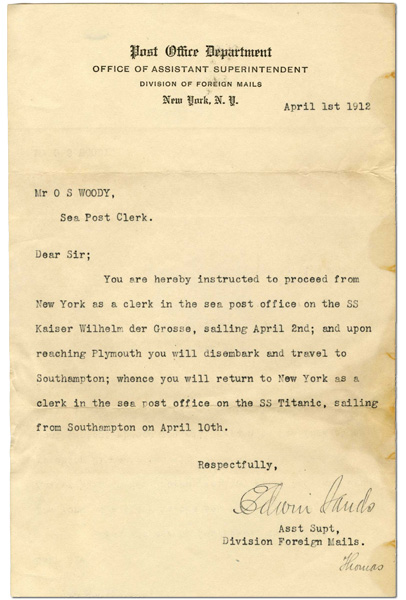 Oscar Scott Woody's letter of assignment, 1912
These orders directed American sea post clerk Oscar Scott Woody to travel to Europe and return "in the sea post office on the SS Titanic, sailing from Southampton, on April 10th." Sea post clerks earned about $1,000 a year, considered a small fortune by the standards of the time.
Oscar Scott Woody's Set of Post Room Keys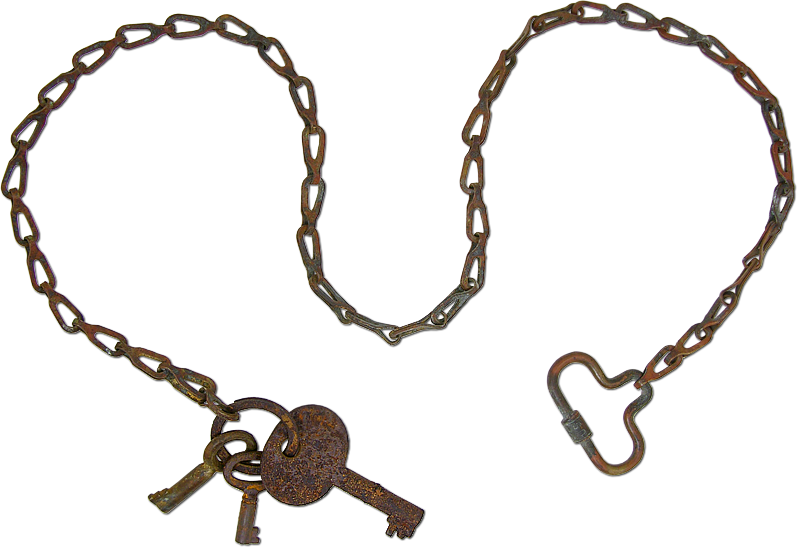 Oscar Scott Woody's set of post room keys, 1912
The largest key was probably for the registered mail bags aboard Titanic; the smaller keys were likely for desks or cabinets in the post office room. These postal keys and chain were recovered from Woody's body.
Sea Post Clerk's Chest Badge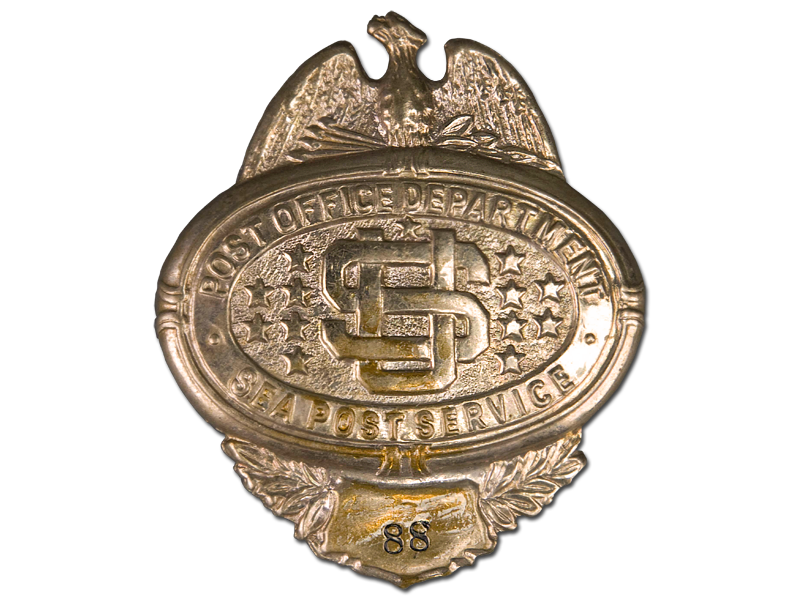 Sea Post Clerk's chest badge, 1891-1940
Modeled after the badge worn by railway clerks, this badge was worn by U.S. Post Office Department Sea Post Office clerks.