At 6:25 p.m. EST on May 6, 1937, while approaching Lakehurst Naval Station's mooring mast between storms, Hindenburg burst into flames. Within thirty-four seconds, fire consumed the entire airship. Passengers and crew members jumped from the burning airship, some falling to their deaths. Thirty-five of the ninety-seven men and women on board, plus one member of the ground crew, died. The disaster ended transatlantic commercial travel in lighter-than-air vessels. Debates continue regarding the cause of the spark that ignited the hydrogen and outer covering.
---
Hindenburg Final Flight Cologne Drop Card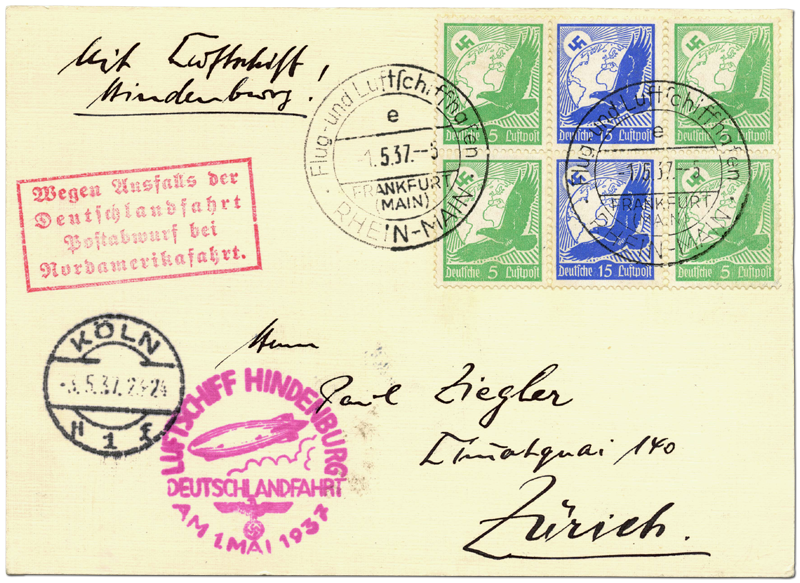 Hindenburg final flight Cologne drop card, 1937
Departing Germany for the last time, Hindenburg dropped mail bags at Cologne. The mail had been held from the cancelled May Day flight to Berlin, as indicated by the red-boxed marking on the mail.
Hindenburg Postmaster Letter

Hindenburg postmaster letter, 1937
When Hindenburg met tragedy May 6, 1937, more than 17,000 pieces of mail burned to ashes. Max Zabel signed a letter explaining the loss of mail for philatelic subscribers of F.W. von Meister, Zeppelin Company representative in the United States.
Hindenburg Salvaged Fork, Knife and Spoon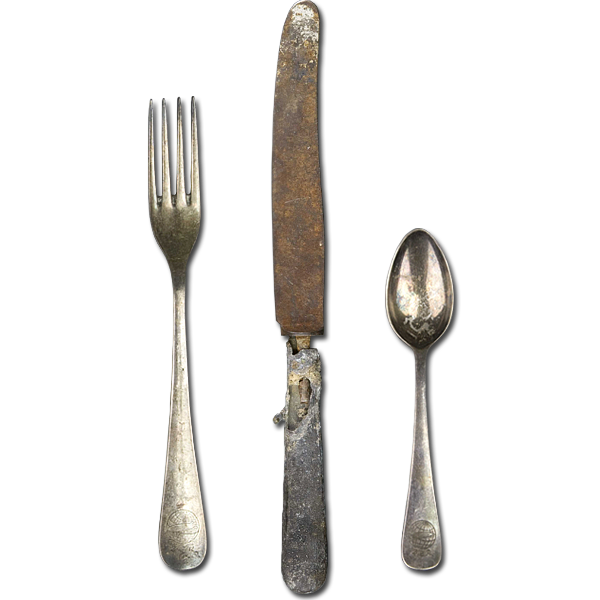 Hindenburg salvaged fork, knife and spoon, 1937
Courtesy Navy Lakehurst Historical Society
The silverware onboard had been specially created for the zeppelin, and passengers had used it several times the day before the fatal landing attempt.
Hindenburg Salvaged Serving Bowl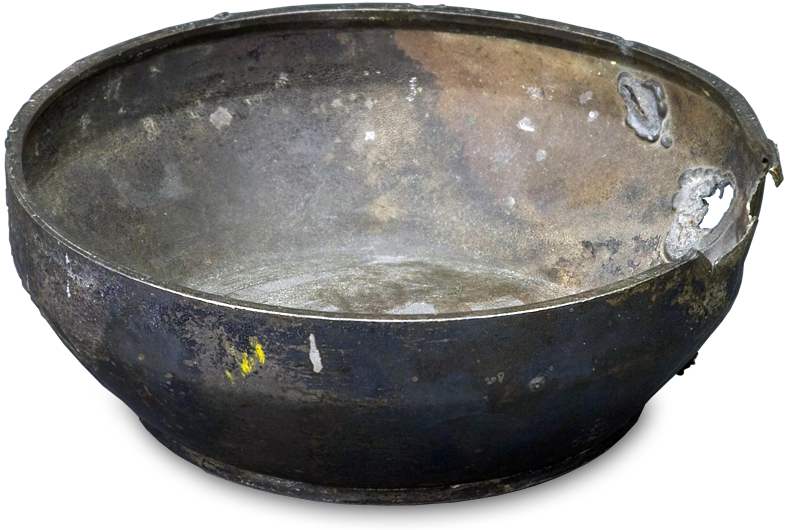 Hindenburg salvaged serving bowl, 1937
Courtesy Henry Applegate
Hindenburg's logo, luxuriously etched into the silver, contrasts with the burnt edges, unexpectedly illustrating the triumph and tragedy of the zeppelin's brief time as North America's first regularly scheduled air service.
Hindenburg Disaster Card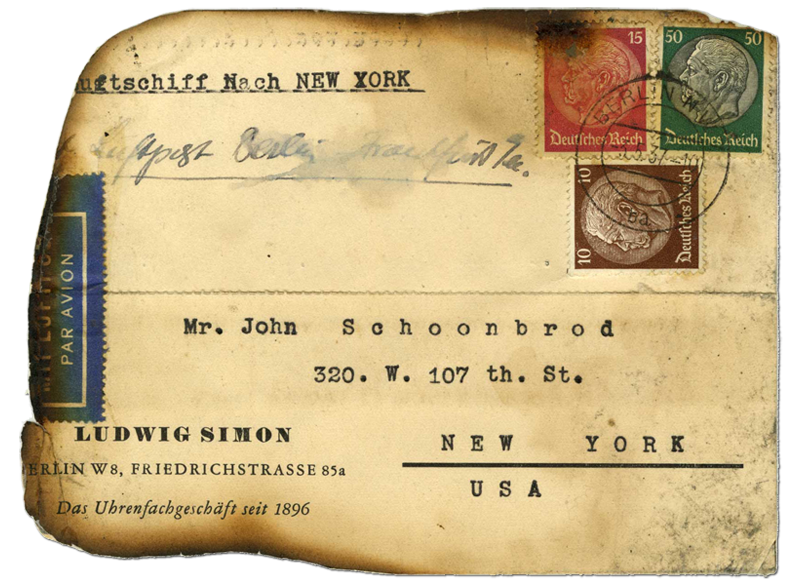 Hindenburg disaster card, 1937
Postal officials salvaged only about 160 burned pieces of mail out of more than 17,000 pieces that had been onboard.
Hindenburg Disaster Cover in Glassine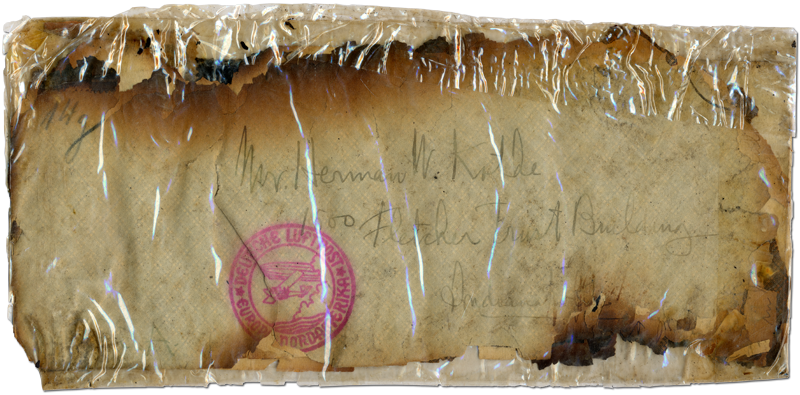 Hindenburg disaster cover in glassine, 1937
Courtesy John Hotchner
Salvaged from the wreckage, the U.S. Post Office Department enclosed the fragile, charred remains of this cover in a glassine envelope, officially sealing it before delivery to the addressee.
Hindenburg Disaster Cover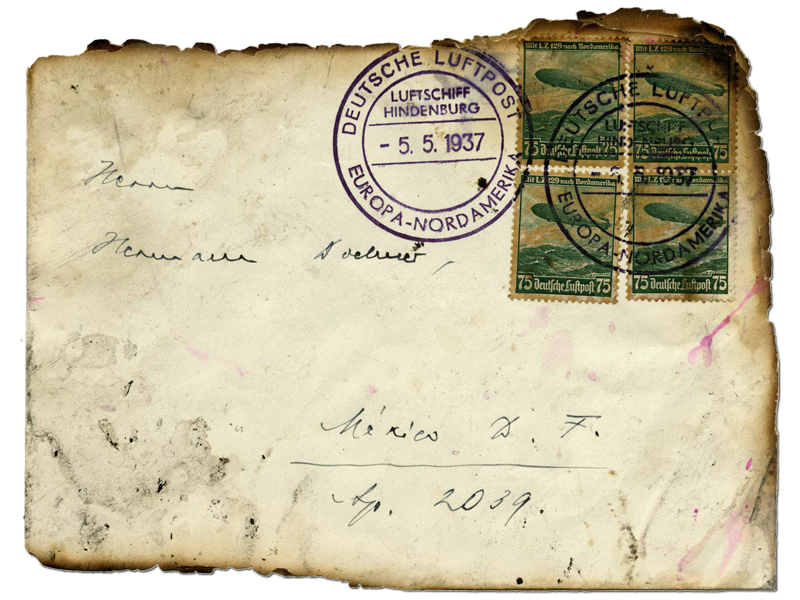 Hindenburg disaster cover, 1937
Courtesy Dr. Edward and Joanne Dauer
Passenger Hermann Doehner posted this envelope onboard, addressed to himself. In Germany on business, he was returning home to Mexico City with his wife and three children. He and his daughter died in the disaster.
Hindenburg Disaster Cover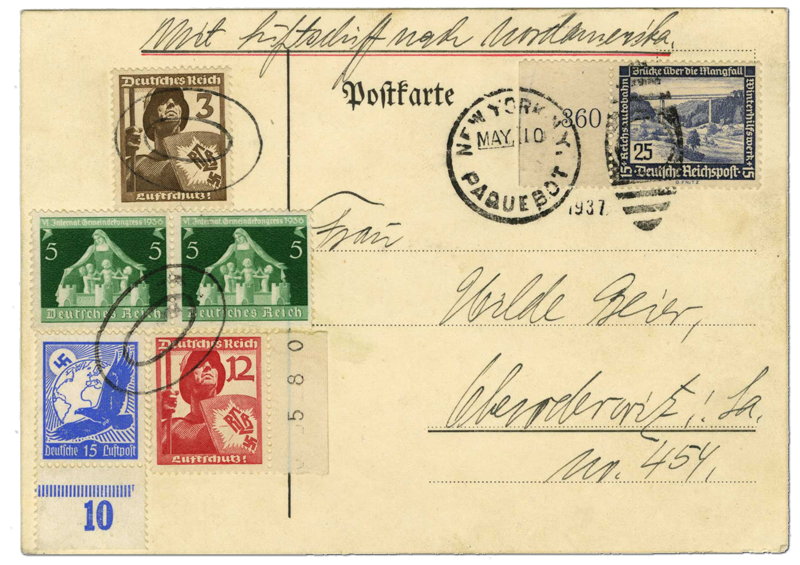 Hindenburg disaster cover, 1937
Courtesy anonymous
A New York paquebot mark cancelled 176 salvaged unburned pieces of mail four days after the disaster. Having been stored in a protective, sealed container while awaiting postal service on the return flight, this uncancelled mail survived intact.
---
Photo Gallery
Postal Clerk Bill Schneider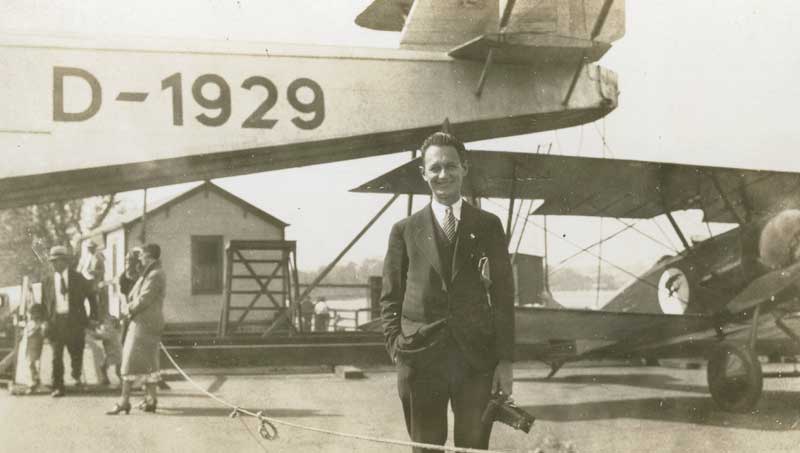 Bill Schneider was a postal clerk in Rahway, New Jersey. He traveled to Lakehurst to witness the ten Hindenburg arrivals in 1936. He collected mail flown by zeppelins, and crew members often autographed his mail. Schneider developed friendships with the crew and, as an amateur photographer, often photographed them.
Courtesy Bill Schneider Photograph Collection
Hindenburg's Approach, May 6, 1937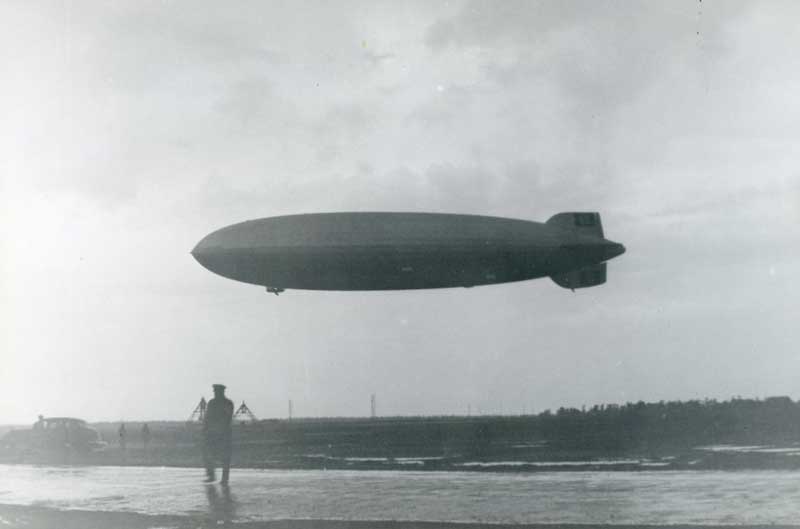 On Schneider's visit to Lakehurst the evening of May 6, 1937, he took a series of photographs of the approach.
Courtesy Bill Schneider Photograph Collection
Hindenburg Bursts Into Flames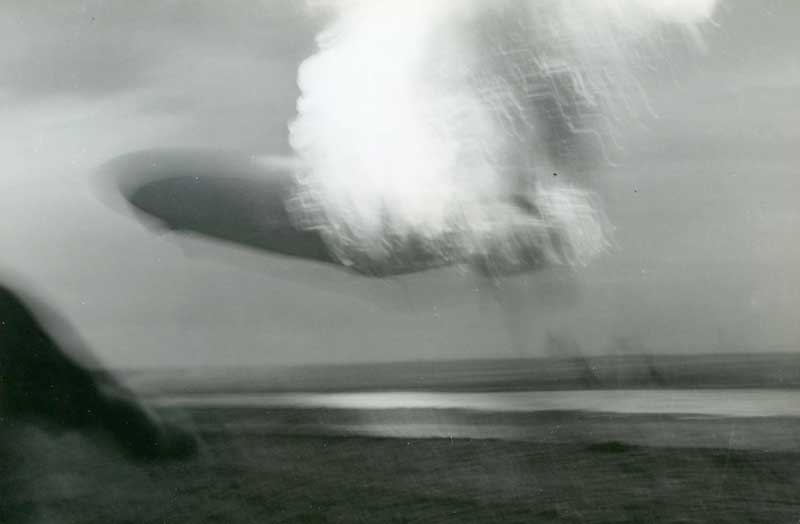 When Hindenburg burst into flames, his hand-held camera captured his sense of horror as his hands shook uncontrollably.
Courtesy Bill Schneider Photograph Collection
Hindenburg Bursts Into Flames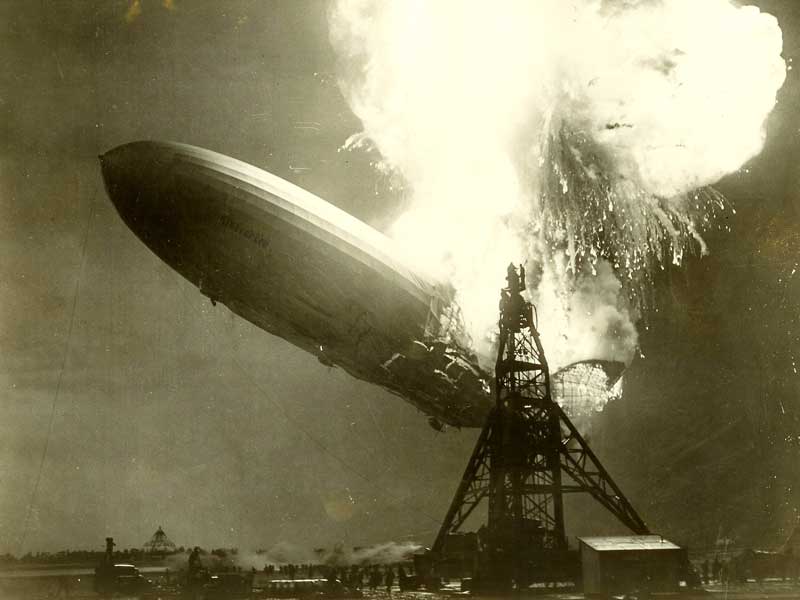 Moments after Hindenburg's bow lines dropped, eyewitnesses saw a red glow ahead of the upper tail fin, and then the ship burst into flames.
Courtesy National Air and Space Museum
Hindenburg Crashes to Earth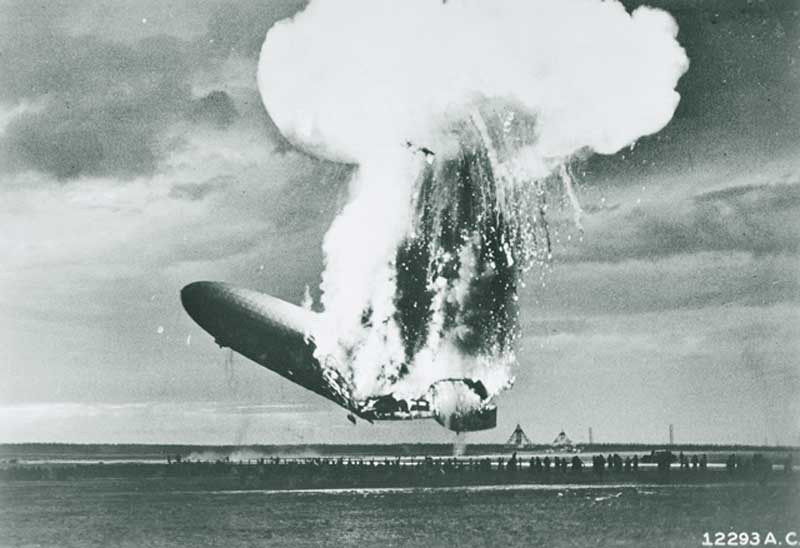 A blaze of hydrogen raged within Hindenburg, destroying the ship in thirty-four seconds. The rapidly disintegrating airship crashed to earth tail first.
Courtesy National Air and Space Museum
Hindenburg Landing Crew Rushes to Help Save Lives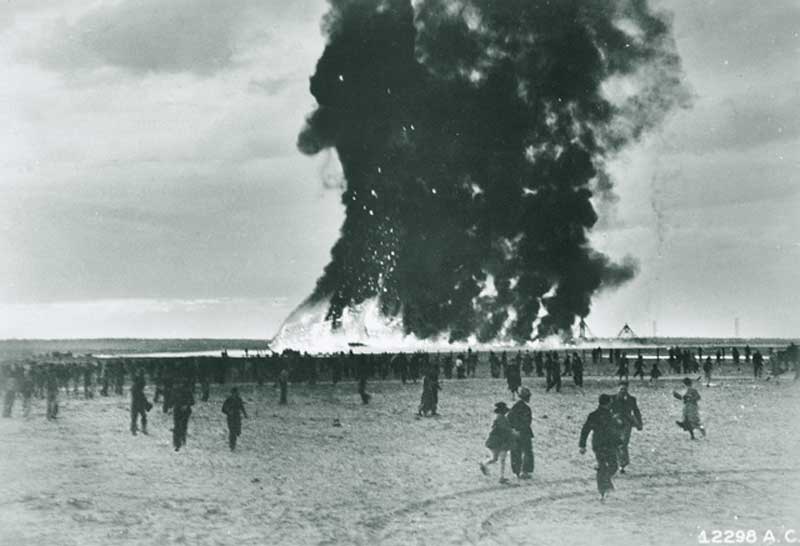 Landing crew ran into the intense heat to help save lives. Amazingly, sixty-two of the ninety-seven persons onboard Hindenburg survived.
Courtesy National Air and Space Museum
Hindenburg's Smoldering Wreckage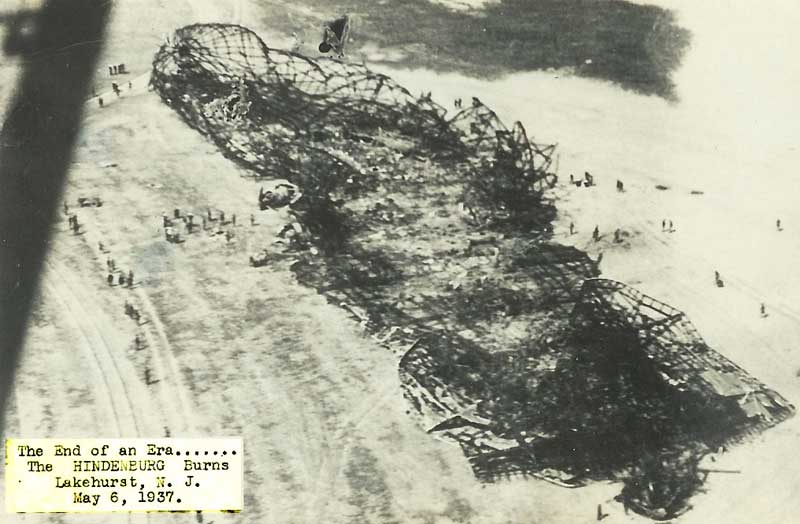 A small quantity of mail survived Hindenburg's fire and was salvaged from the smoldering wreckage.
Courtesy anonymous
Customs Inspectors Examine Salvaged Mail

Customs inspectors examined two kinds of Hindenburg salvaged mail: burnt mail that had been tightly packed together and, amazingly, survived the flames and unburnt, uncancelled mail (lower left) that had been in a fireproof container.
Courtesy anonymous