Exhibition
Herb Morrison, WLS Chicago radio reporter, and engineer Charlie Nehlsen captured the Hindenburg disaster on lacquer disc.
Herb Morrison, WLS Chicago Radio Reporter:
It's starting to rain again; it's… the rain had slacked up a little bit. The back motors of the ship are just holding it just enough to keep it from…
It's burst into flames! … Get this, Charlie; get this, Charlie! It's fire… and it's crashing! It's crashing terrible! Oh, my! Get out of the way, please!
It's burning and bursting into flames and the… and it's falling on the mooring mast. And all the folks agree that this is terrible; this is the one of the worst catastrophes in the world. … Crashing, oh! Four or five hundred feet into the sky and it… it's a terrific crash, ladies and gentlemen.
It's smoke, and it's in flames now; and the frame is crashing to the ground, not quite to the mooring mast.
Oh, the humanity! And all the passengers screaming around here. I told you; it — I can't even talk to people, their friends are out there!
Ah! It's… it… it's a… ah! I… I can't talk, ladies and gentlemen.
Honest, it's just laying there, a mass of smoking wreckage, and everybody can hardly breathe and talk… I'm sorry. Honest, I can hardly breathe. I'm going to step inside where I cannot see it. Charlie, that's terrible. I…
Listen folks, I'm going to have to stop for a minute, because I've lost my voice… This is the worst thing I've ever witnessed.

This video features the heroic story of Titanic's mail clerks and remarkable underwater footage of the ship.
00:03
Titanic, completed in 1912 she was called a floating palace, the queen of the ocean,
00:10
the largest most luxurious vessel of any kind ever constructed.
00:15
Designers and engineers spent three years
00:17
and millions of dollars to ensure that the liner would offer passengers
00:21
the very latest in speed, comfort, and safety.
00:24
The press raved about Titanic's design, declaring the liner
00:28
superior to anything afloat and practically unsinkable.
00:34
Yet as most school children know, the great ship Titanic did sink,
00:39
on her maiden voyage, after striking an iceberg in the middle of the Atlantic Ocean.
00:45
What is less well remembered today
00:47
is that Titanic's full name was RMS Titanic.
00:51
"RMS" stood for Royal Mail Steamship, a prestigious title
00:55
indicating the ship was legally commissioned by the British Monarchy
00:59
and the US Government to carry mail.
01:01
In the case of Titanic that mail also carries with it continuing mystery.
01:08
Wednesday, April 10th, 1912,
01:12
the Titanic set sail from Southampton, England.
01:15
On board, passengers enjoy the comforts of the world's most magnificent liner.
01:20
Meanwhile several decks below, five Sea Post clerks,
01:24
three American and two British, are busy stowing
01:27
sorting and processing hundreds of packages and more than 1,700 bags of mail.
01:33
Later that same day, April 10th,
01:35
Titanic makes intermediate stops in Cherbourg, France
01:39
and then Queenstown, Ireland where more passengers and mail are loaded.
01:44
Titanic finally departs for New York
01:47
on the afternoon of April 11th, carrying 2,200 passengers and crew
01:52
and, among its tons of cargo, more than 6,000,000 letters and packages.
01:57
Three nights later, Titanic strikes an iceberg and sinks
02:02
killing 1,500 people including all five postal clerks on board.
02:09
The wreck of the Titanic was first discovered at the bottom of the icy Atlantic in September of 1985.
02:17
The pictures taken since then
02:19
are a reminder of the human dimensions of this great tragedy.
02:26
But it's only in recent years that researchers from
02:29
RMS Titanic Incorporated have been able to explore the more narrow
02:33
interiors of the sunken ship, including for the first time
02:37
the mailroom and post office.
02:40
The search team must first dive 2 and 1/4 miles,
02:44
nearly four kilometers, in a submersible called Nautile.
02:48
Once they reach the Titanic site
02:50
divers launch this smaller remote-controlled vehicle nicknamed Robin.
02:57
Robin first descends into one of Titanic's passenger decks
03:01
and finds these light fixtures.
03:05
Next, Robin searches for a passageway down into Titanic's hull.
03:12
This bunker hatch, located near the bow of the ship, leads to a cargo shaft
03:16
immediately adjacent to the mail room.
03:21
The hatch is found,
03:23
and Robin goes inside.
03:27
As she passes through "D" Deck, Robin locates these bars
03:31
which separated the cargo shaft from a third-class recreation area.
03:38
Further down the shaft,
03:40
Robin arrives at "G" Deck - location of Titanic's post office.
03:44
On the left, and overturned table.
03:47
In back, these folding gates
03:50
once separated Registered Mail from other mail.
03:55
Finally, Robin descends to the orlop deck,
03:58
site of the mail storage and sorting room.
04:02
This mossy pink material, some unknown sea life growing on the canvas mailbags.
04:10
So, with the help of some extraordinary technology,
04:13
human beings have seen Titanic's mail rooms
04:16
for the first time in nearly ninety years.
04:19
Yet, 6,000,000 mysteries remain here.
04:22
What letters to loved ones, cherished photographs,
04:26
or family heirlooms might still be resting here?
04:29
What lives were forever changed
04:32
because this mail was never delivered?
04:35
Some questions, technology can never answer.

AS THE LARGEST, FASTEST, and most glamorous ships of their eras, Hindenburg and Titanic share many similarities. The human tragedy associated with each stunned the world . . . a shock that affects people to this day. Both offered travelers elegant accommodations, and both provided postal services. In each era, the public trusted modern technology to provide safety and speed. And as anniversaries of the disasters are marked in 2012—seventy-five years since Hindenburg burned and a century since Titanic sank—many questions remain unanswered.
The Zeppelin Company of Friedrichshafen, Germany, completed the 804-foot long LZ-129 Hindenburg in 1936. Financed in part by the Nazi regime, the rigid airship, designed to use non-flammable helium for lift, confirmed Germany's technological prowess as Adolf Hitler prepared for war. The U.S. refused to sell helium to the Zeppelin Company, which instead used highly flammable hydrogen for Hindenburg's lift. On May 6, 1937, carrying ninety-seven passengers and crew, Hindenburg burst into flames at Lakehurst, New Jersey. The disaster destroyed the ship in thirty-four seconds, ending the magnificent era of lighter-than-air commercial travel.
Between 1909 and 1911, Harland & Wolff, Belfast, Ireland, built the massive, 882-foot long Titanic for Britain's White Star Line, owned by American J.P. Morgan. On April 10, 1912, the lavish Titanic left Southampton, England, on its maiden voyage. Bound for New York, the ship hit an iceberg in the North Atlantic late night April 14, and sank in fewer than three hours.  Of its 2,229 passengers and crew, only 712 survived, predominantly women and children.

Hindenburg Route Map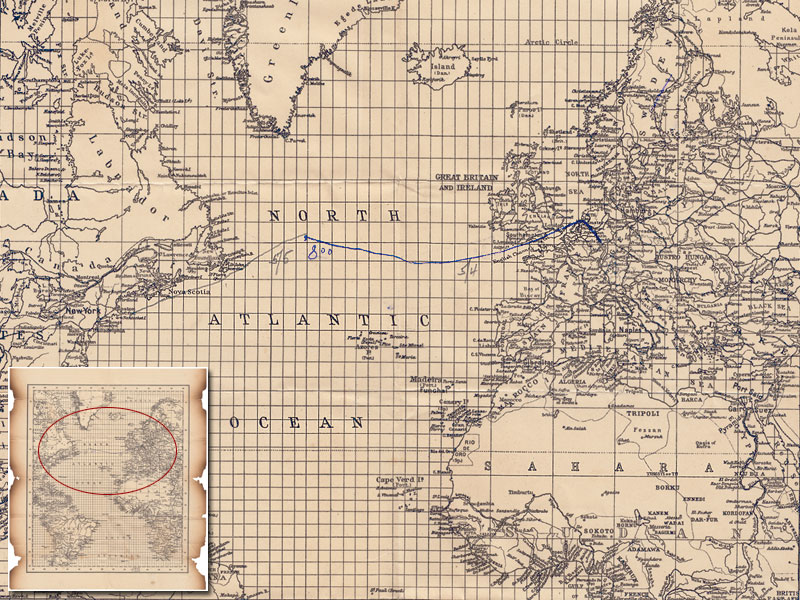 Following the route posted in the lounge, passenger Peter Belin recorded Hindenburg's final flight on his map each day. All log books burned, but Belin's map, folded in his valise, miraculously survived.

Titanic Route Map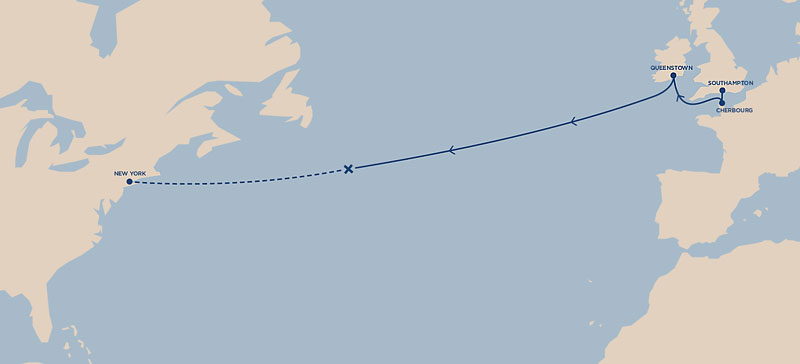 On her only voyage, Titanic traveled the "Great Circle Route" used by most North Atlantic steamships. Since the disaster, ships follow a more southern route from January to July, when icebergs are common, and the International Ice Patrol monitors ice in the shipping lanes.
---