While abolitionists wanted an immediate and unconditional end to slavery, the American Colonization Society (ACS) supported gradual emancipation combined with resettling freed slaves in Africa. This appealed to slave owners who feared rebellions; white farmers and laborers worried that free black labor would depress wages; religious leaders who wanted to missionize Africa; and those who believed freed slaves would never be treated fairly in America. The ACS founded the West African colony of Liberia in 1822 and resettled more than 13,000 freed American slaves there.
3¢ Landing of the First Colonists, Liberia, 1949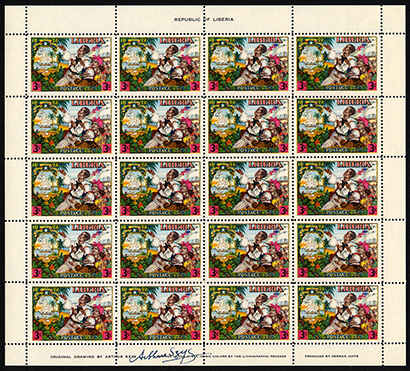 Signed by their designer, the noted illustrator Arthur Szyk, these stamps romanticize the arrival of the first African Americans at Liberia in 1821. Most of the 164 emigrants on board the ship Nautilus (visible in the background) were from North Carolina and were under eighteen years old. Within a year, 25% died from malaria.