During the 1950s, legal and political challenges to segregation were replaced by non-violent "direct action" tactics such as boycotts, sit-ins, and marches. Th­is was due in part to the influence of World War II veterans, who had fought for freedom abroad and were no longer willing to accept less at home. The largest and most famous of these demonstrations was the August 1963 March on Washington for Jobs and Freedom, the setting for Martin Luther King's I Have a Dream speech.
Chicago NAACP Race Restrictive Covenants Cover, June 6, 1945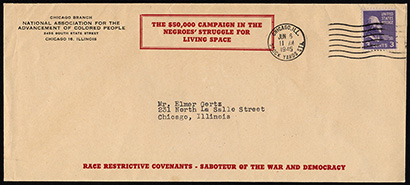 As America suburbanized from the 1920s to the 1960s, black Americans were excluded from buying homes in many communities. The NAACP addressed this trend at the end of World War II, when returning black veterans were entitled to low cost G.I. Bill mortgages but found it difficult to buy property.
---
"Full Freedom by 1963" Cover, January 7, 1957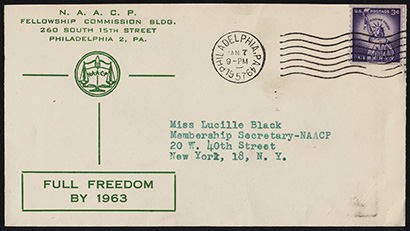 The slogan on this NAACP envelope refers to the organization's stated goal of equality for African Americans by the 100th anniversary of the Emancipation Proclamation. The centennial was also the occasion of the March on Washington.
---
White House Cover to A. Philip Randolph, December 3, 1962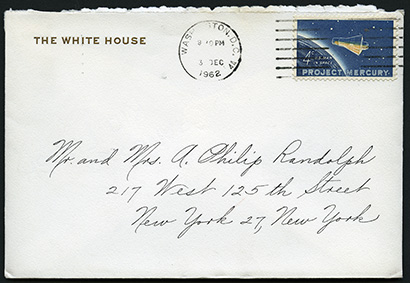 Labor leader A. Philip Randolph first proposed a mass protest in Washington, D.C. during 1941. Although it never materialized, he participated in planning for the August 1963 March on Washington. This envelope dates from a period when the Kennedy administration was discouraging the march's organizers from going through with it.
---
33¢ Martin Luther King, Jr. Approved Stamp Art by Keith Birdsong, c. 1999
Loan from the United States Postal Service, Postmaster General's Collection
Martin Luther King's I Have a Dream speech was commemorated in the Postal Service's Celebrate the Century stamp series issued at the end of the twentieth century. A trace of brightness on the horizon represents hope, while King wears the March's official badge.
---
42¢ Medgar Evers and Fannie Lou Hamer, 2009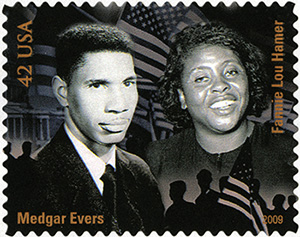 The March on Washington occurred between two infamous civil rights crimes.NAACP leader Medgar Evers was assassinated in Jackson, Mississippi two months before the March; less than a month afterward, four young girls died in a bombing Birmingham, Alabama's 16th Street Baptist Church. This cover contained a letter of condolence to Myrlie Evers-Williams, who later became chairman of the NAACP.
"Mrs. Medgar Evers" Cover, June 14, 1963