The first generation of civil rights leaders were born in slavery or were the children of slaves. They emphasized education and self-reliance as the path to equality, founding local and national organizations to help fellow black Americans become educated, build businesses, and establish social networks. The institutions they created trained and nurtured later generations of activist leaders.
3¢ George Washington Carver Block of Four, 1948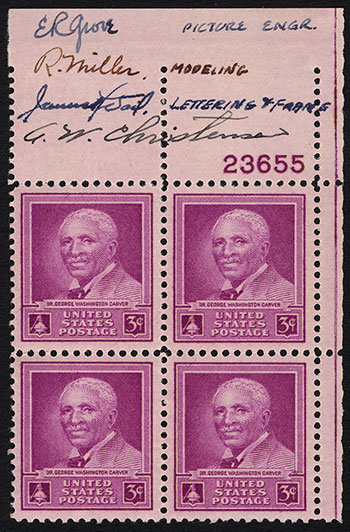 The Tuskegee Institute, which Booker T. Washington founded and where George Washington Carver taught for nearly a half-century, offered a practical education to future teachers, farmers, and industrial workers.
10¢ Booker T. Washington, 1940
---
Howard University Cover, April 9, 1896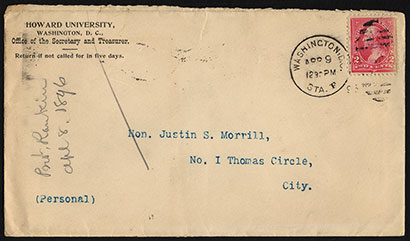 Howard University was chartered by Congress in 1867 and named for General Oliver O. Howard, the first commissioner of the Freedmen's Bureau. Howard later served as the university's president. This envelope contained a letter from one of his successors, Jeremiah Rankin.
---
Mary McLeod Bethune to Walter White Cover, October 17, 1928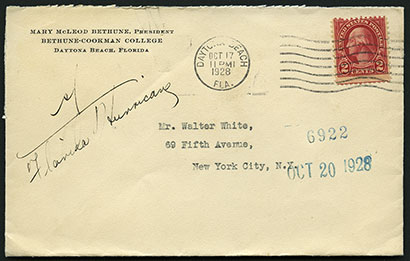 A notation on this envelope indicates that it contained a letter from Mary McLeod Bethune concerning the deadly 1928 Okeechobee Hurricane, in which 75% of those killed were poor black farmers in the lowlands surrounding Lake Okeechobee. Bethune founded Bethune-Cookman College at Daytona Beach, Florida in 1904.
---
Afro-American Newspapers Cover, May 1953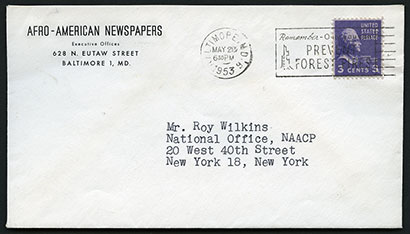 The Afro-American chain of newspapers was founded by a former slave and veteran of the U.S. Colored Troops. Although headquartered in Baltimore, it published editions across the United States and helped shape the civil rights movement.
---
The Call Black Newspaper Cover, February 17, 1944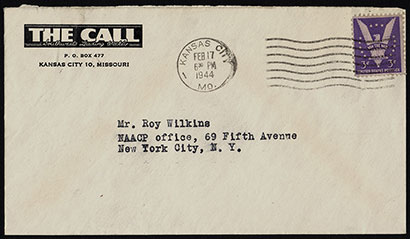 In addition to national news items, Kansas City's The Call focused on printing social information that the city's white-owned newspapers declined to print, such as marriages, obituaries, and graduation announcements. NAACP Executive Director Roy Wilkins began his career as a reporter for The Call.
---
10¢ Paul Laurence Dunbar Imperforate Pair, 1975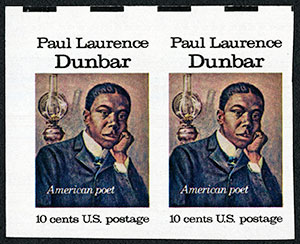 Novelist, playwright, and poet Paul Laurence Dunbar was one of the first black writers to be accepted by the white literary establishment. He published pieces in Atlantic Monthly, Harper's Weekly, and Saturday Evening Post as well as writing Dahomey, the first African American Broadway musical.
Paul Laurence Dunbar Cover, June 11, 1895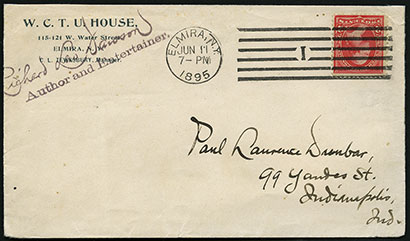 Loans from John M. Hotchner
---
National Negro Business League Cover, July 24, 1914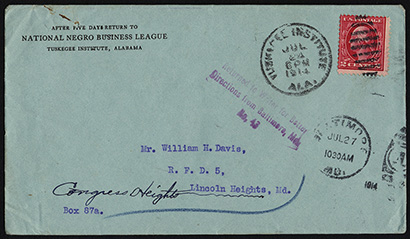 Organized in 1900 by Booker T. Washington, the National Negro Business League encouraged its members to cater to black consumers and advertise in black magazines and newspapers.
---
The Crisis Business Reply Envelope, May 21, 1948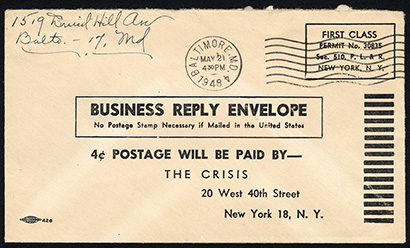 The NAACP's membership, fundraising and publishing efforts made extensive use of business reply envelopes, which allowed people to send membership and subscription checks without paying postage.
 
NAACP Business Reply Envelope, September 28, 1957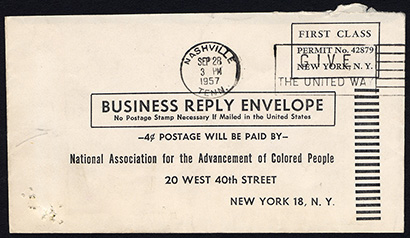 ---
42¢ Charles Hamilton Houston and Walter White, 2009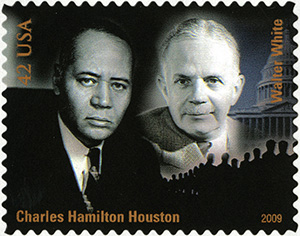 Charles Hamilton Houston founded the NAACP's legal department in 1935. For the next fifteen years he challenged segregation through the courts and mentored his successor, the future Supreme Court Justice Thurgood Marshall.
Thurgood Marshall to Charles Hamilton Houston Cover, September 23, 1935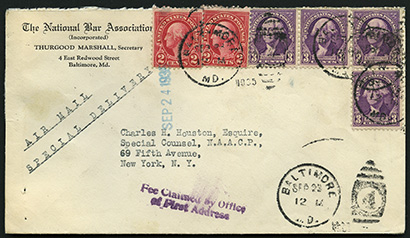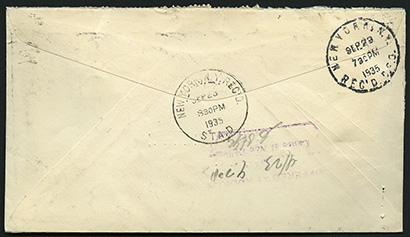 ---
Scottsboro Defense Committee Cover, October 27, 1937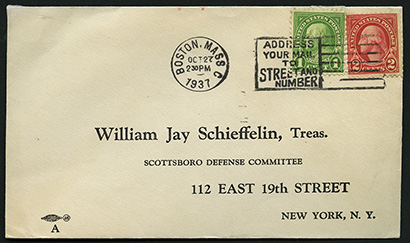 The "Scottsboro Boys" were nine black teenagers from Alabama falsely convicted of raping two white teenage girls in 1931. The convictions were overturned by the Supreme Court and sent back to Alabama for retrial. The NAACP cooperated with the Scottsboro Defense Committee to raise money to pay for the Scottsboro Boys' defense, but five of them were reconvicted. All were eventually paroled or pardoned.