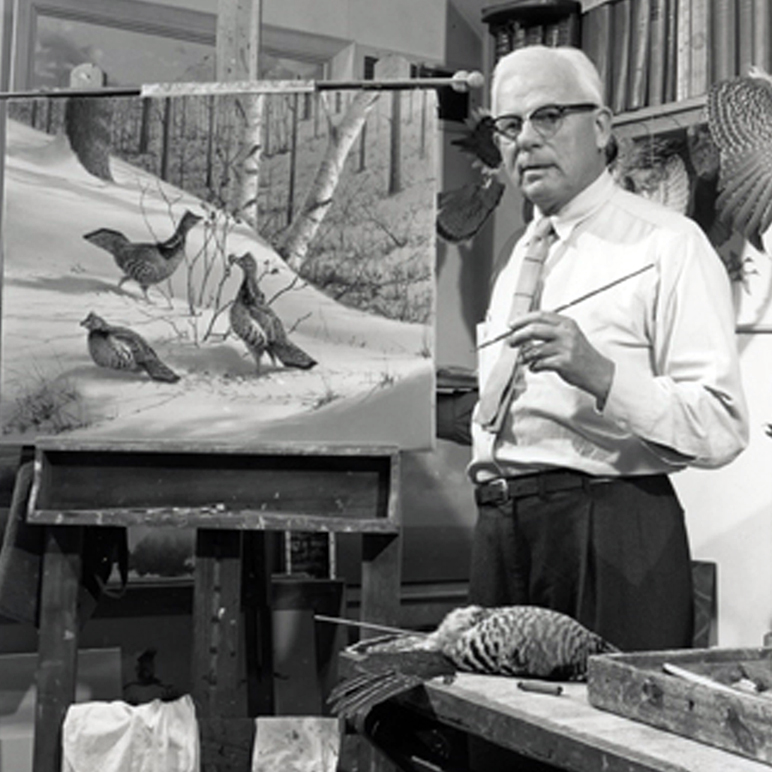 Both Owen J. Gromme (1896-1991), artist, and Victor S. McCloskey, Jr. (1908-1988), BEP designer, autographed this block of six 1945 federal duck stamps, plate 157248. Both deceased, their signatures make the block especially unique.
Gromme's artwork for the stamp, a black and white wash painting, features Shovelers, a species common to Wisconsin wetlands. Though Gromme had no formal training, his paintings are noted for their beauty and precision. His most famous published work, "Birds of Wisconsin," features portraits of 326 birds native to the state. One of his lifelong artistic goals, he commented in a 1984 interview with the Chicago Tribune, was to create a sense of openness in his paintings that gave "each bird a way to get out of the picture."
A native of Fond du Lac, Wisconsin, his career with the Milwaukee Public Museum spanned decades. "I stuffed birds and learned anatomy," he recalled, "and carved birds . . . and made field sketches in color of bird beaks and heads and feet." Through it all, he became a scientist and an artist. He also became an outspoken naturalist. "To punch and punch and punch on behalf of the environment," he claimed, "is applied science, the job of a naturalist." Gromme died in 1991.
Victor S. McCloskey, Jr., designer at the BEP, produced the model for the 1945-1946 federal duck stamp. Matthew D. Fenton engraved the frame, and John S. Edmondson engraved the frame, numerals, and letters. The stamp was printed on the intaglio press using plates 157248 and 157249 and was first available to the public on July 1, 1945.