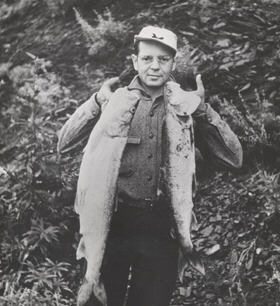 Sales of duck stamps slumped as the United States deepened its involvement in World War II and thousands of young men joined the military. The trend reversed with the 1944-1945 issue, based on Walter A. Weber's watercolor wash titled "White-fronted Geese." Weber, then a staff artist for the National Park Service, signed this block of six, plate 155603. His signature makes the block an especially desirable item. Two federal duck stamps have featured his artwork, this issue and the issue of 1950-1951, "Trumpeter Swans."
Weber, born in 1906 on Chicago's west side, spent much of his life doing what he loved—using art to make botany and wildlife "accessible" to the general public. He studied at the School of the Art Institute of Chicago and the University of Chicago and worked at Chicago's Field Museum. He spent two years working as a biologist for Chicago's world's fair "A Century of Progress" (1933-1934) before accepting a position at the National Park Service. He also worked at the U.S. National Museum.
In 1949 he became staff artist for National Geographic Society, a position he held until retirement in 1971. The U.S. Department of the Interior honored him with its highest civilian award in 1967, recognizing him as the one of the nation's outstanding wildlife and nature artists. Weber died in 1979.