Ethel Ash, a former teacher, was one of over 3,480 YMCA volunteers working alongside the military to improve the quality of life for soldiers, sailors, and Marines. Stationed in Verdun and Paris, France, Ash ran mobile canteens supplying doughnuts and also operated a soda fountain. Never off duty, she attended parties and social activities fulfilling the organization's mission. For Ash, the variety of her work and leadership roles underscored her aspirations.
To find out more about Ethel Ash's wartime service, correspondence, and the YMCA, read "YMCA Work During the Great War" by Jessica Henn, Collections Assistant, Women In Military Service for America Memorial Foundation.
Objects Courtesy Ethel Ash Collection, Gift of Sarah (Ash) Albert, Women's Memorial Foundation Collection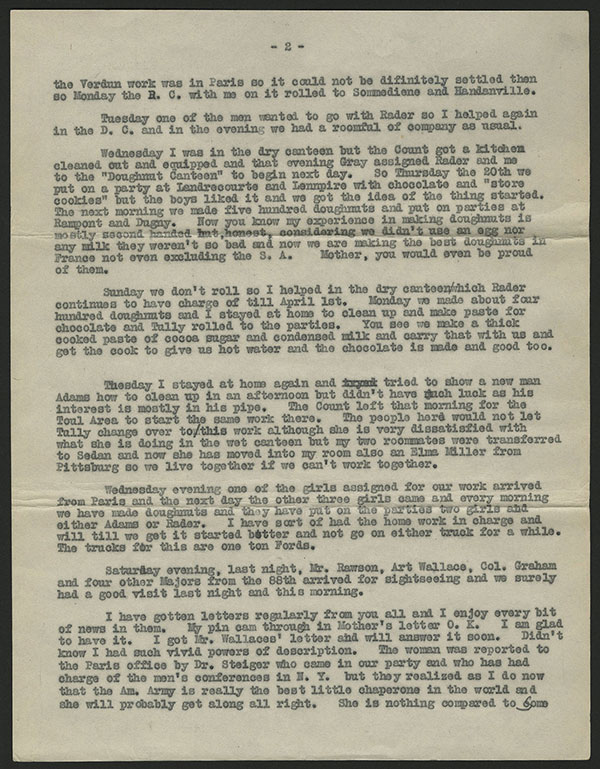 "Made 500 doughnuts . . . considering we didn't use an egg nor any milk they weren't so bad and now we are making the best doughnuts in France."
Ethel Ash to her family
March 30, 1919
In this letter to her family, Ethel Ash shows her can-do attitude when tasked with starting a mobile (or rolling) canteen for making and distributing sweet and nourishing doughnuts to boost the morale of the military personnel.