Lulu Wolfe graduated from the Newark City Hospital School of Nursing in 1912. Wolfe joined the Army during the war and was assigned to Base Hospital No. 48 at the Mars Hospital Center, Mars-sur-Allier, France. Working under primitive conditions, the medical staff treated soldiers suffering from shrapnel wounds and the effects of gas poisoning. Part of patient care included entertainment and social activities, and Wolfe's records reflect the psychological value of camaraderie.
To find out more about Lulu Wolfe's wartime service and correspondence, read "A Century Old Modern Romance" by Jessica Henn, Collections Assistant, Women In Military Service for America Memorial Foundation.
Objects Courtesy Lulu Belle (Wolfe) Smith Collection, Gift of Ellen Mertens, Women's Memorial Foundation Collection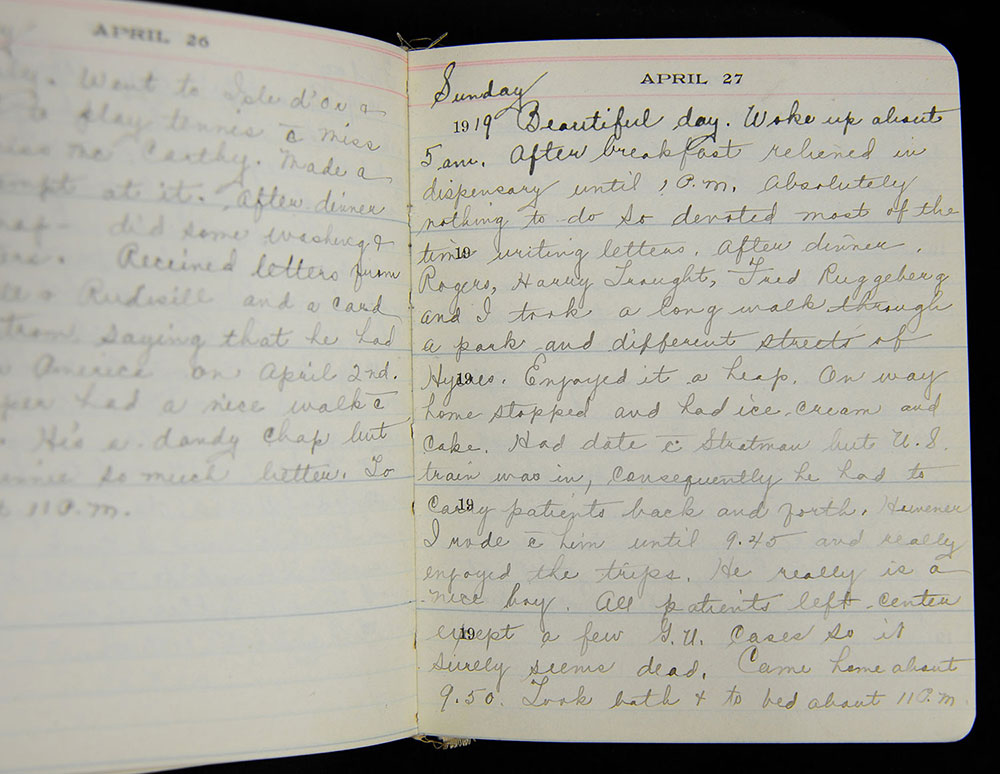 "In dispensary until 1pm . . . Had date with Stratman but U.S. train was in, consequently he had to carry patients back and forth. However I rode with him until 9:45 and really enjoyed the trips."
Nurse Lulu Wolfe's diary entry, April 27, 1919
Lulu Wolfe wrote diary entries from her deployment to France in the summer of 1918 through her adjustment upon coming home after the war in 1919. The diary reveals her everyday activities while working as an Army nurse and the importance of correspondence that enabled her to keep in touch with her friends and family.