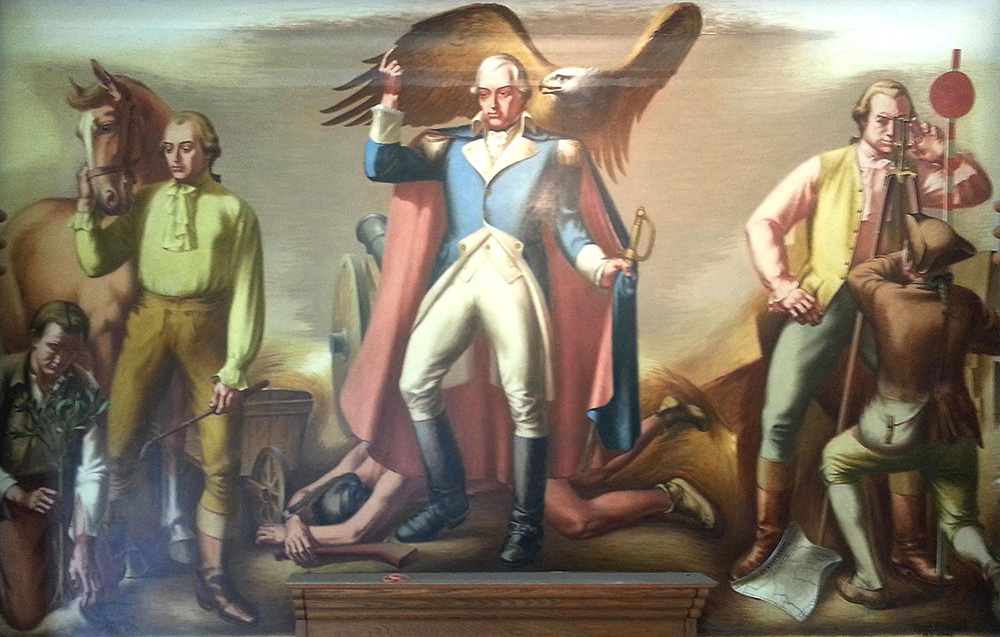 The mural in Wayne, Pennsylvania titled Anthony Wayne was painted by Italian-born artist Alfred D. Crimi in 1941. Born Alfredo diGiorgio Crimi in San Fratello, Sicily, Italy on December 1, 1900, Alfred Crimi immigrated to the United States in 1910 and was naturalized in 1924. Living in New York City, he attended public school in East Harlem's Little Italy, the National Academy of Design from 1916-1924 and the Beaux Arts Institute from 1920-1921. In 1929, he returned to Italy to study fresco painting. Once back in the United States, Crimi became a successful muralist, and was hired by the Works Progress Administration (WPA) for the Harlem Hospitals murals project. He also worked for the Public Works of Art project in Key West, Florida. In addition to this Post Office mural in Wayne, he also painted the mural in the post office in Northampton, Massachusetts. Alfred Crimi died in New York City in 1994.
While the depictions of Anthony Wayne in the mural indicate that the artist did research his subject and his role in United States history, it does not appear that Crimi had any connections to, or spent any significant time in Wayne, Pennsylvania. In fact, while the mural is located there, General Anthony Wayne's most noted victory over Indian forces, the topic that the central image of the mural is likely based on, occurred over 500 miles away from Wayne near present-day Maumee, Ohio. However, the region of Pennsylvania where Wayne is located was the historical home of the Lenni Lenape people, who had been forced westward by the Treaty of Easton in 1758. Also known as the Delaware, they had removed to the Ohio territory by the late 18th Century, and fought against General Wayne and his forces.
Anthony Wayne was born in Easttown Township, Pennsylvania in Chester County, near present-day Paoli, Pennsylvania in January 1745. He was educated as a surveyor at his uncle's private academy in Philadelphia, and was sent by Benjamin Franklin and his associates to survey land they owned in Nova Scotia. He became a leader in Chester County and served in the Pennsylvania legislature in 1774-1775. Anthony Wayne embarked on a military career at the onset of the American Revolutionary War, where his military experiences and explosive personality soon earned him a promotion to the rank of Brigadier General and the nickname of "Mad" Anthony Wayne. During the war he had his first notable encounters with American Indians, successfully working to end alliances between the British and Native American tribes in Georgia. He subsequently helped negotiate treaties with the Creek and Cherokee peoples in Georgia and was rewarded with a large rice plantation in that State. In 1791, he served in the Second United States Congress as a U.S Representative of Georgia but lost his seat during a debate over his residency qualifications and declined to run for reelection in 1792. President George Washington then placed him in command of a newly-formed military force called the "Legion of the United States," whose mission was to consolidate control of the Northwest Territory.
With the Treaty of Paris in 1783, the British had relinquished all claims to the Ohio Country. Settlers rapidly came across the Appalachian Mountains to the Northwest Territory. British forces had allied with a confederation of the Miami, Shawnee, Lenni Lenape and Wyandot tribes who had achieved victories in 1790 and 1791 under the leadership of Michinikwa, also known as Little Turtle. These victories had stalled U.S. efforts to settle the region and created a major setback for President Washington. In 1790, the US sent 1400 soldiers into land claimed by the Miami and the Shawnee Indians. In October, Little Turtle and his followers, including the future Shawnee chief Tecumseh, succeeded in driving them out. In 1791, 2000 soldiers under the command of Arthur St. Clair moved against them in western Ohio. Once again, Little Turtle led his forces to victory. General Wayne was given command of the Northwest army after Arthur St. Clair's defeat. He spent the next two years training his troops before leading them north from the Ohio River. US policy demanded that the Indians move out of the way for General Wayne to accomplish the goal given to him by President George Washington to open up the Northwest Territory to American settlers. This required the acquisition of much of Ohio and the confinement of the Shawnee, Delaware and Wyandot to approximately a quarter of their homeland. In 1794, Little Turtle led attacks against supply trains belonging to the United States army in attempts to secure his homeland. However, he realized that the British would not be with him against "Mad" Anthony Wayne's army and encouraged negotiations. His call for peace went unheeded. What lay ahead was the Battle of Fallen Timbers. Wayne planned to launch attacks against the Indians, and sent one more letter to four Indian tribes with a last offer to negotiate. There were no positive responses. In June of 1794, 2,000 Indians attacked Fort Recovery.
The battle ended August 20, 1794 in victory for General Wayne, demonstrating the strength of the new U.S. government. The battle was followed by the signing of the Treaty of Greenville between the tribal confederacy and the United States in 1795, which established the official western border of the United States, opening much of the Ohio country for settlement. Indian signatories to this treaty included the Wyandot, Lenni Lenape, Shawnee, Miami, Ottawa, Chippewa, Potawatomi, Kickapoo, Wea, Eel River, Piankeshaw, and Kaskaskia. The Treaty of Greenville was supposedly a "treaty of peace and friendship." It is noteworthy that two signers there were Meriwether Lewis and William Clark, a decade before their famous expedition. Also of interest, besides the agreements to "hereby cede and relinquish forever, all their claims to the lands lying eastwardly and southwardly of the general boundary line now described," was a "useful goods forever" clause, that "henceforward every year, forever, the United States will deliver, at some convenient place northward of the river Ohio, like useful goods, suited to the circumstances of the Indians, of the value of nine thousand five hundred dollars; reckoning that value at the first cost of the goods in the city or place in the United States where they shall be procured". The value of that $9,500 is worth approximately $667,000 today if in a gold portfolio, or $5,791,795 based on the value of the gross domestic product with inflation.
Anthony Wayne died in Pennsylvania in December 1796 of complications from gout and is buried in his family plot in Radnor, Pennsylvania, a township which overlaps with Wayne. From this history we get one of the most overt representations of a local hero: General "Mad" Anthony Wayne standing gloriously in his own post office. The image shows him in a triple portrait as a well-rounded gentleman farmer by inheritance, military hero under George Washington, and surveyor. Note the fallen Indian behind his boots, positioned as the last barrier Wayne had to step beyond in order to open up the Northwest Territory to American settlers, confining the Shawnee, Delaware and Wyandot to only about 25% of their homeland. The Indian Nations who opposed Wayne were scattered throughout the country, and few are federally recognized. These include the Lenni Lenape, also known as the Delaware, signatories to the Treaty of Greenville and the original inhabitants of the land on which Wayne, Pennsylvania sits today. They would likely not agree that Anthony Wayne's victory at Fallen Timbers is something to celebrate and immortalize on the wall of a Federal public building.
By Meghan A. Navarro
---
Sources:
Carter, Harvey Lewis
1987 The Life and Times of Little Turtle: First Sagamore of the Wabash. Urbana: University of Illinois Press.
Encyclopaedia Britannica Online Academic Edition
2013 Little Turtle. britannica.com/EBchecked/topic/344232/Little-Turtle, accessed September 24, 2013.
britannica.com/EBchecked/topic/638108/Anthony-Wayne, accessed October 5, 2013.
LaGumina, Salvatore J., Frank J. Cavaioli, Salvatore Primeggia, and Joseph A. Varacalli
2000 The Italian American Experience: An Encyclopedia. New York: Garland Publishing Inc.
The Library of Congress
2000 The American Folklife Center Local Legacies: Fallen Timbers Battlefield. lcweb2.loc.gov/diglib/legacies/OH/200003440.html, accessed September 27, 2013.
National Archives
2006 Treaty of Greenville, August 3, 1795. research.archives.gov/description/299800, accessed October 21, 2013.
National Park Service
2013 Valley Forge National Historic Park, Pennsylvania: General Anthony Wayne Monument. nps.gov/vafo/historyculture/waynemonument.htm, accessed October 21, 2013.
2013 Fallen Timbers Battlefield and Fort Miamis. nps.gov/fati/index.htm, accessed October 20, 2013.
National Park Service Museum Collections
2001 Portraits from the Middle Theater: Anthony Wayne. nps.gov/museum/exhibits/revwar/image_gal/indeimg/wayne.html, accessed October 20, 2013.
Ohio Historical Society
2013 Fallen Timbers Battlefield Memorial Park. ohiohistory.org/museums-and-historic-sites/museum--historic-sites-by-name/fallen-timbers, accessed September 28, 2013.
2012 Marker #4-54 St. Clair's Defeat, 1798/Wayne's Victory, 1794. remarkableohio.org/HistoricalMarker.aspx?historicalMarkerId=708&fileId=3245, accessed October 22, 2013.
Ohio History Central
2012 Michikiniwka. ohiohistorycentral.org/w/Michikinikwa?rec=240, accessed September 25, 2013.
2012 Anthony Wayne. ohiohistorycentral.org/w/Anthony_Wayne, accessed September 27, 2013.
Rafert, Stewart
1996 The Miami Indians of Indiana: A Persistent People. 1654-1994. Indianapolis: Indiana Historical Society Press.
Smithsonian American Art Museum and the Renwick Gallery
2013 Still Life by Alfred D. Crimi. americanart.si.edu/collections/search/artwork/?id=5958, accessed October 20, 2013.
Smithsonian Institution Research Information System
2012 Alfred D. Crimi papers, 1930-1987. siris-archives.si.edu/ipac20/ipac.jsp?uri=full=3100001~!209711!0, accessed October 21, 2013.
Syracuse University Libraries
2013 Alfred D. Crimi Papers. library.syr.edu/digital/guides/c/crimi_ad.htm, accessed October 21, 2013.
Tollemar, Viktor
2009 Wayne, Anthony (Mad Anthony). Electronic document, pabook.libraries.psu.edu/palitmap/bios/Wayne__Anthony.html, accessed October 20, 2013.
ushistory.org
2013 Wayne Buried in Two Places. ushistory.org/paoli/history/wayneburied.htm, accessed October 20, 2013.
U.S. Stamp Gallery
2012 Gen. Anthony Wayne Memorial. usstampgallery.com/view.php?id=fab19abfc186474354d059987002dfd06da3ddce, accessed September 25, 2013.
Yale Law School
2008 Text of the Treaty of Greenville 1795. Electronic document, avalon.law.yale.edu/18th_century/greenvil.asp, accessed September 21, 2013.