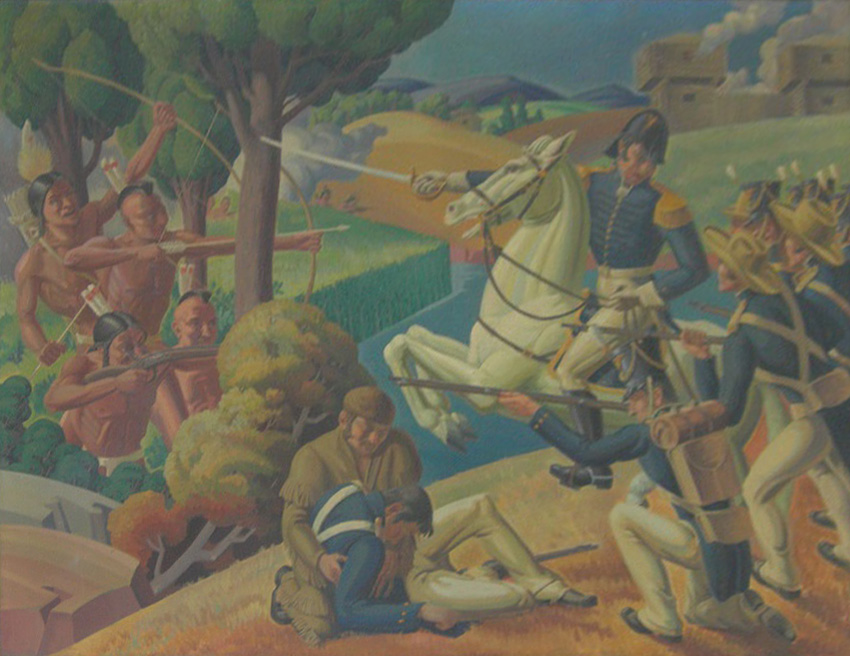 On July 22, 1937, Carlo Ciampaglia was invited by the Section of Painting and Sculpture to paint a mural for the post office in Cuthbert, Georgia. Between 1908 and 1915, Ciampaglia had studied art at the National Academy School in New York and Cooper Union. In 1920, he won the prestigious Prix de Rome which allowed him 3-years of study at the American Academy in Rome. When he returned to the United States, he concentrated his efforts on painting murals. In addition to the Cuthbert painting, Ciampaglia painted numerous ones for the 1936 Centennial Exposition held in Dallas, Texas, as well as two for the Food Building at the 1939 World's Fair.1 The latter assignment created a scheduling conflict with of the Cuthbert painting, leading the artist to request an extension to complete the post office commission.2
Ciampaglia titled his painting Last Indian Trouble in Randolph County - 1836­, which specifically references to the final skirmishes between the United States Army and the Muscogee (Creek) Indians who lived in Georgia prior to their removal to Indian Territory in Oklahoma. The Section of Painting and Sculpture seems to have had mixed feelings regarding the depiction of battle scenes, but it was not excluded as a subject matter. Section Assistant Chief Edward Rowan noted in a letter to the artist "The design has been considered by the members of the Section and while this office is not interested particularly in further decorations dealing with warfare, we sense a commendable impersonal quality in this particular work and a fine sensitive decorative treatment which makes it a most acceptable decoration. I am pleased to tell you that your design is approved."3
The Muscogee Indians had a long history of fighting to protect their rights and homelands. In 1813, they fought against the U.S. Army in the Red Stick War which culminated at the battle at Horseshoe Bend, Alabama in March 1814. The war officially ended that August with the signing of the Treaty of Fort Jackson, which forced the Muscogee to cede 22 million acres to the United States government, including a large tract in southern Georgia.4 The Muscogee were continually forced to relinquish their lands, and, were stripped of their property when in 1825, their leader, Chief William McIntosh, signed the Treaty of Indian Springs. In 1830, famed Indian fighter Andrew Jackson was elected President of the United States and one of his first legislative acts was to sign the Indian Removal Act. Yet factions of the Muscogee still vowed to fight the military rather than be removed to lands west of the Mississippi. Their final skirmishes with the Army in 1836 became the subject for Ciampaglia's mural.5
Ciampaglia situated his battle scene within a landscape of rolling hills juxtaposed to a field of corn. Smoke billowed from a burning fort in the background, as U.S. military forces make their charge in the right foreground of the composition. They are led by an officer mounted on a rearing white horse, his sword extended from his right hand in the direction of the Muscogee warriors. The artist's depiction of the officer is reminiscent of equestrian paintings and statues of military leaders dating back for centuries in European and American art. However, given the conflict is between the Muscogee Indians and the Army, it is reasonable to assume the artist found inspiration in paintings and sculptures of Andrew Jackson leading his troops at the Battle of New Orleans, including the works of sculptor Clark Mills and painter Charles Severin.
The soldiers, lined up behind their leader, are faceless with the exception of one kneeling on the ground, his rifle raised toward the Muscogee Indians. Just below the barrel of the shooter's rifle, a wounded soldier slumps on the ground; he is comforted by a man depicted as a trapper. A tree separates the soldiers from a group of four Muscogee Indians wearing only breechcloths. Two of the warriors point their arrows toward the enemy, a third takes aim with his rifle. Two Muscogee are seen standing in the corn field, two others are depicted just beyond the corn.
The battle scene depicting the Muscogee Indians resistance to the Indian Removal Act fits within the historical narrative of Randolph County Georgia. Although the Muscogee had occupied the area for centuries prior to the arrival of Europeans, the painting reifies the public's interest in the depiction of battles with them, while assuring the dominant culture will be victorious. After making their final stand in Randolph County between 1836 and 1837, 20,000 Muscogee were forcibly removed to Indian Territory.
Paintings of historical scenes, rarely, if ever, depict the entire story. True to the painting's title, the 1836 conflict would be the last Indian trouble in Randolph County; it also led to the suffering of thousands of Muscogee. Although removed from their homelands and forced to make new lives in Oklahoma, today the Muscogee (Creek) Nation although remembering their past, embraces their future.
By Denise Neil-Binion, Delaware/Cherokee Nation, PhD Candidate, Art History, University of Oklahoma
Website for tribal nation: mcn-nsn.gov
---
Sources: