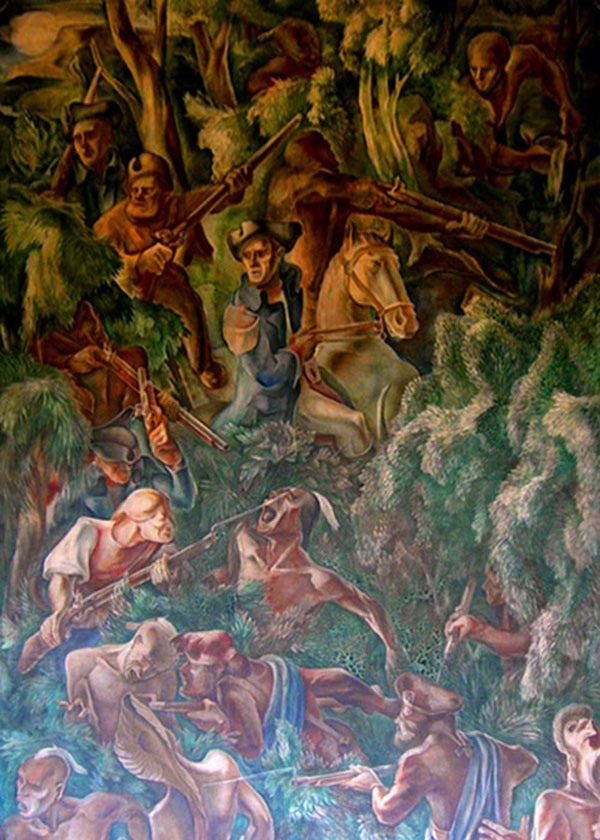 The Post Office mural in Jeannette, Pennsylvania, was the design of one artist and the product of another. The Battle of Bushy Run was originally conceptualized, researched and drawn by T. Frank Olson, who died only days after his designs were approved by Washington, DC. The son of Norwegian immigrants, T. Frank Olson travelled to Bergen, Norway in his youth to study art. Upon his return to the United States, he continued his studies at the Pratt Institute in New York City. Under the direction of Samuel Rosenberg, an art instructor at the Carnegie Institute of Technology (now Carnegie Mellon University), Olson studied mural decoration and received the highest honors in his class. When the competition for the Jeannette Post Office mural was announced, Olson applied himself wholeheartedly to his design. He is reported to have spent hours each day in the art reference room of the Carnegie Library researching the Battle of Bushy Run, as well as speaking to subject matter experts. He claimed that conceiving of the idea was nothing compared to making each detail authentic. A preliminary local jury approved his designs, followed by the final selection of his designs in Washington. Unfortunately, Mr. Olson died on September 7, 1935, days after signing the contract for his mural. His obituary describes his artistic style as "marked by strength," featuring bold strokes and an "unusual aptitude for filling in space."
He is credited with "constant application and scrupulous attention to detail," and his work showed inherent qualities of "pattern, balance, and decorative skill." After his death, his former instructor Robert L. Lepper was charged with the execution of the murals. Lepper was a graduate of the Carnegie Institute of Technology, and had studied and traveled in Europe. In 1930, he became an assistant professor in the department of painting and design at the Carnegie Institute of Technology. Mr. Lepper also designed and executed the Post Office murals in Caldwell, Ohio and Grayling, Michigan.
Mr. Olson may have chosen the Battle of Bushy Run as his subject matter for its local significance, as it may be the first historical reference to the area that the town now stands on. It is regarded as the turning point in Pontiac's War, one of the most significant conflicts between Europeans and American Indians in the 18th Century. The Battle of Bushy Run was fought one mile east of Bushy Run Station in western Pennsylvania on August 5th and 6th, 1763. The hostilities were led by a British column under the command of Colonel Henry Bouquet against a combined force of Delaware, Shawnee, Mingo, and Huron warriors to protect Fort Pitt. Colonel Bouquet himself had met with the chiefs of the Delaware Indians at Fort Pitt in 1758, where the Delaware were assured of the peaceful intentions of the King of England and his people toward them. Tamaqua, Shingas, and Keeyuscung of the Delaware traveled to attend this meeting. Keeyuscung and his son, Wolf, would both die at that same location only 4 years later. Another meeting in 1759 was accompanied by provisions and arms. It was the policy of the English Government to use every effort to conciliate the Indians and keep them on good terms. The British had recently promised to retreat from the Ohio valley, stating "We are not come here to take possession of your hunting country in a hostile manner…but to open up a large and extensive trade with you and all other nations of Indians to the westward who choose to live in friendship with us." However, by 1761, the British under General Jeffrey Amherst, commander of all British forces in North America, pronounced a new policy halting gift giving and provisions as a means of negotiating and continued to allow settlers to cross the Alleghenies in violation of the 1758 Treaty of Easton. Pontiac was an Ottawa chief in the Detroit area who had resisted British policies and control. In 1763, Indian forces began attacking British outposts in what came to be known as Pontiac's War. By July 1763, Pontiac's forces had captured 9 forts and forced the abandonment of another. They were then laying siege to the major forts of Fort Detroit and Fort Pitt. Early in 1763, the Delaware had begun to attack settlements near Fort Pitt, drawing the infamous Colonel Bouquet back there to defend it. Indian scouts observed Bouquet's army marching west along Forbes Road and, upon hearing this, the forces surrounding Fort Pitt chose to temporarily end their siege and attack Bouquet and his men before they arrived. The attack resulted in a victory for the British. Bouquet and his forces relieved the garrison at Fort Pitt, lines of communication from the frontier were restored, and Pontiac's War turned in favor of the British.
Most histories of the Battle of Bushy Run do not include what happened before August 1763. The garrison at Fort Pitt was running out of arms and supplies, and Mamaltee, a Chief of the Delaware and Turtle's Heart, a principal warrior, went to deliver surrender terms. According to the personal journal of William Trent, a supply trader at Fort Pitt, Mamaltee and Turtle's Heart claimed that many Indian forces were coming, and they had convinced six Nations not to attack Fort Pitt, and to give its inhabitants time to leave. The Commanding Officer thanked them, but refused to do so. When they returned to repeat their message, and claim they would "hold fast the chain of friendship," they were given "two blankets and a handkerchief out of the Small Pox Hospital," and Trent hoped it would have "the desired effect." An invoice for blankets, a silk handkerchief and some linen was submitted by Levy, Trent and company for "sundries got to replace in kind those which were taken from people in the Hospital to Convey the Smallpox to the Indians." The officers and traders at Fort Pitt are not the only ones who hoped to gain a military advantage over Indian forces by surreptitiously infecting them with smallpox. In letters between Lord Amherst and Colonel Bouquet, they clearly shared the same idea. In a letter dated July 7, 1763, Amherst asked Bouquet, "Could it not be contrived to Send the Small Pox among those Disaffected Tribes of Indians? We must, on this occasion, Use Every Stratagem in our power to Reduce them." In a July 13 letter, Bouquet agreed to attempt to infect the Indians with smallpox, adding that he wished they could be hunted with dogs. On July 16, Amherst reiterated to Bouquet that "[y]ou will do well to try to innoculate the Indians by means of blanketts, as well as to try every other method that can serve to extirpate this execrable Race."
This back story of germ warfare adds a deeper layer of deceit and brutality to the history of the Battle of Bushy Run. The mural itself, depicting that fateful event, is a chaotic and brutal scene of screaming Indians with bayonets being run through their chests and heads. However, it is unclear if this is how the original artist, T. Frank Olson, intended to paint it. Two years after Olson's death, an article ran in the Pittsburgh Sun-Telegraph on November 9, 1937, claiming that Lepper had made unapproved changes from Olson's original sketches and that his "carefully planned historic record" had been "jazzed up." The faces of combatants on both sides had been altered to resemble "distorted caricatures," costumes had been drastically altered, and background and distance practically eliminated. The writer, Dorothy Kantner, argued that the "whole movement of the mural [had] become scattered and jerky," something Mr. Olson had supposedly worked painstakingly to avoid. Jeannette's post-master also complained about alterations to Olson's original sketches, objecting that the rifles, from which Lepper had removed the bayonets, now looked more like repeating rifles which, he lamented, were unknown at the time of the Battle of Bushy Run. He also stated that the bayonets were largely responsible for the British victory, and to leave them out was a great distortion of the historical accuracy of the mural. For his part, Lepper argued that "post office murals are not intended to be viewed as pictures of events or activities but rather as decorations, symbolic of events and activities which stem from the past." The Section of Fine Arts's Edward Rowan supported Lepper's alterations, but due to pressure from the community, had him paint the bayonets back into the mural, including those that are being thrust through the bodies of the Indians in the picture. Thus, it is apparent that the grossly twisted and agonized faces of the Indian warriors in the mural were not the original intent of the artist, and the portrait was meant to be a painstaking record of local history. While its significance to the local history of the area cannot be disputed, the violence of the event, and the unsavory actions preceding it, make this a troubling and disturbing subject for a public building.
By Meghan A. Navarro
---
Sources:
The Ambler Gazette
1935 T. Frank Olson, Well-Known Artist. Electronic document, contentdm1.accesspa.org/cdm/compoundobject/collection/wivp-gazett/id/22907/rec/5, accessed October 22, 2013.
Crawford County Avalanche
2013 Reader finds article in 1939 Avalanche regarding post office mural. Electronic document, crawfordcountyavalanche.com/articles/2013/03/20/letters_to_the_editor/doc514089682723e342721897.txt, accessed October 22, 2013.
d'Errico, Peter
2010 Jeffrey Amherst and Smallpox Blankets. Electronic document, people.umass.edu/derrico/amherst/lord_jeff.html, accessed October 23, 2013.
Harpster, John W., ed.
1938 Pen Pictures of Early Western Pennsylvania. Pittsburgh: University of Pittsburgh Press.
Kenny, Kevin
2011 Peaceable Kingdom Lost: The Paxton Boys and the Destruction of William Penn's Holy Experiment. New York: Oxford University Press.
Lembeck, David
2008 Rediscovering the People's Art: New Deal Murals in Pennsylvania's Post Offices. Pennsylvania Heritage, 28-37.
Morgan, Lisa
2010 Bouquet's Stand at Bushy Run. Electronic document, pabook.libraries.psu.edu/palitmap/BushyRun.html, accessed October 22, 201
Pennsylvania Historical & Museum Commission
2008 New Deal Art and Architecture. Electronic document, portal.state.pa.us/portal/server.pt/community/arts_and_architecture/2805/, accessed October 21, 2013.
The State Museum of Pennsylvania
1937 What Would Olson Say if He Saw Murals Now! by Dorothy Kantner. Electronic document, statemuseumpa.org/Assets/pdf-files/common-canvas/Final%20High%20School%20Student%20Worksheet.pdf, accessed October 22, 2013.