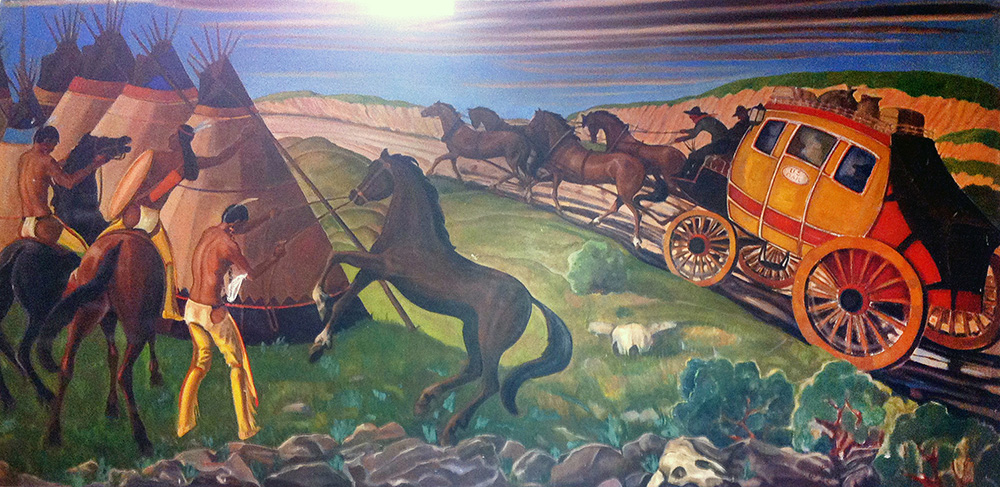 The Earth is still, the sun shining brightly, and the wind is light among the Indigenous Peoples of the vast Plains of America. Tribes people move about as usual, walking, visiting, each having a place and a purpose. Suddenly, a noise in the distance… a rattling, rumbling, jingling, whipping-noise fills the ears of all who are near. Horses, unfamiliar with such a disturbance, become spooked! Disturbed and confused, the tribal village drops their work and stares at an unfamiliar transportation vehicle carrying people and cargo while it sweeps across their land. Some men grab their weapons of choice, perhaps expecting an attack, while others simply stare in uncertainty. This is the depicting scene witnessed by on lookers today who view Joseph Fleck's painting, Red Man of Oklahoma Sees the First Stage Coach.  Mr. Fleck was chosen as part of a "48 States Competition" to create a mural for a post office as a part of the New Deal-era economy restoration efforts of Franklin Roosevelt. Roosevelt's New Deal wasn't just saving lives in poverty, but making an historic landmark of art expression ranging all over the United States. Rich history is spilled out through Joseph Fleck in his 1937 painting that still hangs on the walls of what was once the original post office in Hugo, Oklahoma. While this building has survived, it now houses the Hugo School System Administration. Some artworks featuring Native Americans done during Roosevelt's New Deal-era came to be more or less accurate than Red Man of Oklahoma Sees the First Stage Coach, yet there is no doubt that the high emotions running through this painting are precise. Stagecoach technology never seen by a civilization with little contact outside of their niche would likely bring emotions such as fear, anxiety, and perhaps even anger. Those blessed to come in contact with the painting as fine art, will at the same time see a terrible vision for the indigenous tribe depicted as the invaders spill onto their homeland. Success and survival tactics for the indigenous world, as they knew it, was beginning to slow, while the stagecoach speeds by, whirl-winding an ominous foretelling of drastic change to come.
In 1892, the artist Joseph Amadeus Fleck was born in the village of Sziklos, within Austro-Hungary. Fleck studied lithography, etching, and engraving at the Kunstgewerbeschule (Institute of Applied Arts) and drawing and painting at the Akademie der bildenden Künste Wien (Academy of Fine Arts) in Vienna, Italy. "His primary instructors at the Akademie, Hans Tichi and Rudolph Bacher, were fringe members of the Vienna Secession led by Gustav Klimt."
After World War I erupted in 1914, Fleck was drafted into the Italian Army and sent to the front lines. "Luckily for him, his artistic skills earned him an unofficial position as the regimental artist and, upon his return to Vienna after his first tour of duty, he was given a position painting patriotic images and portraits of notable government and military figures." When the war came to an end, Fleck began to finish his studies at the Academy of Fine Art and then, several years later, he immigrated to the United States.
His first destination was Kansas City, Missouri, where he worked as the chief designer of Tiffany's stained-glass operation there. The talented artist had opportunity to paint numerous portraits of prestigious personages around Kansas City, including the Mayor; all "before he attended an art exhibition that would forever change his life." In the summer of 1924, Fleck visited Taos Society of Artists exhibition in Kansas City during his first visit to Taos. He seemed to enjoy either Taos or the exhibition so much that he moved there in 1925, bringing his newly-wedded wife Mabel Davidson Mantz. He apparently found love in just the right place when Mabel's family connections aided Fleck's art career in Kansas City and Fort Worth, Texas. "Eventually Fleck had a studio on La Loma, a neighborhood just west of Taos Plaza, where artists W. Herbert Dunton and Blanche Grant also lived."
"When the Great Depression decreased tourist traffic to Taos, Fleck 'resolved to go to the clients' according to his son, Joseph Fleck Jr." However, the oil industry was booming in Oklahoma and Texas, so this is where Mr. Fleck would travel for work. While finding work among those who would pay to have him, Joseph found a financial cushion on the Works Project Administration mural commissions in "Raton, New Mexico; Hugo, Oklahoma; and the New Mexico State Capitol at Santa Fe (never finished)." In the1940s, after using the WPA to his advantage, Fleck picked up a job for the University of Kansas City, now the University of Missouri at Kansas City. He also managed to find time to paint murals for the student union at UMKC that still hang there today. Later in the 1940s, Mr. Fleck decided to build a new studio in Talpa, a village south of Taos.  His painting style at first was strict and often seen as having an "academic" approach; however, as time went by, it eventually became more relaxed developing into something more impressionistic in nature. His paintings included landscapes, portraits and life scenes of the Indians in various regions, using oil paints and pastels. In 1973, Fleck moved to Pleasanton, California and died there in 1977 at age 85.
Although information about the artist Joseph Fleck is not too obscure for this researcher, this specific mural seems more mysterious. Unfortunately it appears that one cannot even be sure of the painting's name considering the many titles under which the painting has been listed, each inferring something entirely different. Although all historic resources seem to be sure of the painter, the name has been referenced as Redman Sees the First Stage Coach, Choctaw Indians See the First Mail Coach, and Early Oklahoma Indians Watching the First Mail Coach Go By. If the title were originally Choctaw Indians See the First Mail Coach, it may have been a reference to the southeastern Oklahoma Choctaw of the town of Hugo itself which is the county seat of Choctaw County, Oklahoma, located just southeast of Akota County where the stagecoach actually stopped at the house of a Choctaw Chief Tandy Walker, later the Governor of the Choctaw Nation. The most successful of the stagecoach businesses there was the Butterfield Overland Stagecoach which ran from Fort Smith, Arkansas to Santa Fe and then on to San Francisco during 1858-1861, passing through the lower acres of Oklahoma Indian Territory. But the Choctaws were not nomads and they didn't live in tipis. Choctaws actually lived in huts made of clay, wood, and grass and through European contact those huts evolved into log cabins. Recognizing these tipis can indeed show that these Natives are certainly not Choctaws. The tipis, the land, and the outer wear of the people shown are evidence that they are Plains Indians. In 1803 the United States made the Louisiana Purchase, gaining the majority of the Plains. It was not until the first stagecoach that allowed for easier travels that the Plains became rushed with European invaders. The first stagecoach in the Plains ran from Chillicothe, Missouri through Circleville, Ohio and that route began on Monday, August 23, 1819. That route would have begun in Missouri going through (in order) Illinois, Indiana and stopping in Ohio.
Regardless of the name, it seems to be that this stagecoach is in fact passing a tribe that is nomadic, hence the tipis. Specific speculations could be made on how the tribe expressed in the painting could be Arapaho, Cheyenne, or Sioux. However, the only two tribes out of the Northern Plains Indians to be relocated to Oklahoma were the Southern Cheyenne, and the Southern Arapaho. In fact, these tribes did not relocate to Oklahoma until 1869. Had this painting not mentioned Oklahoma, it could very well be another time period and location and most likely a scene in the Great Plains.
With that said, I believe that this painting undoubtedly is describing the stereotypical Plains Indian which is the tribe that most people picture when thinking about Native Americans; the Native American built for war, threatening to take down stagecoaches for no apparent reason. Still, if that is so, Fleck seems to be doing a better job in describing them than the original Western movies did where every Native American regardless of tribe is living in tipis, smoking peace pipes and wearing headdresses.
Joseph Fleck created something beautiful, but he missed the mark of historical accuracy. It appears that Fleck intended to paint a generic idea of what may have occurred to any indigenous tribe residing in Oklahoma near the Texas border during the time of the stagecoach. Still, one cannot ignore the ironic beauty that is captured for such a time that is inarguably the beginning of many hardships for all Indian people. In this time Native people were forced to move away from their homes, forced to stop hunting and begin accepting rations for food, and would soon begin an education process that would try to destroy our language, tradition and culture. Times change and uncertainty of what time may bring is what this painting depicts; the beginning of a new era of encounter for Indigenous People as the result of an ever-increasing need for communication and commerce for the United States of America.
By Dylan Kitchell, Cherokee Nation of Oklahoma
Haskell Indian Nations University
---
Sources:
Dr. Eric Anderson, in-person interview with the author, November 21, 2014
Bogan, D. (August 6, 2004). Early Stagecoaches And Their Routes. The USGenWeb Project. Retrieved from
rootsweb.ancestry.com/~ohwarren/Bogan/bogan143.htm
Grauer, M. R. (November 5, 2011). Joseph Amadeus Fleck (American, 1892-1977). Heritage Auctions(Lot70012). Retrieved from
fineart.ha.com/itm/joseph-amadeus-fleck-american-1892-1977-indian-flower-oil-on-canvas-34-1-2-x-30-1-2-inches-87/a/5085-70012.s
Joseph Amadeus fleck (1892-1977). Taos and Santa Fe Painters. Retrieved from
josephfleck.com