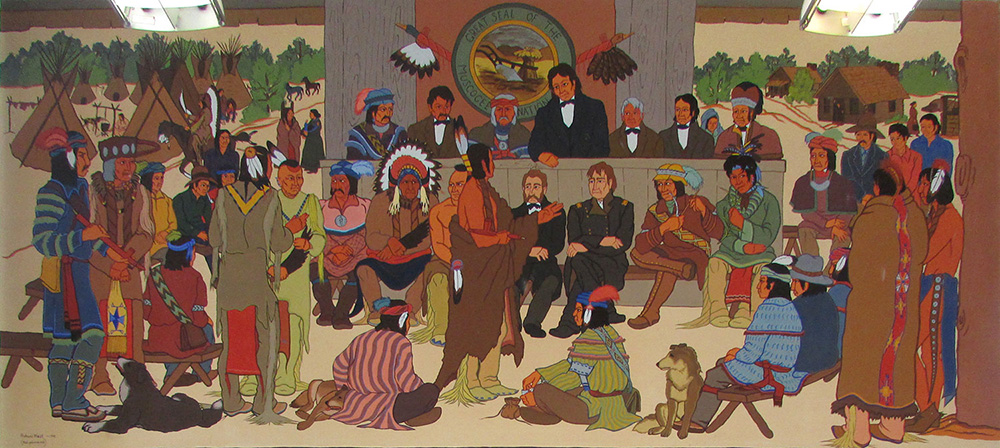 One of the finest examples of a mural painted by an American Indian artist is Walter "Dick" West's Grand Council of 1842 in Okemah, Oklahoma. Walter Richard West (Cheyenne name Wah-pah-nah-yah) was born in a tipi near Darlington Agency, Oklahoma, on September 8, 1912, to Lightfoot West and Rena Flying Coyote. He attended Concho Indian Boarding School and graduated from the Haskell Institute in Lawrence, Kansas, in 1935.
From 1936 to 1938 he attended Bacone College, then earned Bachelor's and Master's degrees in fine arts in 1941 and 1950, respectively, from the University of Oklahoma. West subsequently studied mural techniques with Olaf Nordmark in Phoenix, Arizona from 1941-42, and undertook graduate study at Northeastern State University, the University of Tulsa, and Redlands University in California. Mr. West painted in the Indian traditional flat style and was regarded as an innovator in contemporary abstract and semi-abstract painting. His work is characterized by sophisticated color, subtle brushwork, master draftsmanship, and detailed rendering of anatomy.
In 1941, Mr. West received the WPA-PWA mural commission for the U.S. Post Office in Okemah, Oklahoma. His work has also been included in the American Indian Exposition in Anadarko, Philbrook Indian Annuals and Oklahoma Annuals, the Denver Art Museum, the Joslyn Museum, the de Young Museum, the Museum of New Mexico, the Gallup Inter-Tribal Indian Ceremonials, and the Heard Museum in Phoenix. In Washington, D.C., his work was shown at the U.S. Departments of Interior and State, the Kennedy Center, and the National Museum of Natural History. Mr. West was a popular educator, lecturer, and show judge. He believed education was key to survival of Indians and all people, and stressed research to his students. They included Jimmy Anderson, Sharron Ahtone Harjo, Enoch Kelly Haney, Johnnie Tiger, Antowine Warrior, Dennis Belindo, David Williams, Marlene Riding In Mameah, and Roland Whitehorse. Mr. West was honored with the 1964 Waite Phillips Outstanding Indian Artist Award from the Philbrook Museum of Art and honorary doctorates in humane letters from Eastern Baptist College, St. Davids, Pennsylvania, in 1962 and Baker University, Baldwin, Kansas, in 1976. He served as a commissioner on the Indian Arts and Crafts Board in 1979-80 and as professor emeritus at Bacone College. Mr. West married Maribelle McCrea in 1940 and Rene Wagoner in 1970. His children are W. Richard West, Jr., founding director of the Smithsonian National Museum of the American Indian, and James Lee West. Dick West, Sr., died May 3, 1996.
The Post Office featuring Mr. West's mural is in Okemah, the county seat of Okfuskee County, Oklahoma, United States. Thlopthlocco Tribal Town, a federally recognized Muscogee Indian tribe, is headquartered in Okemah. Historically occupied by the Osage and Quapaw, who ceded their lands to the United States by 1825, this area was assigned to the Creek Nation (specifically, the Thlopthlocco Tribal Town) after the Indian Removal of tribes from the Southeast United States in the 1830s. In 1896, the Dawes Commission was authorized to work with the Five Civilized Tribes - the Cherokee, Chickasaw, Choctaw, Creek and Seminole - to enroll their members for allotments of tribal land to individual households. Registration of tribal members lasted from 1898-1906. The town site was selected by two railroad surveyors, Perry Rodkey and H.R. Dexter. Dexter is credited with choosing to name the town Okemah, meaning "things up high" in Kickapoo, after a Kickapoo Chief of the same name. The town was formally launched on April 22, 1902 and was incorporated in 1903. Okemah was chosen as the Okfuskee county seat in a county election held in August of 1908. Okemah was later badly affected by the Dust Bowl in the 1930s. Today, the Okemah is growing: the population was recorded at 3,223 in the 2010 census, a 6.1 percent increase from 3,038 in the 2000 census. Approximately 26.6% of the residents identified themselves as Native Americans.
The mural Grand Council of 1842 depicts a gathering of the "Five Civilized Tribes," which were displaced Southeastern tribes, and Plains tribes in the area, including the Kiowa and Cheyenne. All in all, representatives from 17 tribes were present, along with General Zachary Taylor of Ft. Gibson and Creek Indian agent James Logan. Dick West conducted his own research into the historical circumstances of the council and noted that dwindling bison herds were the source of much of the tension. Dick West noted: "When the territory tribes did not stop hunting, the Plains tribes started raiding the settlements and towns in the eastern part of the territory from the northern to the southern parts, burning cabins and driving stock." According to his research, the Creeks took the initiative in settling the dispute by calling a council of the tribes at the Deep Fork River near Okemah. The Council was held to "promote friendship between the various tribes." In that year, Fort Washita was established on the east side of Washita River within what is now Bryan County, Oklahoma, to provide protection to the Chickasaw against bands of Delaware, Kickapoo, Shawnee and Caddo, and incursions of people from Texas. Stylistically, Dick West portrayed this gathering with exceptional attention to detail, vibrant colors, and little unnecessary embellishment. This detail orientation and specificity are hallmarks of Dick West's work, and of traditional Indian painting.
Dick West is credited with historical accuracy in the depiction of dress and architecture, and "the careful drawing and coloring of the mural's forms indicates the desire to recreate every detail of the historical event." In pursuit of that accuracy, Dick West studied historical materials at the Smithsonian Institution, including a surviving painting of the council tentatively credited to the artist James Otto Lewis. Central to the mural is the image of officials from the attending tribes, as well as General Zachary Taylor and James Logan, seated beneath the Great Seal of the Muscogee Nation and two crossed peace pipes, lending both an air of native sovereignty and of peace. Unlike many non-native representations of gatherings of American Indians, each person in the mural is unique in dress, posture, and even facial expression. This emphasis on individuality and personhood lends both dignity and agency to the subjects of this mural, avoiding generalizations and highlighting Dick West's previously noted attention to detail and historical accuracy, and does an exceptional job of highlighting an event in local history that embodied the complexities of Indian removal, territorial disputes, and the diverse Native history of the Okemah area.
By Meghan A. Navarro
---
Sources:
The American Indian Cultural Center and Museum
2013 Brief History. theamericanindiancenter.org/oklahoma-tribal-history, accessed September 22, 2013.
Bauer, K. Jack
1985 Zachary Taylor: Soldier, Planter, Statesman of the Old Southwest. Baton Rouge: Louisiana State University Press.
Carter, Cecile Elkins
1995 Caddo Indians: Where We Come From. Norman: University of Oklahoma Press.
Greiner, Alyson L. and Mark A. White
2004 Thematic Survey of New Deal Public Art in Oklahoma 2003-2004. Electronic document, okhistory.org/shpo/thematic/newdealart.pdf, accessed September 21, 2013.
Jones, Ruthe Blalock
(No Date) Oklahoma Historical Society's Encyclopedia of Oklahoma History & Culture: West, Walter Richard, Sr. (1912-1996). digital.library.okstate.edu/encyclopedia/entries/W/WE015.html, accessed August 5, 2013.
Living New Deal
2013 Post Office Mural - Okemah, OK. livingnewdeal.berkeley.edu/projects/post-office-mural-okemah-ok/, accessed September 22, 2013.
McLerran, Jennifer
2009 A New Deal for Native Art: Indian Arts and Federal Policy 1933-1943. Tucson: University of Arizona Press
Oklahoma Historical Society
1927 A Journal Kept by Douglas Cooper of an expedition of a company of Chickasaw in quest of Comanche Indians. Chronicles of Oklahoma 5(4): Electronic document, digital.library.okstate.edu/chronicles/v005/v005p381.html, accessed September 22, 2013.
Park, Marlene, and Gerald Markowitz
1984 Democratic Vistas: Post Offices and Public Art in the New Deal. Philadelphia: Temple University Press.
Price, Carolyn S. Burnett
2004 Oklahoma Historical Society's Encyclopedia of Oklahoma History and Culture: Okemah. Electronic document, digital.library.okstate.edu/encyclopedia/entries/O/OK004.html, accessed August 5, 2013.
Smith, Elbert B.
2007 President Zachary Taylor: The Hero President. New York: Nova Science Publishers, Inc.
Thlopthlocco Tribal Town
2012 Tribal Government. tttown.org/gov.html, accessed September 22, 2013.