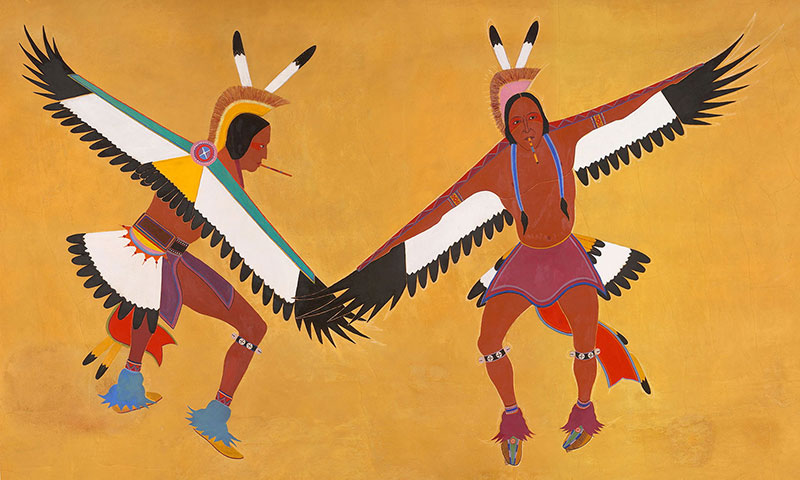 Stephen Mopope, was born August 27, 1898 on the Kiowa Reservation located within Indian Territory. He was given the Kiowa name "Qued Koi," translated into "Painted Robe," and was born from a mixed ancestry of Kiowa of his mother's bloodline and Spanish from his grandfather, who was a captive adopted into the tribe. As a young boy, Mopope, was observed to be a natural artist drawing pictures in the sand, so family members taught him the tradition of painting on animal hides and tipis. Painting on hides was the foremost method used by tribal communities to record historically significant events known as "Winter counts" for the time of year they were created. The Kiowa differed in creating two per year versus one, which would give a more detailed account of their history. During the early reservation period of the 20th Century, education for Indian children was mandated through Federal boarding and mission schools where the children learned basic skills in English, math, and in this case, art. Stephen Mopope was one of the young Kiowa artists who showed promise and enthusiasm in developing new skills after receiving a limited education in art at the mission schools. Mopope and five other developing Kiowa artists, including a female, Lois Smoky, who later left the program, were brought to the attention of Oscar Jacobson, Director of the Art program at the University of Oklahoma from 1915-1954. Through their training and guidance under Jacobson, the artists progressed and became known as the "Kiowa Five," adhering to traditional motifs using their limited early training to pioneer the "Flat style." The "Flat style," was named for its lack of lack of depth, which held the historical integrity of hide and tipi paintings used to record tribal events and became the most recognizable and defined style of Native American artists until the 1960s when they began to redefine art as individuals, breaking away from the traditional style.
In June 1936, Oscar Jacobson, who was in charge of WPA projects for Oklahoma, commissioned Mopope, assisted by "Kiowa Five" associates James Auchiah and Spencer Asah, to undertake the task of painting 16 murals in the newly constructed post office in Anadarko, Oklahoma. Mopope was also chosen because he was considered by Jacobson to be the best and most outgoing artist of the "Kiowa Five," a trait which necessary to becoming the lead for the project. His cultural ties to Anadarko, home to the Kiowa, would provide an accurate depiction of the culture from his personal experiences. Mopope was also chosen as one of the few Native artists to paint murals in the new Department of Interior building in Washington, DC, home office the Bureau of Indian Affairs, after it was constructed in 1936. Having come from a line of tipi artists, Mopope had experience in creating large mural like paintings coming from a line of artists who produced hide and tipi paintings. Mopope's artistic lineage included two of the most influential and visible Kiowa artists of the time within his family which included his great uncles Silver Horn or "Haungooah," and Oheltoint. Silver Horn was one of the most recognizable Kiowa artists from 1850-1900 when their nomadic way of life came to an end and the reservation era began. Oheltoint was a prisoner of war at Ft Marion in St. Augustine, Florida at the end of the Red River Wars in 1875 and one of the artists who helped pioneer the Indian "Ledger style" of art popular from the 1860's until the 1920s which was also influential within the 'Flat Style."
The origins of Native American art are not known, but the subjects have continuously been symbolic in nature recording aspects of everyday life, important events, and religious beliefs. As a young boy, Mopope learned the significance of recording those memories and the role they play within Native culture through the guidance of his great uncles Silver Horn and Oheltoint. Art was not originally created for its aesthetic qualities, but as a way to capture all the separate elements of life together representing the holistic view of Native people. Mopope was influenced through his experiences as not only an artist, but as an accomplished dancer and flute player providing another way of expressing himself through his culture.
Historically, Native cultures have adapted and been influenced by each other through food ways, religion, and trade out of necessity for survival. The mural The Two Eagle Dancers is an example of an aspect of Kiowa culture adopted from the Pueblo Indians of New Mexico. The creation stories and history of the Kiowa originate in "the cold north land" according to Kiowa oratory and is now thought to be Southern Canada. Through the 16th and 17th Century the Kiowa migrated south. The Kiowa adopted aspects of culture from other tribes, such as the sacred sun dance and the horse as they migrated through what are now the states of Montana, Wyoming, South Dakota, Nebraska, Colorado, Kansas and eventually the Southern Plains in the Texas Panhandle and Central Oklahoma where they reside today. From this migration, state landmarks such as towns, counties, water ways, a fort and a national grassland were named after the Kiowa. Taos Pueblo had an annual trade rendezvous and invited Plains tribes, like the Kiowa to expand their trade network and make alliances.
Dancing and song is a part of the Native American religious experience which connect the people to each other, the Earth, and the heavens providing a balance in life. Among Native people the eagle is seen as a symbol of strength and wisdom, as all animal totems are, they are able to go where people could not, as an animal of the sky they were closer to the Creator. Performing of the Eagle Dance occurred when praying as a way to carry their prayers to Creator, but also as a way to ask for blessings for an event, like when tribes came to the Pueblos to trade or the Kiowa gather together for social and religious purposes. According to Kiowa dancer and singer, Dennis Zotigh, The Eagle Dance wasn't originally an aspect of Kiowa culture, but a social and religious phenomenon they adopted from the Pueblo Indians, like much of their culture, and made it their own. In a present day context the Eagle Dance is practiced primarily twice a year by carrying their collective prayers for their people.
Non-Native artists working on WPA-era mural projects conducted research on not only the subjects, but the history of the region by traveling to the communities they were painting, but only gave a limited historical view shaping the events. The accurate representation of the Kiowa culture through the post office murals in Anadarko were done from a combined memory of experiences, from the Kiowa artists who created them. Dennis Zotigh also relates that, much like the dance his Pueblo relatives practiced for generations, these murals served to connect them to their past, but through a modern technique; the use of the Flat style bright colors not indicative of period, but in an effort to make the art aesthetically pleasing to the public.
In creating the original 16 murals in the Anadarko Post Office, Stephen Mopope, James Auchiah, and Spencer Asah were able to cooperatively depict the Kiowa culture they grew up with experiencing the ending of their nomadic nature to a more sedentary way of life on the reservation. In painting individual scenes of dances, song, symbolic images, and everyday Kiowa life they were able to capture the elements which make up who the Kiowa, as a people, are today and provide a modern day hide painting for people to learn from, and remember how they survived to the present day and what makes them who they are.
By Reuben Noah, Choctaw/Kickapoo/Iowa Nations
---
Sources:
Dennis Zotigh, Kiowa Nation, Personal conversation
The Anadarko Chamber of Commerce
Anadarko Post Office-Murals
Hager, N.W.
2009 The Kiowa Five, Electronic Document
fineartstrader.com/kiowa_five.htm, accessed November 1, 2013.
Native American Art
2013 Stephen Mopope-Kiowa Artist, Electronic Document,
nativeamerican-art.com/painting-mopope.html, accessed November 1, 2013.
Oklahoma Historical Society
2007 Stephen Mopope, Electronic Document,
digital.library.okstate.edu/encyclopedia/entries/M/MO017.html, accessed November 1, 2013.
Oklahoma Historical Society
2007 Kiowa, Electronic Document
digital.library.okstate.edu/encyclopedia/entries/K/KI017.html, accessed November 1, 2013.
Oklahoma Historical Society
2007 Oscar Brousse Jacobson, Electronic Document
digital.library.okstate.edu/encyclopedia/entries/J/JA003.html, accessed November 1, 2013.
The Living New Deal
Post Office Murals-Anadarko, OK
livingnewdeal.berkeley.edu/projects/post-office-murals-anadarko-ok, accessed November 1, 2013.
Lange, Charles H.
1953 Southwestern Journal of Anthropology, Vol. 9, No. 2, Summer 1953
jstor.org/stable/3628577, accessed November 5, 2013.
Schnell, Steven M.
2000 Geographical Review, Vol. 90, No. 2, April 2000.
jstor.org/stable/216116, accessed November 5, 2013.
Harragarra, Kenny: Meadows, William c.
2007 Plains Anthropologist, Vol. 52, No. 202, May 2007
jstor.org/stable/2567029, accessed November 5 2013.
Brant, Charles S.
1949 Southwestern Journal of Anthropology, Vol. 5, No. 1, Spring 1949
jstor.org/stable/3628745, accessed on November 5, 2013.
Pate, J'Nell
1974 American Indian Quarterly, Vol. 1, No. 3, Autumn 1974
jstor.org/stable/1184603, accessed November 7, 2013.
Crawford, Virginia
1982 Bulletin of the Cleveland Museum of Art, Vol. 69, No. 1, January 1982
jstor.org/stable/25159753, accessed November 7, 2013.