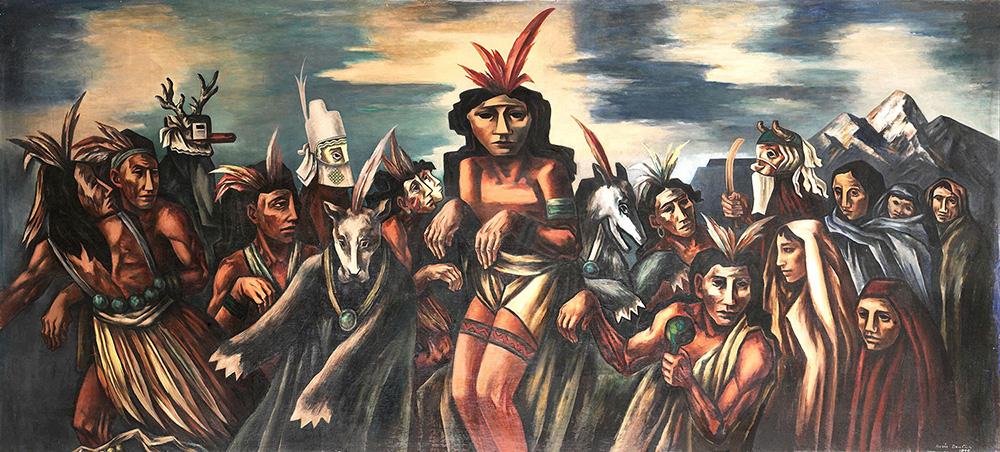 In the Southwestern town of Truth or Consequences, New Mexico, a Lithuanian-born artist painted a mural in the post office depicting an Indian Bear Dance. Boris Deutsch was born in the town of Krasnagorka, Lithuania on June 4, 1892. His mother encouraged his artistic aspirations from a young age, and he studied art in the Russian city of Rega and then in Berlin. He was drafted into the Russian Army in World War I, but deserted when he heard that his battalion was being deployed to the Caucasus mountains. After traveling through China and Japan, Deutsch arrived in Seattle, where he worked for a commercial engraving and arts company. He eventually relocated with his family to Los Angeles, where he worked in special effects for Paramount Pictures. In 1938, his design for a mural in the Hot Springs, New Mexico Post Office won a competition sponsored by the Section of Fine Arts of the US Treasury, and he painted Indian Bear Dance. In 1939, he received a commission from the United States Treasury Department to paint murals in the Los Angeles Terminal Annex Post Office, Cultural Contributions of North, South and Central America, and he also painted the Reedley, California post office mural, Grape Pickers. Deutsch focused largely on portraits, and made them integral features of his murals. He employed modernist concepts such as loose, expressionist strokes and flattened, almost cubist, qualities. Mr. Deutsch's work is displayed in collections throughout California and the United States, including the Smithsonian American Art Museum. Boris Deutsch died in Los Angeles in 1978.
The town of Truth or Consequences sits on land that was the territory of the Chiricahua Apache. Visitors were first drawn to the area for its hot springs, referred to as early as the 1860s as Las Palomas Hot Springs. In the late 19th Century, several ranch houses were built, and at John Cross Ranch, an adobe bath house was built over Geronimo Springs. One of the first large-scale irrigation projects in the region was the Elephant Butte Dam and Reservoir, part of the Rio Grande Project under the Reclamation Act of 1902. During construction of the dam and reservoir, large numbers of visitors began coming to the hot springs, and the town was incorporated under the name Hot Springs in 1916. In 1937, it became the seat of Sierra County. The town was renamed in 1950 after a popular NBC radio program called "Truth or Consequences." The host, Ralph Edwards, announced a contest to rename a small city in the United States after the program. Edwards promised that the program would annually visit the first town to change its name to Truth or Consequences. Today, the town of Truth or Consequences is known as a spa town for its hot springs resorts. Tourism literature claims that before European and American settlers came to the area, American Indian people considered it "neutral grounds" and came to gather without conflict, trade, bathe, and cure various ailments. However, the primary source evidence for this use of the hot springs is minimal.
The Apache tribes, including the Chiricahua, are a part of the Athabaskan language family, indicating a likely early migration from Alaska, the Pacific Northwest, and west-central Canada. By the time of Spanish colonial incursion into the Southwest in the late 16th century, large and loosely affiliated groups of Chiricahua were established throughout the southwest in what is now western New Mexico, eastern Arizona, and northern Mexico. Relations with the Spanish and the Mexicans were never without friction, and these fractious relations continued with the United States after the Treaty of Guadalupe Hidalgo in 1848, the Compromise of 1850, and the Gadsden Purchase of 1853, through which the United States acquired most of the territory that would become the state of New Mexico (then known as the New Mexico Territory). In the 1860s, tensions flared over increased white encroachment onto Chiricahua lands. In 1861, the Bascom Affair helped ignite the Apache Wars when Chiricahua leader Cochise and his family met with Lieutenant George Nicholas Bascom, who accused the Chiricahua of stealing cattle and kidnapping a 12-year-old boy. Cochise denied the charges and was able to escape, but his family was held hostage. Bascom demanded the return of the boy and the cattle, and after several violent skirmishes, Cochise and his men killed several American captives, and Bascom hanged Cochise's brother and nephews. Cochise then joined forces with his father-in-law, a powerful Chiricahua chief named Mangas Coloradas. They continued a long run of retaliatory actions against white settlers, and brought together Cochise's Chokonen-Chiricahua and Mangas Coloradas's Chihenne-Chiricahua to drive American settlers out of Apache territory. In January 1863, Mangas Coloradas agreed to meet with United States military leaders at Fort McLane in southwestern New Mexico. Upon arrival, he was taken into custody and subsequently tortured, shot dead, and mutilated. Finally, in 1884, the Chiricahua were forced to relocate to the San Carlos Indian Reservation in Arizona. The San Carlos reservation was low, flat and boggy in contrast to the mountain homelands of the Chiricahua. During this period, the Chiricahua leader Geronimo escaped from San Carlos and led a well-documented insurrection from the Sierra Madre mountains across the border in Mexico. His elusive and effective tactics have made Geronimo and his followers the stuff of American and Hollywood legend. In September of 1886, with the help of Indian scouts, he was cornered by General Nelson Miles and convinced to accept a conditional surrender. However, unbeknownst to him, all the remaining Chiricahua, including those who had remained at San Carlos and attempted to learn farming practices, and even those whe had served as scouts in the United States Army, were declared prisoners of war and removed by train to the Fort Marion prison in Florida. After periods of incarceration at Fort Marion and subsequently at Mount Vernon Barracks in Alabama, the Chiricahua were moved again in 1887 to Fort Sill, Oklahoma. The Chiricahua were released from prisoner-of-war status in 1912, and given the choice of allotted land at Fort Sill or returning to New Mexico and joining the Mescalero Indian Reservation. Two-thirds chose to go to Mescalero. Today, their descendants remain at the Mescalero Reservation, near Ruidoso, New Mexico (approximately 2 hours from Truth or Consequences) and as the Fort Sill Apache Tribe in Oklahoma.
Despite the dramatic and well-publicized history of American Indian leaders and events in the surrounding area, Boris Deutsch did not choose to depict local history in his mural in the Truth or Consequences post office. Instead, he appears to have drawn inspiration from the 19th century work of George Catlin. Born in Wilkes-Barre, Pennsylvania, George Catlin accompanied General William Clark on a diplomatic mission up the Mississippi River in 1830. Between 1830 and 1836, Catlin visited with numerous American Indian tribes, including the Pawnee, Omaha, and Ponca in the south and the Mandan, Cheyenne, Crow, Assiniboine, and Blackfeet to the north. Today, his first Indian Gallery, painted in the 1830s, is part of the Smithsonian American Art Museum's collection.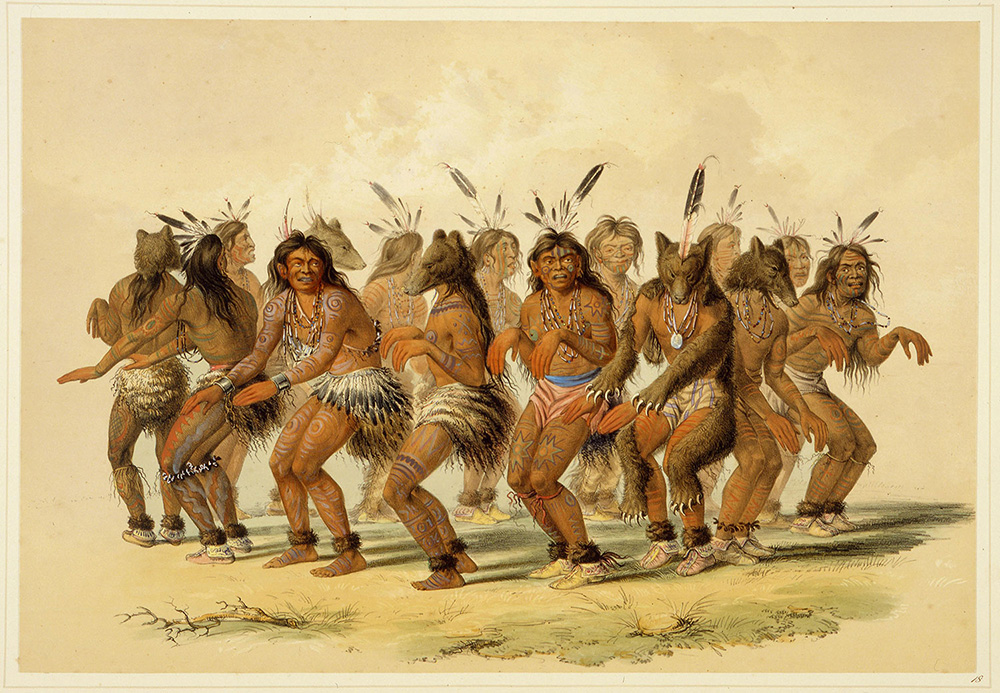 One in particular stands out: his Bear Dance of the Sioux, painted in 1832. While there is no record of Deutsch explicitly reproducing Catlin's work, some of the similarities are strong. The posture of the dancers in the center of both compositions is the same, from the bent knees to hands drawn up and in to the body, seeming to imitate the posture of a bear on its hind legs. Catlin's piece includes several dancers wearing bear masks on their heads, and Deutsch's mural includes at least one dancer in a full bear costume. One author suggests that Deutsch did not intend to represent any particular group of people and that his mural was not created to record "the authenticity of any Native American dance in detail, but to represent the spirit and color of an Indian Bear Dance." However, some sources claim that the original sketches for the mural show Deutsch to be employing a form of humorous political commentary through art. While the background of his finished mural features bold and jagged mountains, his original sketches, now in the collections of the Smithsonian American Art Museum, showed an Indian Chief whose dancing was taking him out of the path of an oncoming Super Chief locomotive from the Santa Fe line. Other critics have observed the geometric nature of Deutsch's figures and have suggested that he drew his inspiration from Southwestern pottery motifs. Another notes the impact of Deutsch's German expressionist style. The movements of the dancers in the mural feel jerky, wild, and heavy. While the mural is no doubt artistically fascinating, appears to derive some inspiration from real documentation of a Bear Dance, and included different sartorial elements in its original version, it feels oddly out of place in a town that was once home to a people who became prisoners of war, and never performed these Bear Dances at all. While visually impactful, it feels locally disconnected.
By Meghan A. Navarro
---
Sources:
Archives of American Art 1964 Oral History Interview with Boris Deutsch, 1964 Jun 1-5. aaa.si.edu/collections/interviews/oral-history-interview-boris-deutsch-12839, accessed September 22, 2013.
Arriving in Aporia 2011 Truth or Consequences: Boris, and the Indian Bear Dance. cheleisaac.baharrington.com/boris-the-indian-bear-dance-n-more/, accessed October 22, 2013.
Dubois, Betty Lou 1976 A Study in Educational Anthropology: The Mescalero Apache. Journal of American Indian Education 15(3): 22-27.
Flynn, Kathryn A. 2012 Public Art And Architecture in New Mexico 1933-1943: A Guide to the New Deal Legacy. Santa Fe: Sunstone Press.
Geo-Heat Center Bulletin 2002 Truth or Consequence, New Mexico - A Spa City. geoheat.oit.edu/bulletin/bull23-4/art5.pdf, accessed October 22, 2013.
George Catlin: The Complete Works 2013 George Catlin Biography. georgecatlin.org/biography.html, accessed October 23, 2013.
Geronimo Springs Museum 2013 Exhibits: Pottery Room. geronimospringsmuseum.com/exhibits.html, accessed October 22, 2013
Henderson, Martha L. 1991 Duality in Modern Chiricahua Apache Settlement Patterns. Traditional Dwellings and Settlements Review 2(2):7-16.
The Mescalero Apache Tribe 2008 Mescalero Apache History and Culture. mescaleroapache.com/area/history_and_cul.htm, accessed October 23, 2013.
Ragsdale, Jr., John W. 2010 Values in Transition: The Chiricahua Apache from 1886-1914. American Indian Law Review 35(1):39-105.
Smithsonian American Art Museum 2010 Indian Art of the New Deal, Indians in New Deal Art. americanart.si.edu/research/pdfs/Moore_abstract.pdf, accessed October 25, 2013
Truth or Consewuences and Sierra County Chamber of Commerce 2013 About T or C. torcchamber.com/t-or-c/about-t-or-c/, accessed October 23, 2013