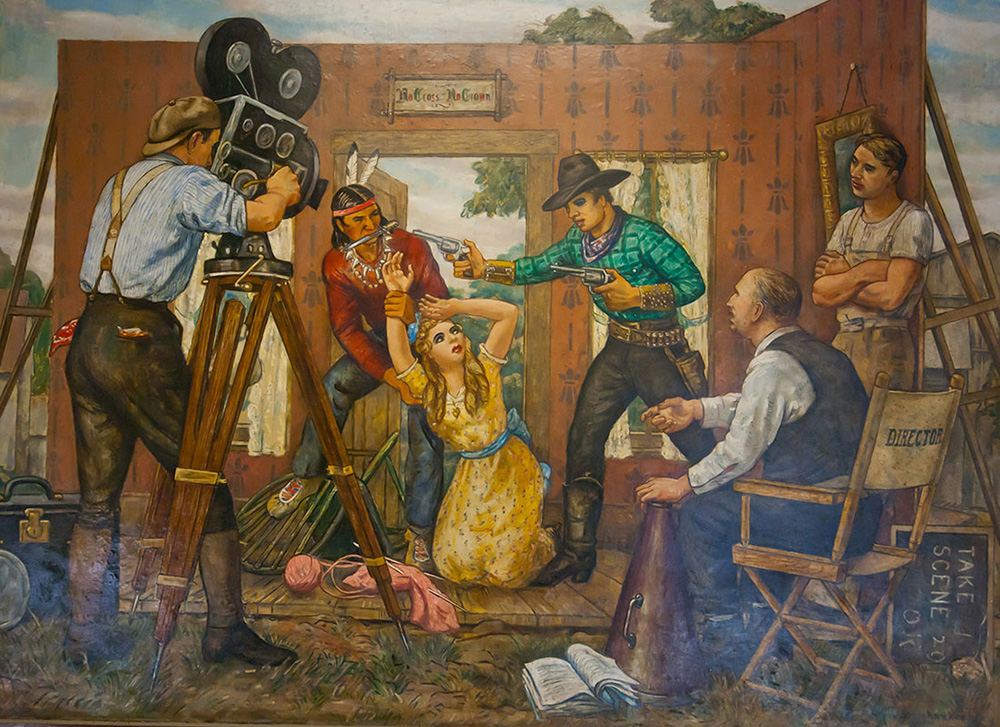 Born in 1892 in New Brighten, Staten Island, Henry Schnakenberg was exposed to art at a young age. His father was an avid collector of fine art prints and his uncle, a professor at the University of Strasbourg, would share with Henry sketches of his travels throughout Europe. He began working for his father's insurance company, Hagendorn and Co. as a clerk while spending evenings at the Art Students League of New York. By the time the Treasury Section of Fine Arts had begun the "48-states Competition" for post office murals, Henry Schnakenberg had become an established and respected artist. He was invited to submit designs for the Fort Lee, New Jersey post office series of murals after successfully completing a mural in the Amsterdam, New York post office. Four murals titled Early Moving Pictures, Washington at Ft. Lee, The Present Day, and Indians Trading with the Half Moon were chosen for Fort Lee which served as a timeline, each scene defining an important event in the history of the region. Ft. Lee derives its name from Major General Charles Lee, who commanded troops under George Washington during the Revolutionary War. The fall of Fort Lee to the British is a topic portrayed in the mural Washington at Ft. Lee. Two of the murals were based on the influence of Native Americans in the area, one representing the Lenni Lenape people and their trade with British explorer Henry Hudson during the 1600s. The other portrays the early film industry which became a catalyst for future Indian stereotypes in films and other popular material culture that still exist today.
Extravaganzas like Buffalo Bill's Wild West Show were created at the beginning of the reservation period in the 1880s. They brought the heyday of the cowboy and Indian back to life through historical recreations using actual Indians and recognizable chiefs like Sitting Bull to lend authenticity to Mr. Cody's version of the West. Buffalo Bill took his show to major cities across the United States and Europe for extended amounts of time. Native people came to represent both positive and negative aspects of the past depending on how it best suited non-Indian interests. On one hand an image of beauty, strength, toughness, and abundance, all traits to be admired; on the other hand the stereotypical wild blood-thirsty Indian and the naïve and beautiful but fanciful Indian maiden/princess. Both images appealed to an era of national romanticism that was further fueled by fantasies created through colorful images of the "noble savage" in advertisements, company names, dime store novels and newspaper articles, as well as sports teams. The advent of the silent film industry in the early 1900s greatly impacted the way the general public was entertained, and became a standardized source for news information as well as a source of stereotyped images of minorities. Film studios were established in a number of cities, such as Hollywood, Chicago, and New York, but the need for diverse scenery led New York studios to Fort Lee, New Jersey, and surrounding towns that were considered to have the optimal scenery for early westerns.
Henry Schnakenberg's sketches for The Early Moving Pictures segment of the Fort Lee mural changed dramatically from his original submission. The first submission was perhaps influenced by the early film industry and the popular series Perils of Pauline, a still from which shows a young girl sitting in a parlor with an older gentleman. Mr. Schnakenberg notified the Section he wished to revise his submitted sketch for The Early Moving Pictures. His changes were similar to the final mural segment, except the villain was a masked bandit instead of a Native American. Both were appropriate scene depictions for the Perils of Pauline as she not only dangerously encountering wild Natives and gun-wielding bandits, but gypsies and pirates along with other interesting characters. It was common practice for WPA artists to alter their original ideas before the final version was decided, or for the committee to offer recommendations. Released in 1914, the Pauline series was very popular, each episode depicts a dramatic situation where Pauline will surely perish, but Harry Marvin, whom Pauline is expected to marry, saves the day. The Perils of Pauline episode featuring Native people tells an emotional story, which has little historical credibility, set the stereotype standards creating a successful formula upon which other western movies were based. The portrayal of Natives in film, particularly Westerns is the notably the product of stereotypes built on a Western European view of Indigenous people. Natives are typically viewed as being one large homogeneous group of people with one description, without thought given to the multitude of differences in tribal affiliations and customs.
1920s, film critic Jane Tompkins contended there were "no Indian characters, no individuals with a personal history, and a personal point of view." She believed the Indians' role in movies was limited to their being "props, bits of local color, textual effects," giving romanticized tales a popular historical base making them more appealing to the viewing public and profitable for the movie companies. The stereotypical notions are underscored through the use of a background, giving no location foundation to the story, but rather a comical, empty view of Native people in their generic "natural state." Not a common style of dress, the costuming of the Native in the scene, a generic headband with feather, moccasins, and bear claw necklace became iconic attire for Natives portrayed through art and the media.
Ironically, early silent movies featuring Natives were dull in comparison to later westerns featuring the cowboy as a hero because there were no gun fights or settlers being massacred, but instead an accurate portrayal of daily tribal life before the reservation era. Gun battles and taking scalps became routine scenes of western movies casting the Indians as the enemy and criminalizing their actions of resistance, when in reality, their actions were honorable in protecting their way of life, which any soldier of any color represents when they go to war.
From its beginning as a film to document the re-introduction of buffalo to the Southern Plains, The Daughter of Dawn is another prime example of Indians in the early cinema. Filmmaker Norbert Miles was hired in 1919 to document the release of buffalo back into the prairies of Oklahoma. Miles got the idea to use local Indians from the Kiowa and Comanche tribe to make his documentary realistic, but in the process of filming he captured much more. The Indians used for the filming performed tribal dances and aspects of their life prior to being moved to reservations when performing them had been prohibited, and those ceremonies were in the process of being forgotten in Native tradition. In recent years, The Daughter of Dawn has been re-discovered and has become one of the most important finds for the Kiowa and Comanche people in recapturing aspects of their culture. Community members were excited to view the film and family members were able to recognize their relatives giving each one a name and identity versus being a prop. Indian Country Today online newspaper reports about the 2008 showing of the film within Kiowa and Comanche communities that, "They recognized an aunt, or a grandparent, and out of that conversation came recognition of the tipi used in the film. It was very powerful for them to see family members who were pre-reservation wearing their own clothing and using family heirlooms that had been brought out of trunks. It was very emotional for them." The end result was the tribes using the 95-year-old film as an educational tool to teach them some of the important dances they had forgotten and to remember how invaluable culture and language was to their survival then and is now.
World War I efforts overseas inhibited the movie industry, limiting access to laborers and held back by gas rationing. Studios started leaving Fort Lee and by 1922 all were gone, however a number of film laboratories used for developing film still remained. Most studios left for better scenery in California. Unlike the demise of the Fort Lee film industry the stereotypes portrayed in early cinema are still alive and continue to follow Native people into the 21st Century, but today Native American people have their own voice within the entertainment world as directors, actors, producers, and musicians. Native people have taken the responsibility upon themselves to find their own way in becoming our modern-day keepers of knowledge, and have freely shared their knowledge through many forms of public entertainment, and story-telling. Native American filmmakers today like Chris Eyre are given the task of telling our story in the modern day. Films like Smoke Signals and War Pony reveal the realities Native people actually face, not much different than anyone else's problems in your professional, social and family life. As the world changes, the way we as American Indians tell stories will also change.
Reuben Noah (Choctaw/Kickapoo/Iowa Nations) and Research by Krystal Adams
---
Sources:
Goddard, Charles
The Perils of Pauline, A Motion Picture Novel, Electronic Document
books.google.com/books?id=gFkRAAAAYAAJ&pg=PA190&lpg=PA190&dq=Perils+of+Pauline+Sioux&source=bl&ots=ttjMztsqoS&sig=wWGQkQhoRfa3Q6BPe3cb-IlqFGQ&hl=en&sa=X&ei=wni3Ud7EEvOv0AGwloCADQ&ved=0CCoQ6AEwAA#v=onepage&q=Perils%20of%20Pauline%20Sioux&f=false
Koszarski, Richard
Fort Lee: The Film Town, Electronic Document
books.google.com/books?id=5w0r8YKan04C&pg=PA12&lpg=PA12&dq=Movie+Strike+at+Fort+Lee&source=bl&ots=lT98wtoXur&sig=C3T3epVYuzvLeDQ6faCM5xzNv1c&hl=en&sa=X&ei=_DS3Uf_BFeTH0QHnxYD4AQ&ved=0CC8Q6AEwAQ#v=onepage&q=Movie%20Strike%20at%20Fort%20Lee&f=false
Tucker, Spencer, James R. Arnold, Roberta Wiener
The Encyclopedia of the North American Indian Wars 1607-1890: A Political, Social, and Military History, Electronic Document
books.google.com/books?id=JsM4A0GSO34C&pg=PA414&lpg=PA414&dq=Treaty+ending+Kieft's+War&source=bl&ots=YRoVjS_kGi&sig=l3o-DSixTPeA6FnfmoZm4ebibxU&hl=en&sa=X&ei=Q3_EUdagJYTL0QGFhIHYDw&ved=0CD8Q6AEwAw#v=onepage&q=Treaty%20ending%20Kieft's%20War&f=false
Wright, Jordan
2012 Discovery of Long-Lost Silent Film With All-Indian Cast Has Historians Reeling, Indian Country Today, October 28, 2014, Electronic Document indiancountrytodaymedianetwork.com/2012/08/28

Ft. Lee Family History Society, Electric Document
fortleehistoricalsociety.org/wp1/index.php/chronology/
History of the Film Industry in Fort Lee, Electronic Document
fortleefilm.org
Western Films: Part 1, Electronic Document
filmsite.org/westernfilms.html
hudsonrivervalley.org/library/pdfs/articles_books_essays/studentworks/HudsonNativeAmericans.pdf
Henry Hudson, Electronic Document
pbs.org/empireofthebay/profiles/hudson.html
Native American Tribes on the Hudson River, Electronic Document
hhr.highlands.com/native.htm
The Battle of Fort Washington, Electronic Document
theamericanrevolution.org/battledetail.aspx?battle=13
History of Hackensack, Electronic Document
hackensack.org/content/6829/8846/default.aspx
Delaware (Lenni Lenape) History, Electronic Document
tolatsga.org/dela.html
Indians and Mexicans: Alternative Cultures in the Silent Westerns, Electronic Document
xroads.virginia.edu/~HYPER/HNS/westfilm/indian.htm, Accessed on October 31, 2014
Angela Aleiss (indiancountrytodaymedianetwork.com/advanced/search?fq%5b0%5d=ts_field_full_name%3AAngela%20Aleiss), Recovered and Restored: 'Ramona,' Silent Movie by Chickasaw Filmmaker
indiancountrytodaymedianetwork.com/2014/03/27/recovered-and-restored-ramona-silent-movie-chickasaw-filmmaker-154207