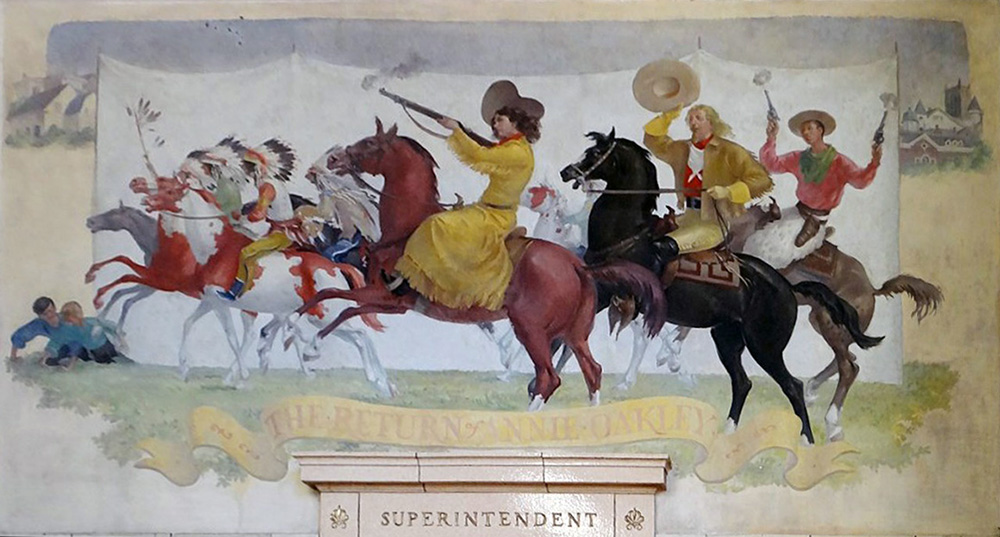 Annie Oakley was born Phoebe Ann Moses, August 13, 1860 in Darke County, Ohio. In her early life she was a natural with a gun earning money to support her family by hunting to provide game to the local food store, eventually paying off the mortgage to her mother's house. Her shooting skills earned attention and she was hired as a circus and side show attraction where she met Frank Butler, another trick shooter she would eventually marry in 1876. Annie became her husband's assistant, but she would soon become the feature act, with Frank becoming her manager at the height of her fame during the years she toured with the Buffalo Bill Wild West Show. As performers Oakley and her husband rarely had a place to call home. In 1892 they bought a home in Nutley, NJ where they stayed during breaks in touring. Long Island-born landscape artist Paul C. Chapman was awarded two post office mural commissions; one in Huntington, NY in 1939 and then another in Nutley, NJ in 1941. Oakley was one of the more colorful residents who called Nutley home and her career was chosen by locals to be the theme of their mural. In 2012, Annie Oakley was inducted into the New Jersey Hall of Fame which highlighted individuals who had been positive role models for youth through their hard work, dedication, and their ability to succeed by overcoming obstacles.
William "Buffalo Bill" Cody had made a name for himself as a soldier and Army scout during the Civil War and Plains Indian Wars. Afterward, he returned to the Great Plains to hunt buffalo for meat to be provided to railroad construction crews, earning his nickname "Buffalo Bill." He is said to have killed over 4000 buffalo in one year. Cody's adventures made him and other authentically-western characters the subject of the "drugstore novels" that told tall tales of their exploits adding romance to their legend.
Buffalo Bill's most lasting impression would be his creation of the Wild West Show in 1882 as "an outdoor spectacle designed to both educate and entertain, using a cast of hundreds as well as live buffalo, elk, cattle, and other animals." The Show traveled the U.S. and Europe thrilling crowds for over 25 years. The children peeking around the curtain in the mural are like children everywhere, full of wonderment and excitement at what the show promised.
Hunkpapa Lakota Chief Sitting Bull was in Minneapolis, Minnesota on a publicity tour in 1884 when he first watched Annie Oakley perform and became instantly captivated by her demeanor and skill. Sitting Bull arranged a meeting and offered $65 to have his photo taken with her. The following year Oakley joined the Buffalo Bill Wild West Show as a feature attraction garnering even more accolades for her shooting exhibitions. As the Indians and the other entertainers traveled and performed together, their bonds became very close, making it possible for the non-Native performers to learn first-hand the real-life plight of their Indian friends and their changing way of life.
Buffalo Bill held the Indians in high regard, even stating in 1885, "The defeat of Custer was not a massacre. The Indians were being pursued by skilled fighters with orders to kill. For centuries they had been hounded from the Atlantic to the Pacific and back again. They had their wives and little ones to protect and they were fighting for their existence." Annie Oakley and Sitting Bull became especially close during his few years touring with the Wild West Show and he adopted her as a replacement for a daughter he had lost.  He gave her the Lakota name "Watanya Cicilla," or "Little Sure Shot." Annie wrote in her auto biography, "He had asked me to take the place of the daughter he lost shortly after the Custer massacre. She had made the moccasins he wore in the fight -- in the struggle where he pitted his brain against that of the white man. He fought justly, for his people had been driven from their God-given inheritance and were living upon broken promises. Sitting Bull's daughter was about my age at the time of my adoption, when he gave me the moccasins he so prized."
The mural artist, Paul Chapman, painted the Indian performers not as warriors, but chiefs, all with full eagle-feather headdresses according the stereotypical understanding of what Indians, all Indians, were thought to look like. These war-bonneted Indians are galloping to the left and out of the picture, disappear from the scene, illustrating to the post office visitor what they may have already believed; that the real American Indian would eventually disappear from America. The enemy Native people were actually facing at the time of the Buffalo Bill Wild West Show was no longer on the battlefield, but in the courts and in Congress with the pen and paper becoming the new rifle and ammunition. For Sitting Bull, the other Indians and chiefs, their time with the Wild West Show was an invaluable learning experience. Through their travels they learned about the world and other cultures, and realized how unstoppable and inevitable the flow of white people to their lands would be in the name of progress. In returning to their reservations with this new knowledge these Native men and women were able to make better decisions for their people as they transitioned from their old life to an eventual new life as U.S. citizens.
By Reuben Noah (Choctaw/Kickapoo/Iowa Nations)
---
Sources:
The Return of Annie Oakley Bibliography
Frankel, Jeff
2012 Nutley's Annie Oakley gets New Jersey Hall of Fame nod, Electronic Document
centerofthewest.org/explore/buffalo-bill/research/annie-oakley/, Accessed on July 16, 2014
Buffalo Bill Center for the West
Annie Oakley, Electronic Document
centerofthewest.org/explore/buffalo-bill/research/annie-oakley/, Accessed on August 5, 2014
Public Broadcasting System
Sitting Bull-Annie Oakley, Electronic Document
pbs.org/wgbh/americanexperience/features/biography/oakley-sitting-bull/, Accessed on August 5, 2014
Public Broadcasting System
Buffalo Bill's Wild West Show, Electronic Document
pbs.org/wgbh/americanexperience/features/general-article/oakley-show/, Accessed on August 6, 2014
Public Broadcasting System
Transcontinental Railroad and Native Americans, Electronic Document
pbs.org/wgbh/americanexperience/features/interview/tcrr-interview/, Accessed on August 6, 2014
Dorchester Country Library System
Annie Oakley, Electronic Document
dorchesterlibrary.org/library/aoakley.html, Accessed on August 6, 2014
Annie Oakley Center Foundation
Buffalo Bill's Wild West Show, Electronic Document
annieoakleycenterfoundation.com/faq2.html, Accessed on August 5, 2014
Idaho State Museum of History
Westward Expansion, Electronic Document
imnh.isu.edu/digitalatlas/geog/explore/expand.pdf, Accessed on August 5, 2015
Dobak, William, A.
1995 The Western Quarterly, Vol. 26, No. 2, Summer 1995, pp. 197-202
jstor.org/stable/970189, Accessed on August 6, 2014
Nutley Historical Society
Sharpshooter Annie Oakley Lived in Nutley, Electronic Document
oldnutley.org/oakley.html, Accessed on August 5, 2014
Shifrin, Ellen
1980 Dance Research journal, Vol. 12, No. 1, Fall 1979-Winter 1980, pp. 13-23
jstor.org/stable/1478793, Accessed on August 6, 2016
Buffalo Bill's Museum and Grave
History and Research, Electronic Document buffalobill.org/History%20Research%20on%20the%20Buffalo%20Bill%20Museum/index.html, Accessed on October 1, 2014