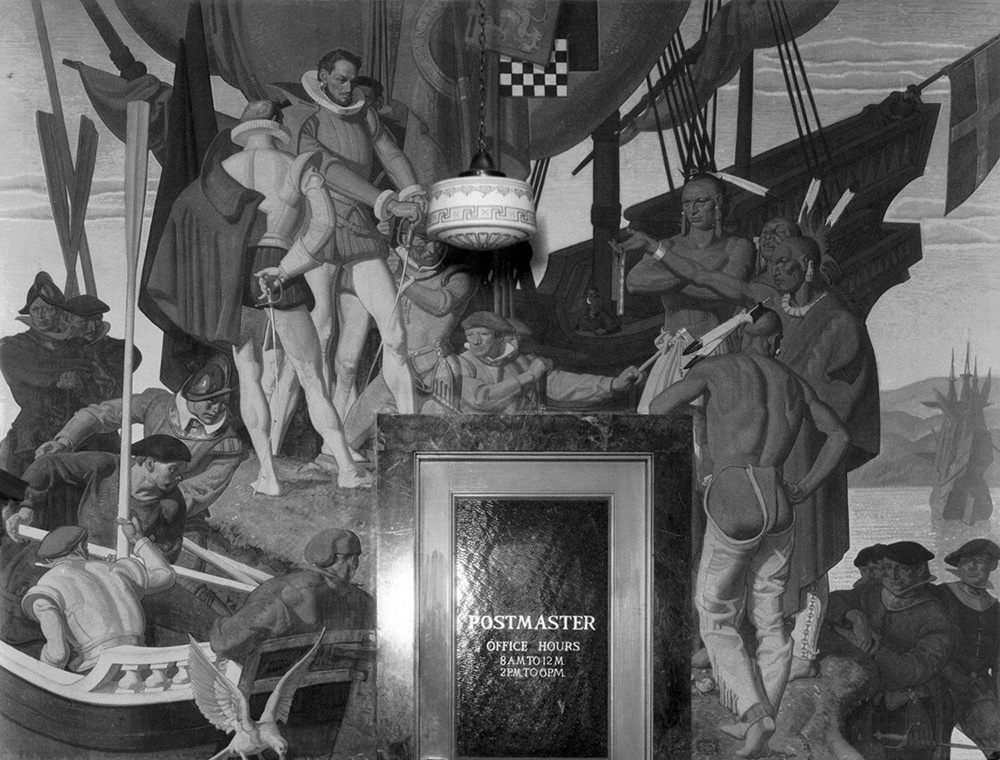 One of the "lost or destroyed" murals of the Section of Fine Arts was Sir Walter Raleigh and First Landing on the North Carolina Shore, painted by Dean Cornwell in 1938 in the Morganton, North Carolina post office. It is for this reason that we show a rare USPS photograph of it in black and white.  Dean Cornwell, who became known as the "Dean of Illustrators," was born in Louisville Kentucky in 1892. In 1915, he attended the Art Students League in New York where he studied with Harvey Dunn and renowned English muralist Frank Brangwyn. He quickly gained attention for his magazine illustrations, and his work was published in Cosmopolitan, Good Housekeeping, Harper's Bazaar, and Redbook. By the mid-1930s, Cornwell had achieved such a notable reputation that the Section felt obliged to hire him, despite reluctance to give a commission to an artist too committed to "Art in the grand old manner." In 1937, William Randolph Hearst commissioned Cornwell to paint murals in The Raleigh Room in the restaurant of his Warwick New York apartment hotel. Cornwell designed murals very similar to what he would paint in the Morganton post office a year later, and depicted Sir Walter Raleigh receiving his charter from Queen Elizabeth I in 1584 and his landing on the shore of Roanoke Island. Cornwell received $100,000 for his work, but a subsequent dispute caused him to paint several objectionable images into the mural, including a man urinating on Queen Elizabeth I and a naked Indian with his back to the viewer. The dispute was resolved, and Cornwell removed some, but not all, of these images, and portions of the mural remained covered for over 40 years, until a renovation project in the Warwick gave the murals greater focus and prominence. Cornwell completed his mural in Morganton a year after those in New York. They are very similar, including flamboyant costumes, exaggerated postures, matching images of Raleigh himself, and a great sense of the grandiose. Cornwell continued to have a successful career, illustrating for work by writers such as Ernest Hemingway, Douglas Lloyd, and Pearl S. Buck, and creating advertisements for companies such as Coca-Cola, General Motors, Seagram's Whiskey, and Palmolive Soaps. Cornwell also designed and executed the mural in the Chapel Hill, North Carolina post office, Laying the Cornerstone of Old East. Cornwell taught and lectured at the Art Students League in New York City and at art societies and museums throughout the country.Paintings by Cornwell have been exhibited at the Whitney Museum of American Art, the Pennsylvania Academy of the Fine Arts, the Chicago Art Institute and the National Academy of Design. Dean Cornwell died in 1960.
Five miles north of Morganton, archaeologists from Warren Wilson College are excavating the site of an American Indian town called Joara and the earliest European settlement in the interior of what is now the United States, Fort San Juan. The town of Joara, home to the Catawba people, was visited by Spanish explorations led by Hernando de Soto in 1540 and Juan Pardo in 1566.  The governor charged Juan Pardo with finding sources of gold and silver as well as a route to the central Mexican silver mines. In order to be successful, he also had to secure the interior of the terrain. Pardo thus established Fort San Juan near the Catawba town of Joara. Fort San Juan only stood for 18 months. Catawba resistance to Spanish incursions into their territory led them to burn down the Fort, leaving only one survivor. In the 16th Century, Europeans established trade relations with the Catawba, and in the 18th Century, settlers began moving onto their territory known as the Piedmont. The town of Morganton was established in 1784, and is now the county seat of Burke County. The Berry field site is one of the most important attractions near Morganton today, as archaeologists and scholars continue to investigate more about the town of Joara and the short-lived Fort San Juan.  Since 2001, Warren Wilson College and Western Piedmont Community College have operated an annual summer field school at the site.
Fort San Juan may have been the earliest European settlement in the interior of the present-day United States, but the Catawba people claim to have occupied their ancestral lands along the Catawba river at least 6,000 years ago. The Catawba people were a part of the Siouan language family, and lived in large planned towns where they hunted and practiced agriculture. By 1759, smallpox had broken out in the Catawba villages for the fourth time in a Century, and the population had shrunk to approximately 1,000 people. They received title to 144,000 acres from the King of England in 1763, but this land proved difficult to defend from the steady incursion of settlers, and the Catawbas began renting land to colonists. In the Treaty of Nations Ford, also known as the Treaty of 1840, the Catawbas ceded their 144,000 acres for other lands and monetary compensation. Their numbers had become so few, however, that the government anticipated their imminent extinction. Despite this, the Catawba people survived and, in 1929, then-chief Samuel Taylor Blue began the process of gaining federal recognition for the Catawba. They were recognized by the Federal Government in 1941 and, in 1944 established a constitution to strengthen their self-government. The United States terminated the government of the Catawba in 1959 and the tribe filed a petition for recognition in 1973. Finally, in 1993, the Catawba land claims suits were settled, and the Catawbas agreed to give up claims on land taken from them by the state of South Carolina. In return, the Catawba Indian Nation received federal recognition and financial support for economic development, education, social services, and land purchases. Today, the Catawba Indian Nation is located in York County, South Carolina, and is the only federally recognized tribe in that state. Enrollment presently stand at over 2,800.
The Indians in Dean Cornwell's mural, however likely represented the Roanoke and Croatan peoples, several of the now unrepresented Algonquian tribes of the Carolinas. Cornwell seems unconcerned with connecting his mural to the specific location in which it was painted. Morganton is over 400 miles from the North Carolina shore, and it is likely that he simply drew on existing material he had developed for the murals in the Warwick hotel in 1937. In 1939, Edward Rowan at the Section of Fine Arts received a field report claiming that Cornwell's mural was "cold and lacking in appeal when compared with murals in which the artist tries to give a personal interpretation of life or history as related to the community." Despite these objection, the same field report noted that the people of Morganton appeared to greatly admire Cornwell's work. The same could be said of Morganton's postmaster at the time. When Cornwell apologized for being late in completing the murals, the postmaster told him not to hurry, as he did not want the mural in the first place. Once the work was completed, however, the postmaster described the mural as a delight and wrote to Edward Rowan to express how pleased he was with the mural and the public's reception of it. Despite Cornwell's reputation and appeal, the Section was reluctant to commission him as a muralist, as noted earlier. When they did offer him a commission, it was in "the wilds of Morganton, North Carolina…[where] whatever bombastic indiscretion he might see fit to commit...could either be forgotten or chalked up to defective Southern taste buds." The mural is indeed a grand and exaggerated work, depicting Sir Walter Raleigh along with the ships and explorers he would send to the New World, as well as the American Indians they encountered there. The mural retains two titles, though it appears to have stood as one contiguous work. It is clear that Cornwell took some degree of artistic license with history, as Sir Walter Raleigh never set foot on the North Carolina shore merely financed and commissioned the expeditions that attempted to colonize Roanoke Island. Cornwell employed the theatrical and exaggerated.  Like many American Indians in post office murals, his subjects are depicted wearing very little clothing, and several are sitting or lying on the ground. Unfortunately, viewers are unable to examine Cornwell's mural for themselves through the critical eyes of the 21st Century; in 1963, while the post office building was under renovation, the mural was destroyed.
Summary by Meghan A. Navarro
---
Sources:
Batten, Jim
2001 Sir Walter Raleigh's American Colonies. britishexplorers.com/woodbury/raleigh1.html, accessed October 30, 2013.
Blumer, Thomas J.
2007 Catawba Nation: Treasures in History. Charleston: The History Press.
Blythe, John
2011 Sir Walter and His Lewd Friends. Electronic document,
City of Morganton, North Carolina
2013 About Morganton. ci.morganton.nc.us/index.php/information-events/news/about-morganton, accessed October 29, 2013.
Davis, Anita Price
2009 New Deal Art in North Carolina: The Murals, Sculptures, Reliefs, Paintings, Oils and Frescoes and Their Creators. Jefferson: McFarland & Company, Inc. Publishers.
FDR Library
2013 FDR Library's List of New Deal Projects Part 4 - North Carolina Through Wyoming. viewshare.org/views/kcarter/fdr-librarys-list-of-new-deal-projects-part-4/, accessed October 30, 2013.
Kickler, Troy L.
2013 Fort San Juan. northcarolinahistory.org/encyclopedia/168/entry, accessed October 29, 2013.
Lawler, Andrew
2006 Spain Makes a Stand. Smithsonian Magazine. Electronic document, smithsonianmag.com/history-archaeology/digs-mar06.html?c=y&page=1, accessed October 30, 2013.
Marling, Karal Ann
1982 Wall-to-Wall America: Post Office Murals in the Great Depression. Minneapolis: University of Minnesota Press.
Moore, David G.
2003 Catawba River, North Carolina, Cultural Chronology from Late Woodland to Catawba Valley Mississippian. Electronic document, warren-wilson.edu/~arch/culturalchron, accessed October 29, 2013.
Moore, David, Robin A. Beck Jr. and Christopher B. Rodning
2004 Joara and Fort San Juan: culture contact at the edge of the world. Antiquity 78(299): Electronic document, antiquity.ac.uk/ProjGall/moore/index.html, accessed October 29, 2013.
Murals on 54
2013 Dean Cornwell's Murals. murals54.com/photo.aspx, accessed October 30, 2013.
National Museum of American Illustration
2012 Dean Cornwell: American Imagist. americanillustration.org/artists/cornwell/cornwell.html, accessed October 30, 2013.
Park, Marlene, and Gerald Markowitz. 1984 Democratic Vistas: Post Offices and Public Art in the New Deal. Philadelphia: Temple University Press.
Richard, Constance E.
2008 Contact and Conflict. Electronic document, warren-wilson.edu/~arch/berrysitepress/amerarchspring2008.pdf, accessed October 29, 2013.
Sturtevant, William C.
1958 Siouan Languages in the East. American Anthropologist 60(4):738-743.
Warren Wilson College
2013 About the Berry Site. warren-wilson.edu/~arch/berrysite, accessed October 30, 2013.