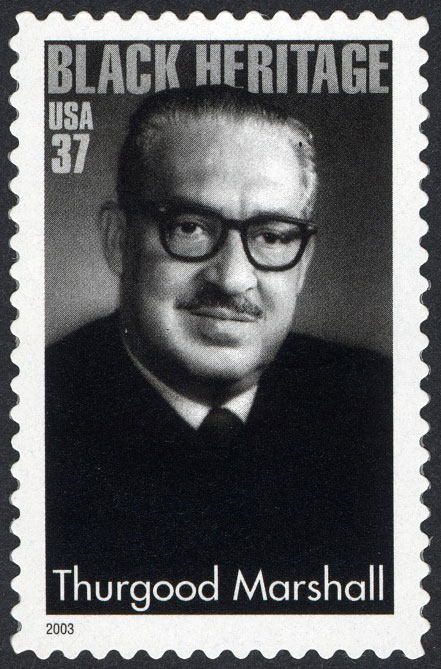 "Si la Primera Enmienda significa algo, significa que un Estado no tiene por qué decirle a un hombre, sentado solo en su propia casa, qué libros puede leer o qué películas puede ver. Todo nuestro patrimonio constitucional se rebela ante la idea de dar al gobierno el poder de controlar las mentes de los hombres".
—Stanley v. Georgia (1969) Opinión mayoritaria de Marshall.
El famoso abogado de derechos civiles Thurgood Marshall fue uno de los abogados más conocidos en la historia de los derechos civiles en Estados Unidos. Se convirtió en el primer director-consejero de la Asociación Nacional para el Avance de la Gente de Color Legal Defense and Education Fund, Inc. En 1954, Marshall y su equipo legal prevalecieron en el caso histórico de la Corte Suprema de EE. UU., Brown v. Board of Education of Topeka , Kansas, que acabó con la segregación en las escuelas públicas. El presidente Kennedy lo nombró miembro de la Corte de Apelaciones del Segundo Circuito de los Estados Unidos en 1961. En 1965, el presidente Johnson lo nombró el primer procurador general afroamericano de los Estados Unidos. Marshall volvió a hacer historia en 1967, cuando prestó juramento como el primer juez afroamericano de la Corte Suprema. Su mandato de 24 años estuvo marcado por su compromiso con la defensa de los derechos constitucionales y las acciones afirmativas y por su fuerte oposición a la pena de muerte. Thurgood Marshall murió el 24 de enero de 1993, a la edad de 85 años. El 30 de noviembre de 1993, recibió una Medalla Presidencial de la Libertad póstuma, el honor civil más alto de nuestro país.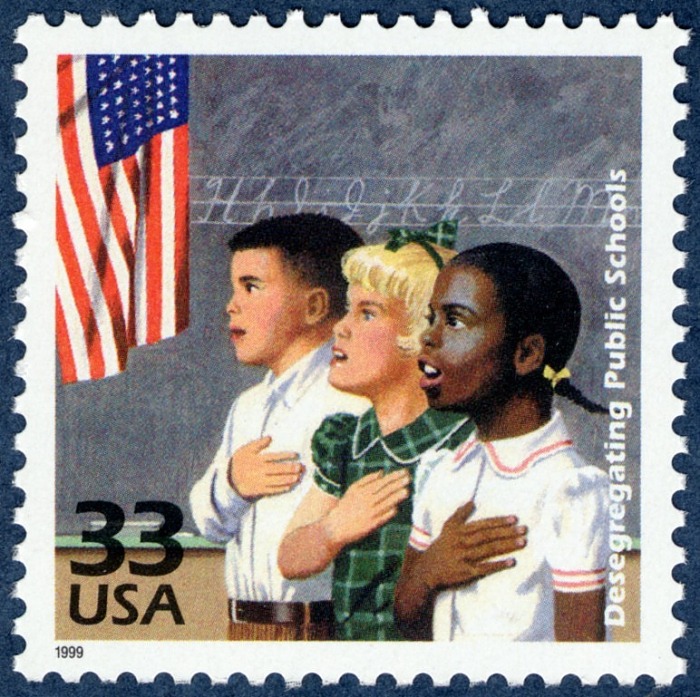 El 17 de mayo de 1954, la Corte Suprema de los Estados Unidos anunció su decisión de que "las instalaciones educativas separadas son inherentemente desiguales". La segregación de los niños en las escuelas públicas únicamente por motivos de raza priva a los niños de los grupos minoritarios de igualdad de oportunidades educativas, incluso cuando las instalaciones físicas y otros factores tangibles pueden ser iguales. Tales prácticas violan la enmienda 14 de la Constitución de los Estados Unidos. La decisión negó efectivamente la base legal para la segregación en Kansas y otros 20 estados con aulas segregadas y cambiaría para siempre las relaciones raciales en los Estados Unidos.