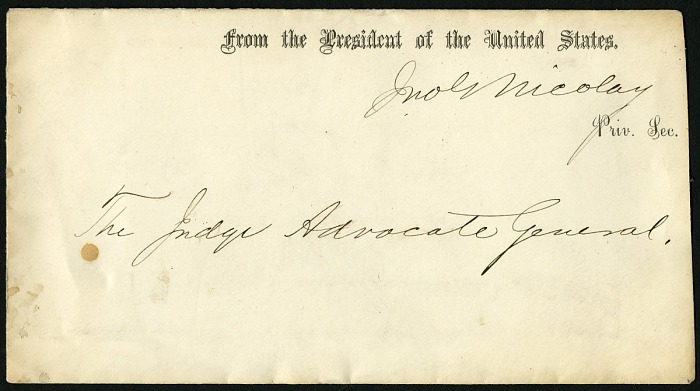 Lincoln won the presidency in November 1860, and was inaugurated on March 4, 1861. His first act as commander and chief was the appointment of a personal secretary, John Nicolay. This envelope (at left) sent "from the President of the United States" was signed by Nicolay as Lincoln's private secretary. Prior to his work at the White House, Nicolay worked as a journalist and clerk for the Illinois Secretary of State. Throughout the majority of Lincoln's presidency, he aided the president with various diplomatic affairs and organized many social events. Nicolay's service ended at the beginning of Lincoln's second term, just a few weeks before his assassination at Ford's Theatre.
The signing of the envelope (above), known as free franking, by Nicolay on behalf of Lincoln allowed for it to be sent free of charge through the mails. The envelope is addressed to "The Judge Advocate General."
Captain John F. Lee served as the Judge Advocate of the Army from 1849 to 1862. In July 1862, new congressional legislation established the office of the Judge Advocate General. President Lincoln appointed Colonel Joseph Holt to this new office. Holt had served as Postmaster General under President Buchanan and following the assassination of President Lincoln presided over the trial of the conspirators in May-June 1865. Lincoln's assassin John Wilkes Booth was not among the defendants. He was killed shortly after Lincoln's death while evading capture. It is not possible to confirm the exact date when Nicolay sent the envelope featured here. It is likely due to the title "The Judge Advocate General" and the time range that Lincoln and Holt were in their respected positions, that Holt was the intended recipient.