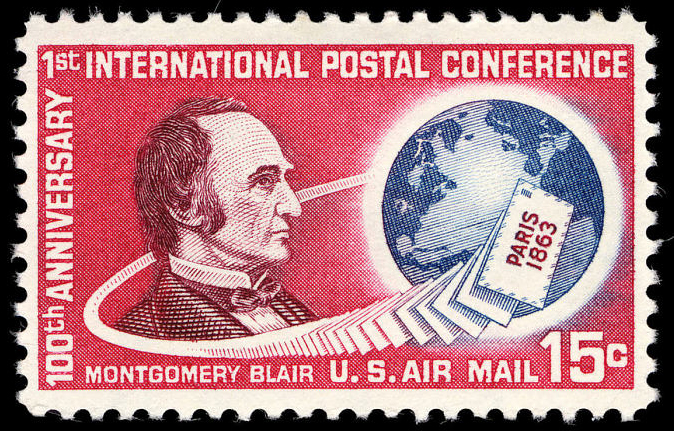 At the 1860 Republican Convention where Lincoln was nominated for the presidency, Montgomery Blair served as a delegate from Maryland. Lincoln and Blair shared a similar path to prominence. Both men were born in Kentucky yet began their political careers in neighboring states. After graduating from the United States Military Academy at West Point and law school in Kentucky, Blair moved in 1837 to St. Louis, Missouri. Blair held his first public office while in St. Louis. After a move to Maryland in the early 1850s, Blair continued to build his legal practice with his close proximately to Washington, DC. Blair's anti-slavery credentials were cemented while providing legal counsel to Dred Scott in his quest to gain his freedom through the federal courts.
The day after the inauguration, Lincoln appointed Montgomery Blair to be Postmaster General of the United States. A combination of factors including Blair's strong anti-slavery stance and political background in the key border states of Missouri and Maryland made him an ideal pick for a cabinet position. Blair would transform the Post Office Department and its services during his time as postmaster general (1861-64).
While postmaster general, Montgomery Blair also took steps to set up an international postal conference to address the problems with sending and receiving mail between different countries' postal systems. Blair's efforts bore fruit when the delegates of the first International Postal Conference attended their first meeting in Paris in 1863. The work at this conference led to the creation of the General Postal Union in 1874, which changed its name to the Universal Postal Union in 1878. The UPU has directed the international effort to standardize rates and practices for the orderly transfer of mail between participation nations. Today the UPU is an agency connected to the United Nations.