Antarctic Expedition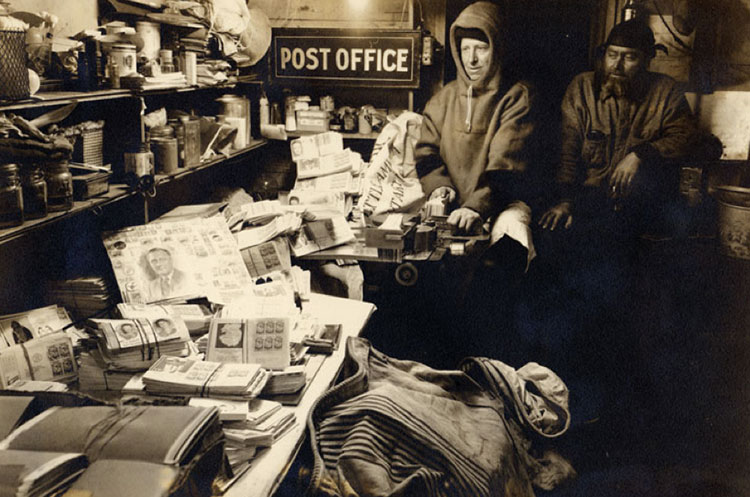 Franklin Roosevelt's first stamp design was done as a favor for a friend — Rear Admiral Richard E. Byrd — who needed help promoting his second Antarctic expedition. The President's sketch, calling for a commemorative-size stamp arranged vertically, shows the eastern coast of the United States and South America, the western areas of Europe and Africa, and the routes of Byrd's trans-Atlantic, North Pole and South Pole flights.
FDR's Polar Stamp Design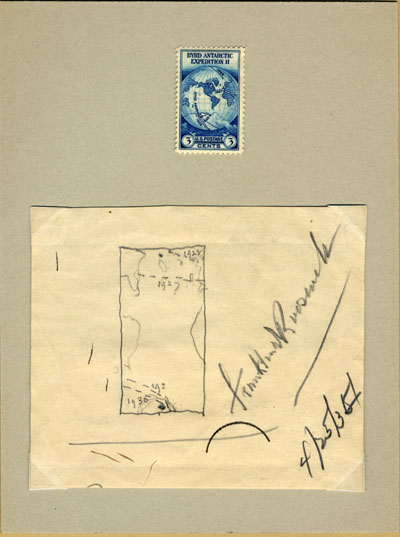 In preparing the model for this stamp, the artists at the Bureau of Engraving and Printing, where the stamp was produced, took certain liberties with the "chief's" suggestions, but obviously retained FDR's major concept. Instead of showing only certain coastal areas, a globe was implemented, to show the routes of Byrd's journeys more clearly. Later, when this original sketch was reclaimed from the Bureau of Engraving and Printing, the President autographed it "Franklin D. Roosevelt" in pencil and dated it. The Polar Stamp was issued on October 9, 1933.
FDR's Polar stamp design. Gift of James A. Farley
President Roosevelt insisted that the Post Office Department carry mail bearing this stamp to the expedition base in "Little America" for canceling and return. The President understood that collectors would pay dearly for the special cancellation. Each collector paid 53 cents per cover to get the "Little America" postmark - 3 cents for the stamp, and 50-cents to finance Byrd's expedition. Admiral Byrd was, of course, deeply appreciative, and wrote the President:
"Dear Franklin: I am greatly moved by the wonderful way in which you have helped me at this time of great crisis in my life. My expedition has been so costly that I have been threatened with bankruptcy. ... It is rather beautiful, Franklin, the way you have come to the rescue of your old friend."
Roosevelt's sole request of Byrd was "a letter for my stamp collections." Naturally, FDR received quite a few.