Mother's Day
In 1933, Roosevelt's first year in office, Mrs. H. H. McCluer of Kansas City, a past National President of the American War Mothers, conceived the idea of having a special stamp for use in conjunction with Mother's Day mail. She presented her idea to President Roosevelt on January 25, 1934, and was informed on February 16 that her request had been granted. President Roosevelt, known to have been devoted to his own mother, personally sketched his idea for the stamp.
FDR's Original Mother's Day Sketch
Artists at the Bureau of Engraving and Printing followed FDR's sketch fairly closely, though they cropped the painting at the bottom and realigned the inscriptions to the left. In addition, a bowl of carnations was added to the lower left of the design for balance. The stamp was issued on May 2, 1934.
As a memento, the President presented his Mother's Day stamp sketch to his first Postmaster General, James A. Farley, with the notation "For Jim Farley - The 'Original Design' of the Mothers Day Stamp by Franklin D. Roosevelt." The dedication was inadvertently dated "2/16/33," and was corrected by placing a "4" over the final "3."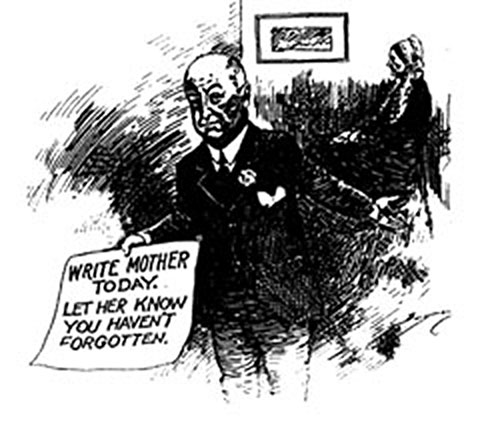 Editorial cartoon from the Washington Star, May 11, 1934, showing James Farley encouraging America to "Write mother today. Let her know you haven't forgotten." James A. Farley, President Franklin Roosevelt's first Postmaster General, was considered one of the most resourceful men to ever hold the position. The dynamic duo of Farley and FDR introduced postal innovations that are still used over sixty years later. The FDR-Farley team must be credited with the concept of "First Day of Issue" ceremonies, the utilization of philatelic press releases, and with the establishment of philatelic sales windows.