Virginia Dare – The Lost Colony
In 1937, the President received an invitation to attend a pageant at Manteo, North Carolina, commemorating the Lost Colony of Roanoke and the 350th anniversary of the birth of Virginia Dare, the first English child to be born in America. FDR believed that a special stamp should be issued in honor of the event. He is reported to have remarked that since the United States could not celebrate "thousand-year" anniversaries as other countries could, it should certainly not overlook a 350th anniversary.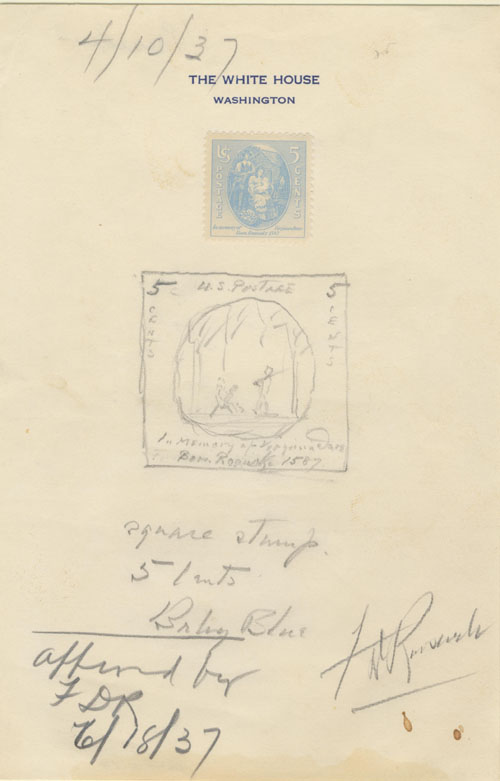 On a sheet of White House stationery the President sketched out a square stamp showing the mother, father and baby, inserted the denomination "5 cents" in the upper corners, and lettered at the bottom "In Memory of Virginia Dare/Born Roanoke 1587." This done, he noted under the design "square stamp/5 cents/Baby Blue" in three lines, and dated the sheet in the upper left "4/10/37," and signed it "FDRoosevelt" in the lower right. Later, in softer lead pencil, he added "Approved by FDR 6/18/36." What appears to be a "7" was written over the "6." Public response to the stamp's baby blue color was not favorable. The stamp was issued on August 18, 1937.