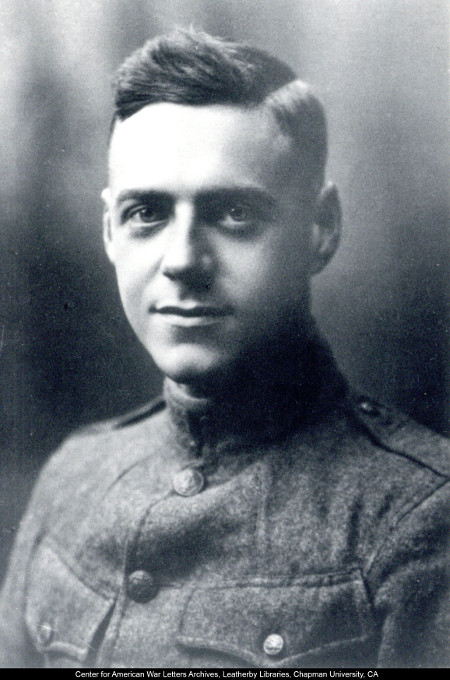 Description
Courtesy Center for American War Letters Archives, Leatherby Libraries, Chapman University, CA
Veteran Dwight Fee wrote this letter when his son enlisted for service in World War II. As a private with the 319th Infantry, Dwight Fee had fought in the costly, but ultimately successful, Meuse-Argonne Offensive. He did not reminisce about events. Instead, he focused on courage and character. To Fee, the war had been both horrifying and full of adventure. He would be up for it again if duty called and told his son: "I wish I could go FOR you, or at least WITH you."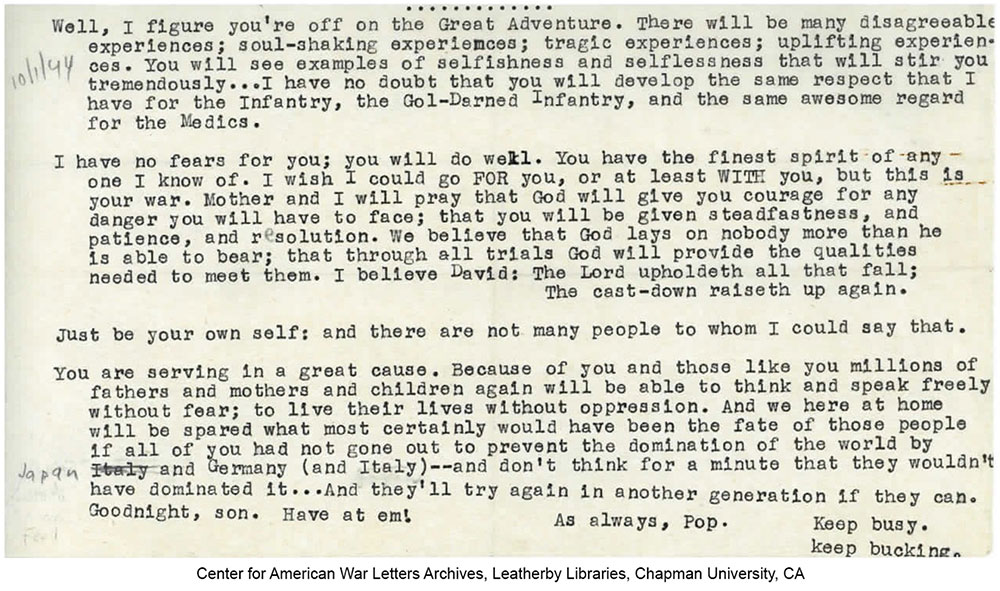 Transcription
10/1/44 [in pencil]
Well, I figure you're off on the Great Adventure. There will be many disagreeable experiences; soul-shaking experiences; tragic experiences; uplifting experiences. You will see examples of selfishness and selflessness that will stir you tremendously . . . I have no doubt that you will develop the same respect that I have for the Infantry , the Gol-Darned Infantry, and the same awesome regard for the Medics.
I have no fears for you; you will do well. You have the finest spirit of any one I know of. I wish I could go FOR you, or at least WITH you, but this is your war. Mother and I will pray that God will give you courage for any danger you will have to face; that you will be given steadfastness, and patience, and resolution. We believe that God lays on nobody more than he is able to bear; that through all trials. God will provide the qualities needed to meet them. I believe David: The Lord upholdeth all that fall; The cast-down raiseth up again.
Just be your own self: and there are not many people to whom I could say that.
You are serving in a great cause. Because of you and those like you millions of fathers and mothers and children again will be able to think and speak freely without fear; to live their lives without oppression. And we here at home will be spared what most certainly would have been the fate of those people if all of you had not gone out to prevent the domination of the world by Japan [inserted in pencil to replace "Italy"] and Germany (and Italy)--and don't think for a minute that they wouldn't have dominated it . . . And they'll try again in another generation if they can.
Goodnight, son. Have at em! As always, Pop. Keep busy. keep bucking.