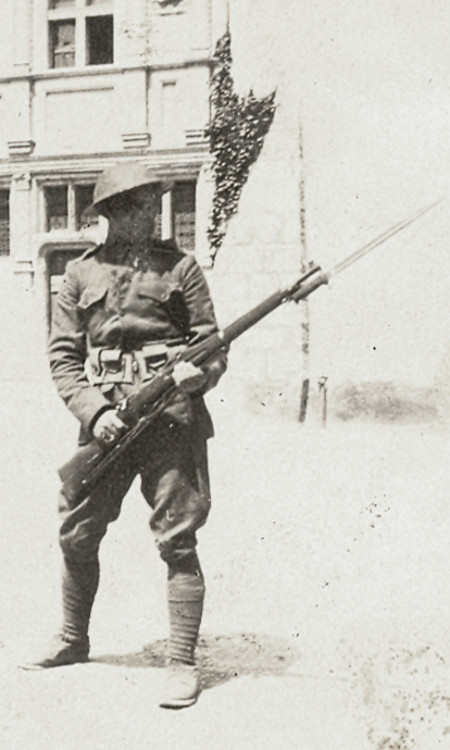 Description
Courtesy National Museum of American Jewish Military History
As a member of the 6th Regiment of the Marine Corps, Morris Kramer deployed to Europe earlier than most. In this letter to his father written soon after the Armistice, he happily reported coming out without a scratch from the last drive at Verdun. He hoped to be home before Christmas, but his letters continued through his service during the occupation of Germany.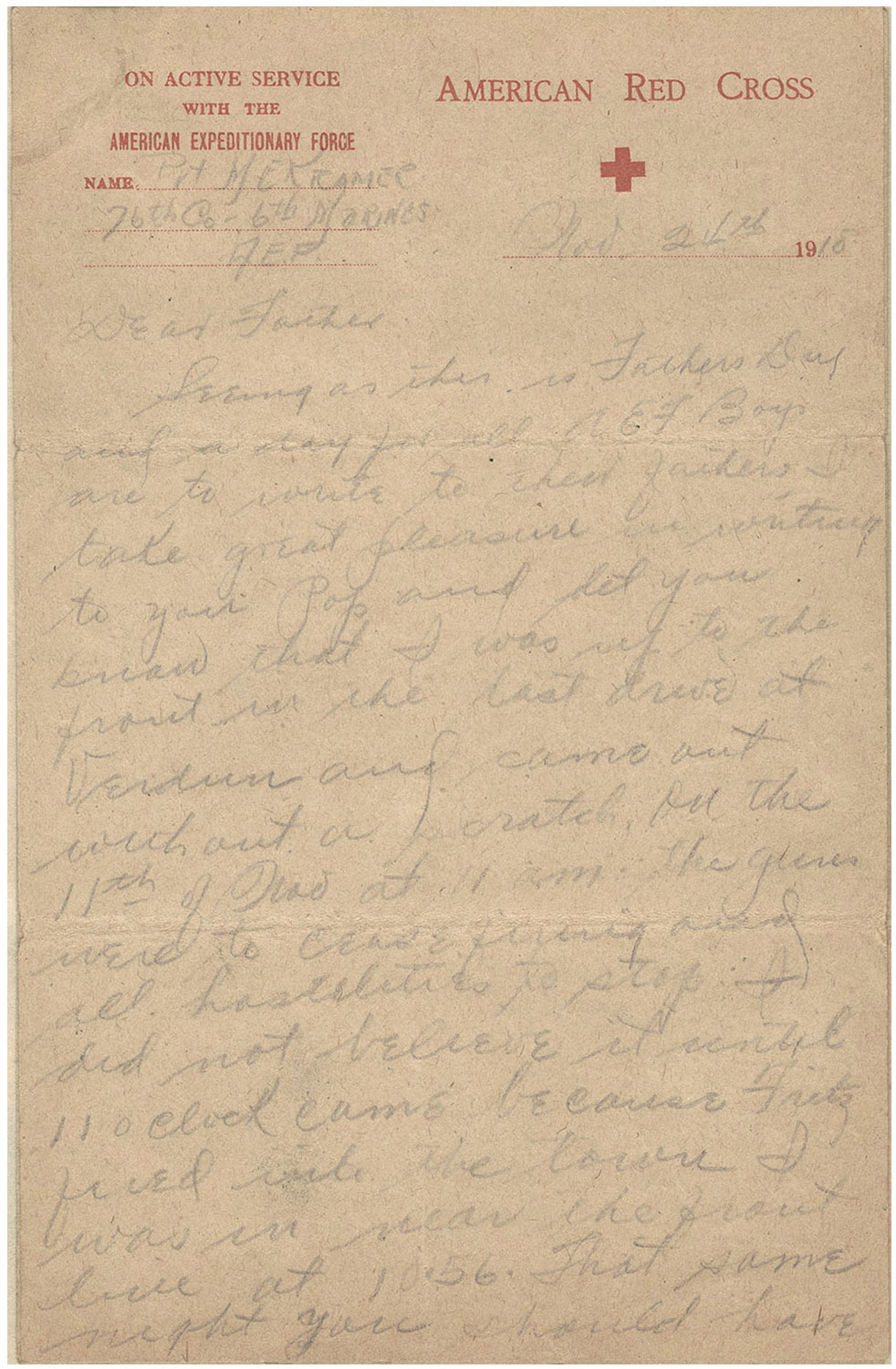 Transcription
M.E.Kramer 76th Co. 6th Marines A.E.F.
November 24th, 1918
Dear Father,
Seeing as this is Fathers Day and a day for all A.E.F. Boys to write to their fathers, I take great pleasure in writing to you Pop and let you know that I was up to the front in the last drive at Verdun and came out without a scratch. On the 11th of November at 11 A.M. the guns were to cease firing and all hostilities to stop. I did not believe it until 11 o'clock came, because Fritz fired into the town I was in near the front line at 10:56. That same night you should have been up to see the flares, machine guns, rifles and hand grenades going up – but not to kill, but just for the fun of it. And the most funny thing was to see fires made right where the front line is and men gathered all around it. You know dad, that the least bit of light was seen by Fritz and we were not allowed to smoke or make any light whatsoever not only at the front but many miles behind the lines – and here we had fires right where they could see it, and we saw their fires.
On the 14th, I went down to the "Sick Boy" to get a dose of salts. My stomach was out of order and when I told the doctor he said I would have to go to the hospital as we had a big long journey to make and he thought I would not be able to make it, so I left for the Hospital and now I am at a convalascent camp near Nevers. I am expecting to go back to dear old U.S.A. in a short time as men are being sent out most every day. I suppose that you have read in the papers that casuals are going home before the troops and I am one of the casuals. I have not heard from you for a good long long while and do not expect to get any mail but never mind – I am going home and that is what is on my mind at the present moment. I had some narrow escapes in the last attack but that is over and now I know that it is over and am happy.
It is fourteen months since I came to France and it seems like fourteen years.
[page break] "OH! POP!" I cannot believe that I am going home soon, because it is such a long time since I was there that it cannot form in my head that we are going back.
From here we go to St. Aignau where we get fitted out with new clothes and from there we go to Brest or Bordeaux where we take a ship to dear old U.S.A. I dream of it now every night and during the day I think of it. If luck is with me I may be back before Christmas. When I get home I am going to take a few weeks rest and I well deserve it after being in this Godforsaken land for so long a time. You know Pop, I came over among the first hundred thousand, and among the men here I am considered an old timer.
My love to you dad, and will tell you much more when I come home.
My love to Ma, Fan and the rest of the outfit.
Your oldest son, Morris E. Kramer