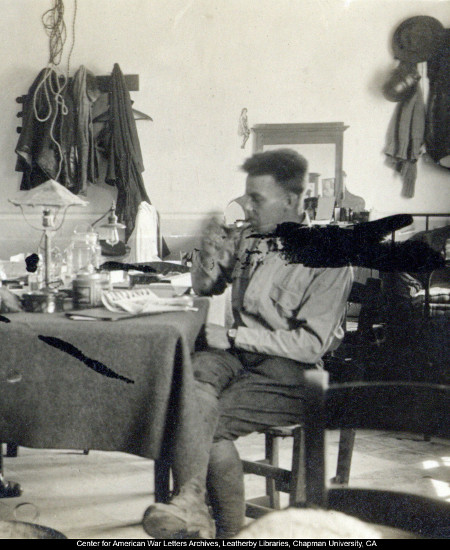 Description
Courtesy Center for American War Letters Archives, Leatherby Libraries, Chapman University, CA
As relative latecomers to the war, the US Army Air Service needed to learn combat flying. Strategies for this new technology evolved rapidly. The Americans received training from experienced British, French and Italian counterparts. Walter Boadway was ready to fly after months of practicing at an Italian airfield, but malaria sent him to the hospital. While there, he got to know Ernest Hemingway, the future Nobel Laureate for literature.
Transcription
Letter #112. Sunday 10-20-18
Dearest Sweetheart: I'm beginning to think that I'm a permanent boarder here. Every time I mention leaving they say, "Oh no! Wait 'till the weather's better." This morning when I awoke the sun was shining the first time it has happened this month. but it clouded over about 4 P. M. and tonight it's raining as usual. There's no use in my being in camp this weather and I'm 100% more comfortable here. So I'm content. They'll have to kick me out now.
I was very very wicked this afternoon and went to the horse-races. [page break] I felt quite conscience-stricken until I saw a goodly percentage of the Y.W.C.A. crowd there and then I felt better. They were jockey races and quite exciting. All the highest and mightiest in Milan were there and the whole scene reminded me more of what I've read of South America than of Italy. Being officers we walked in free as we do into many other places. It's very convenient in these days here to be in uniform, especially of a foreign nation.
I went out with a Red Cross lieut. named Hemingway, who comes from Oak Park – by the way – lives over on the same street "Katy" Wright did. He has been here in the hospital 4 months and [page break] has some time to go yet. He was out in the trenches one night when a trench mortar shell blew their cover away and left them exposed to machine gun fire. He got 247 [emphasis original] wounds from the mortar shell and machine guns. He has a couple of pounds of metal they have carved out of him. Luckily he got most of it in his legs and not in a vital spot.
I'm very, very tired and 'tis bitter cold so I'll write (damn it) [crossed-out "say"] good-night. Would that I could say it. Here's as ever and ever increasingly all my love,
Your Buddy.