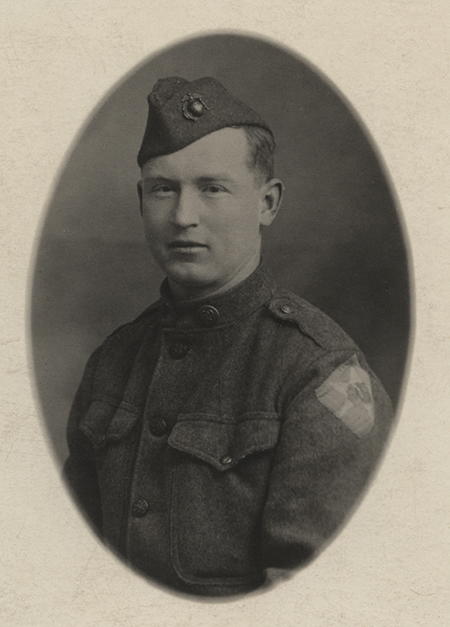 Description
Courtesy National World War I Museum and Memorial
"I am ready for this," wrote Private Dean Robertson during the early days of the Battle of Belleau Wood. Two Marine regiments with the 2nd Division fought together with French allies against the German army, which had been newly fortified with troops redeployed after Russia surrendered the Eastern Front. The battle lasted three weeks. The Americans suffered over 8,000 casualties but held the line just sixty miles from Paris.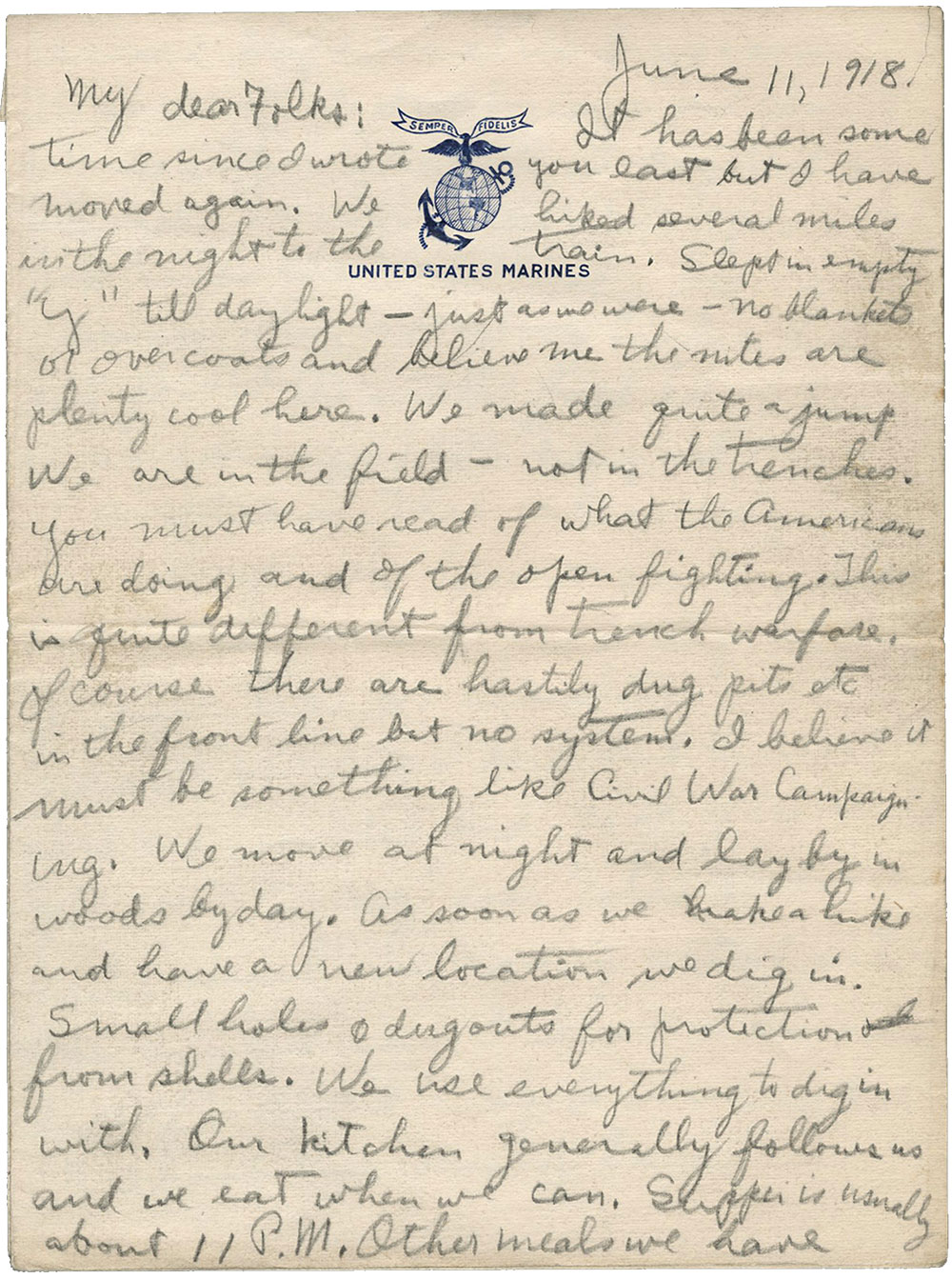 Transcription
June 11, 1918.
My dear Folks:
It has been some time since I wrote you last but I have moved again. We hiked several miles in the night to the train. Slept in empty "y" till daylight – just as we were – no blankets or overcoats and believe me the nites are plenty cool here. We made quite a jump We are in the field – not in the trenches. You must have read of what the Americans are doing and of the open fighting. This is quite different from trench warfare. Of course there are hastily dug pits etc. in the front line but no system. I believe it must be something like Civil War Campaigning. We move at night and lay by in woods by day. As soon as we make a hike and have a new location we dig in. Small holes & dugouts for protection from shells. We use everything to dig in with. Our kitchen generally follows us and we eat when we can. Supper is usually about 11 P.M. Other meals we have [page break] canned beef & French war bread & sugar. All we want. We sleep by day a few hours at a time. There were several days that we only got 2 or 3 hours sleep. Shell fire isn't bad unless there is a heavy barrage near you. Then everybody hunts a hole but for all the shells fired lots of them do no damage. We keep out of sight of airplanes. That is how they get the range. We haven't been over the top but I have been under fire in the front line. Of course there are casualties but the general percent is low and the most part are wounded and 90% of the wounded get well. So my dear Folks don't worry about me. I am now in actual position to do my bit and I believe I am coming thru this O.K. I may be wounded but I think I'm coming back. [page break] Nearly everyone is a fatalist here. It is hard to dodge a shell and when your time comes its going to get you. I am ready for this and haven't been afraid yet. I believe every man is frightened at first but he gets over it if he isn't a coward and they are few in the Marines. I am with old timers - a fine bunch. Sully & I are right together – sleep together etc. If you shouldn't hear from me for a while don't be alarmed. It is not always easy to write. Should anything happen to me the gov't will notify you.
I have turned in everything extra I had. I carry everything I own on my back. Half of our load consists of 3 days rations (emergency) and [page break] [Note: the top of the sheet has been cut off and was likely removed by a censor.] O.K. Letter following.