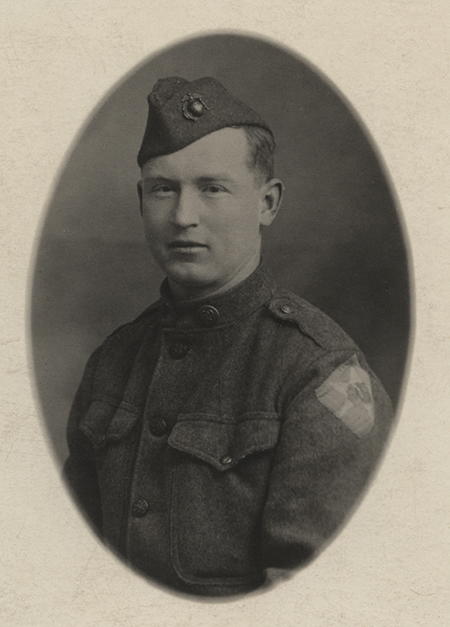 Description
Courtesy National World War I Museum and Memorial
Private Dean Robertson took part in the Battle for Belleau Wood. His letter testified to the exhaustion, thirst, and hunger that he and his fellow Marines suffered. Two Marine regiments with the 2nd Division fought together with French allies against the German army, which had been newly fortified with troops redeployed after Russia surrendered the Eastern Front. The battle lasted three weeks. The Americans suffered over 8,000 casualties but held the line just sixty miles from Paris.
Transcription
I can't write to many so I'll leave it to you to let all who are interested read this stuff.
June 21, 1918 I guess.
My dear Folks: The sun shines steady by jerks today – that is – out of the woods. We have drills & school in mornings and rest in P.M. The strain of being in the front line takes a lot of rest. Lots of the time you don't get any sleep and when you do get it its just 1 or 2 hours at a time. So to sleep all nite again is great. The Marines have done wonderful fighting here. They stopped the Huns & started to drive them back. They recaptured a town held by Germans – the 5th Prussian Guards who had never been beaten till now. However most of the credit is given to "Americans" not "the Marines". I joined this Co. while they were holding this town a strong point in the front line. Stayed there 2 days, then came back in woods in reserve a while. Then 2 days more in a front line, in a big woods. The Huns were on 3 sides & fired on us continually. It was 2 days of Hell. When people tell you [page break] what their boys went thru you can tell 'em that Little Willie went thru as heavy shelling and artillery fire as most any battle in this war. There were any number of miraculous escapes.
It was heavy woods – mostly 2nd growth. But every day it got more bare – limbs etc being shot away. Ground was filled with shell holes & dug outs. Dead bodies all around. All kinds of equipment – German & American scattered all over. You are lucky to eat. What you do eat is iron rations. Sometimes they can get grub & coffee up to you. Water was awful scarce. One canteen full in two days. I know what real thirst is.
I am wondering how you all are. Remember me to everybody. I am as ever Dean.
Pr. Dean Robertson 79th Co 6th Reg U. S. Marines A.E.F.
Censored by [signature] M. Kiradine 1st Lieut. U.S.M.C.