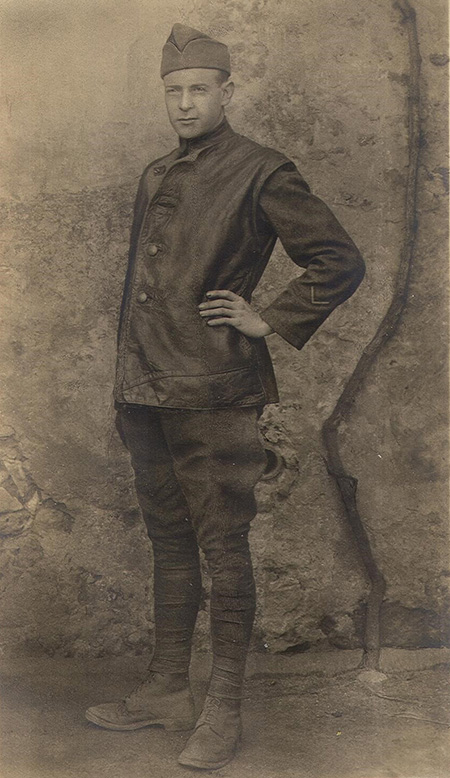 Description
Courtesy Stephen L. Harris
Private Raeburn Van Buren was a soldier, a cartoonist, and the art editor for Gas Attack, the official publication of the 27th Division. After thanking his mother for the magazines and news, he informed her that officers had recruited him to write a history of the division and to sketch the portraits of the officers. Van Buren emphasized how important it was for fit men to truly contribute to the war effort by serving some time fighting at the front.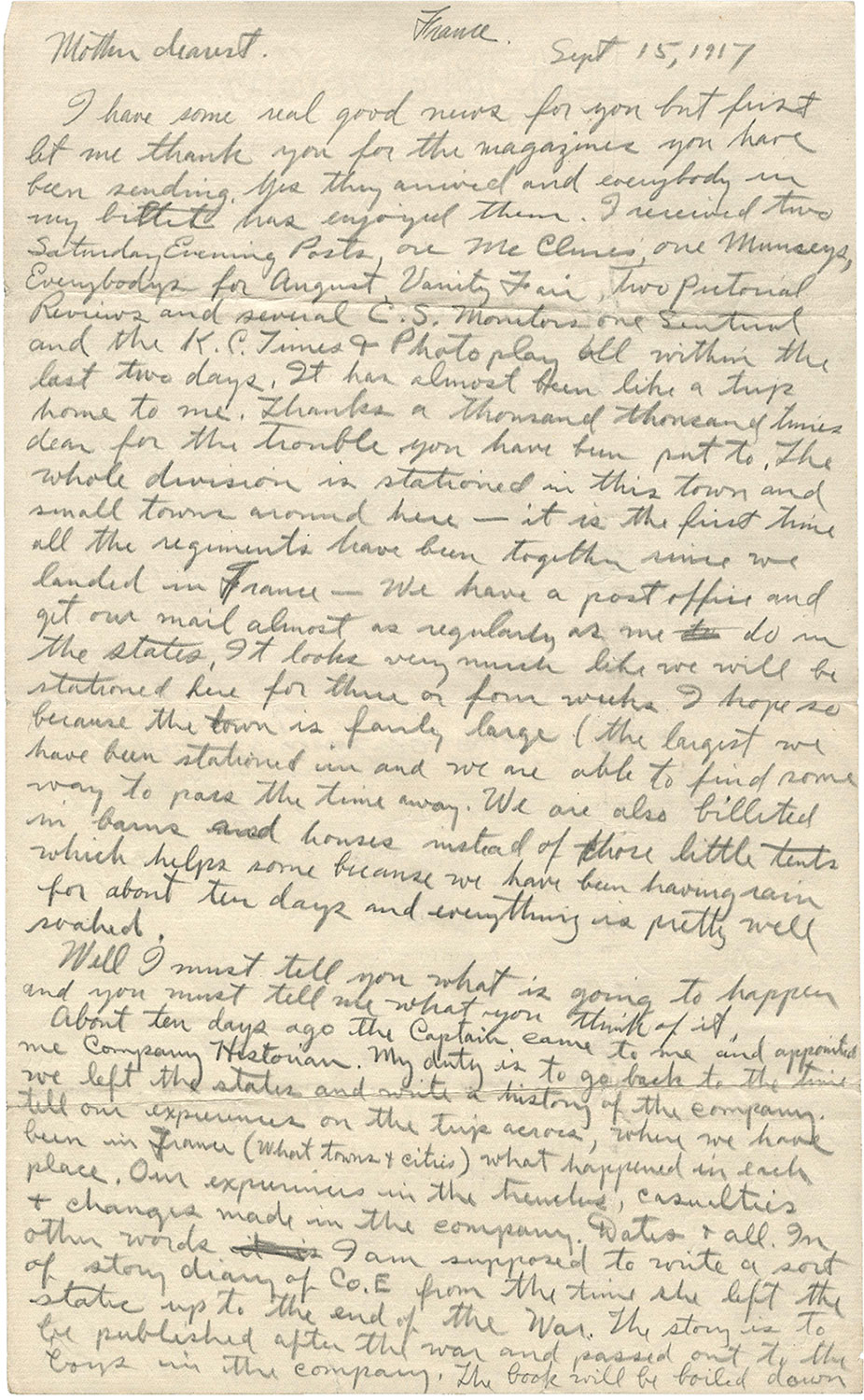 Transcription
France Sept 15, 1917 [Note, wrong year in original; date was 1918.*]
Mother dearest,
I have some real good news for you but first let me thank you for the magazines you have been sending. Yes they arrived and everybody in my billet has enjoyed them. I received two Saturday Evening Posts, one McClures, one Mimseys, Everybodys for August Vanity Fair, two Pictorial Reviews and several C. S. Monitors, one Sentinel and the K.C. Times + Photoplay all within the last two days. It has almost been like a trip home to me. Thanks a thousand thousand times dear for the trouble you have been put to. The whole division is stationed in this town and small towns around here - it is the first time all the regiments have been together since we landed in France - We have a post office and get our mail almost as regularly as we do in the states. It looks very much like we will be stationed here for three or four weeks. I hope so because the town is fairly large (the largest we have been stationed in and we are able to find some way to pass the time away. We are also billeted in barns and houses instead of those little tents which helps some because we have been having rain for about ten days and everything is pretty well soaked.
Well I must tell you what is going to happen and you must tell me what you think of it. About ten days ago the Captain came to me and appointed me Company Historian. My duty is to go back to the time we left the states and write a history of the company, tell our experience on the trip across, where we have been in France (what towns + cities) what happened in each place. Our experience in the trenches, casualties + changes made in the company. Dates + all. In other words [crossed out: 'it is'] I am supposed to write a sort of story diary of Co. E from the time we left the states up to the end of the War. The story is to be published after the war and passed out to the boys in the company. The book will be boiled down [new page] and used to make up part of the history of the regiment and the Regimental history will be boiled down and used to make up part of the Division history. The idea struck me as being a good one and I felt Flattered that the captain should pick me for the job. In scouting around the other day for dates etc., I came in contact with the Division Historian and had a long talk with him. He knew my work and said he wanted me for the big history He immediately went to the General [underlined twice in original] and now they have signed me up ad I am attached to division headquarters from now on until my work is finished. I am to make portrait sketches of all the high officers from the General down to the Majors in this division and war sketches at the front and back behind the lines. All my work will be reproduced in this History which will be a book that will last for ages.
I have tasted the dirt of war and wasn't afraid to start at the very bottom. You + my friends will never know what a hell this is no matter how long it lasts. I began at the bottom because I knew sometime I would find my place. At times I have been so miserable it was impossible for me to see anything worth while in life but those times didn't last long. I went into the trenches without the least bit of fear and come out untouched. I gave Fritz his chance and he let me go so now for a while I can take on this work and at the same time look the world in the face. I couldn't bare the thought of working on the Stars + Stripes without first doing a turn in the front line trenches. I loathe these "swivel chair" soldiers who are doing their fighting with a pencil in some comfortable little room in Paris or Washington while we fellows are out here running the risks of war and living in filthy places crawling with body lice + rats. There are some men of course who are doing their bit behind desks because they are unfit for active service and I take of my hat to them [new page] but there are others who should be out here and a great many are sporting officers uniforms. Yes as I said before I've been through the mill and can now take on one of the soft jobs without feeling one bit conscience stricken and I going to do it. The job came to me without the asking, cought me while I was in the very middle of the duties of a common soldier and impressed me like a remarkable C.S. demonstration. No more drilling, thank God, for a while at least, and a chance to get some art out of my system. I no doubt, will be permitted to go to Paris for drawing material and see an electric light once more, to say nothing of friends. I am still with the company - have an appointment at 6 tonight with the division historian and he will, no doubt, give me a good idea of the task I have before me.
I will have more to write about this new work in my next letter. Please read this over to Fern because I told her something about it in my last letter.
It is Sunday and most of the boys have spent the day boiling their clothes to kill off the "cooties" (body lice) We have all had a pretty fair crop this month. No joke!
Five of us had a peasant woman and her daughter prepare a nice dinner for us. It tasted mighty fine - boiled chicken, soup, potatoes string beans, coffee + cookies and the daughter who spoke [crossed out words] a little English entertained us with her pretty face. We ensisted that she occupy a place at the table and after several shrugs of the shoulder and no, no nos she consented and seemed to have the time of her life. Her father was killed in the war + her brother is at the fronts now. She is about the best looking girl I have seen in this town and has quite some class for small town stuff.
Love to you + dad Your Boy
Pvt. R. Van Buren Co.E 107 M.S. Inf. American E.F.
*Note: Private Raeburn Van Buren wrote the wrong year on this letter. His regiment did not arrive in France until 1918.