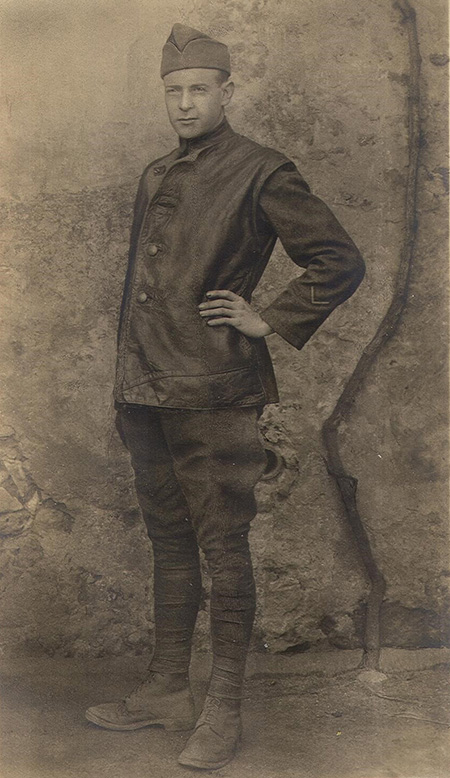 Description
Courtesy Stephen L. Harris
Private Raeburn Van Buren was a soldier, a cartoonist, and the art editor for Gas Attack, the official publication of the 27th Division. Taking life at the front in stride, Van Buren discussed the rainy season and reported on the frequency of mail delivery: "Sometimes letters are delayed a week or two but they arrive sooner or later."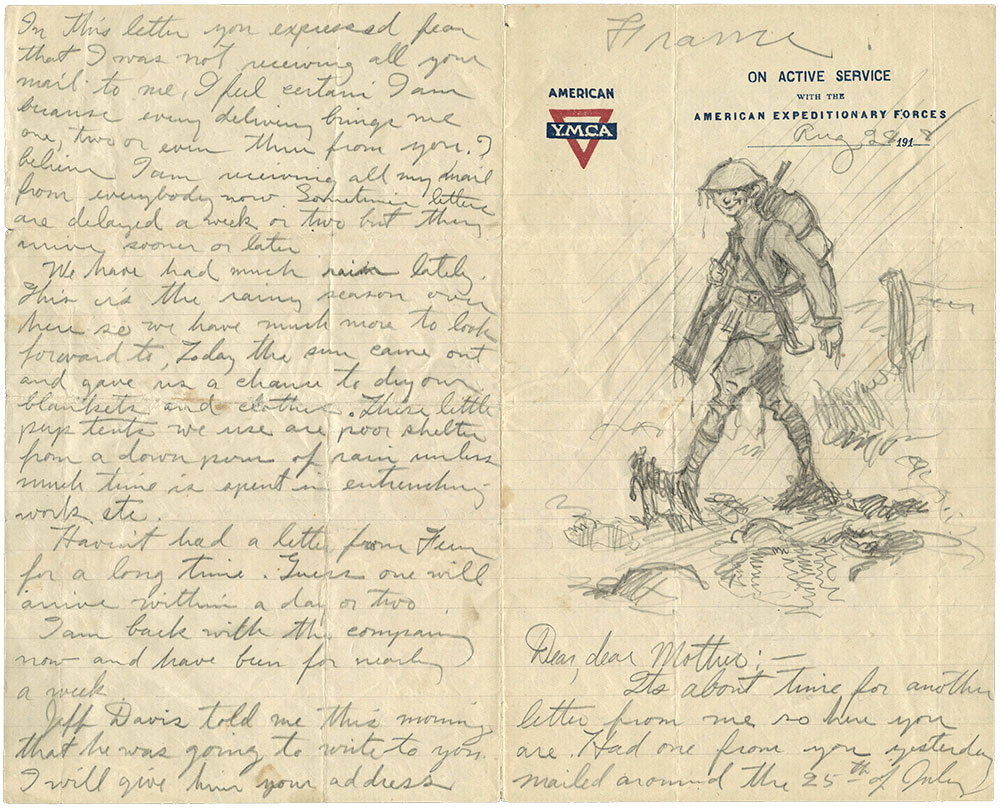 Transcription
France
Aug. 28, 1918
Dear dear Mother:--
It's about time for another letter from me, so here you are. Had one from you yesterday mailed around the 25th of July. [page break] In this letter you expressed fear that I was not receiving all your mail to me. I feel certain I am because every delivery brings me one, two or even three from you. I believe I am receiving all my mail from everybody now. Sometimes letters are delayed a week or two but they arrive sooner or later.
We have had much rain lately. This is the rainy season over here so we have much more to look forward to. Today the sun came out and gave us a chance to dry our blankets and clothes. These little pup tents we use are poor shelter from a downpour of rain unless much time is spent in entrenching works, etc.
Haven't had a letter from Fern for a long time. Guess one will arrive within a day or two. I am back with the company now and have been for nearly a week.
Jeff Davis told me this morning that he was going to write to you. I will give him your address [page break] and see if he means business. He often speaks of you and Vea – seems to enjoy hearing about you both. He said he had only written six letters since he hit France. No doubt he is troubled with the same bug most of us have. It is dreadfully hard to write over here. Jeff is surely a dandy chap. I like him better than anybody in the company. I believe I told you that he was made a seargent some time ago.
There isn't any news today worth telling. We are located in a beautiful piece of woods and are taking life pretty easy just now. How long we will be here is a question I can't answer.
The war news still looks very encouraging. I don't believe it will be long now before I will be getting measured up for an arrow collar and a [page break] pair of shoes that weigh less than ten pounds. We expect to go through the winter over here but by spring something like a passport should be issued us instead of more army equipment.
I am enclosing a picture clipped from the Gazette that might interest you. Looks like I posed for the thing but when the camera was snapped I was thinking of something else. Why they ran it is a mystery to me because it is rotten.
Haven't heard from Lt. Cushing nor Crumplen lately. Don't believe Crump received my last letter.
This is a punk letter but the only one I have in stock tonight.
Much love to you & dad, Aunt B & Andrea
Pt. R. L. Van Buren In other words, Ray Van
Co E. 107 M.S. Inf. American E.F.