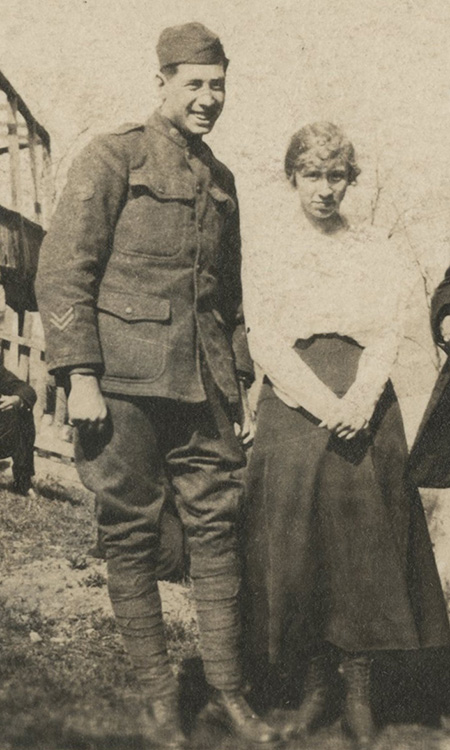 Description
Courtesy Larry Bodes
Army Cook Harry Stevanus' wife carefully copied this message. She wrote out the letter her husband had dictated to a French nurse. His left leg had been amputated above the knee. He suffered pain from extensive injuries to his arm. Most of his company had been killed, wounded, or taken prisoner in the Second Battle of the Marne. He did not want his family to worry, and his wife dutifully repeated his hopes to her mother-in-law.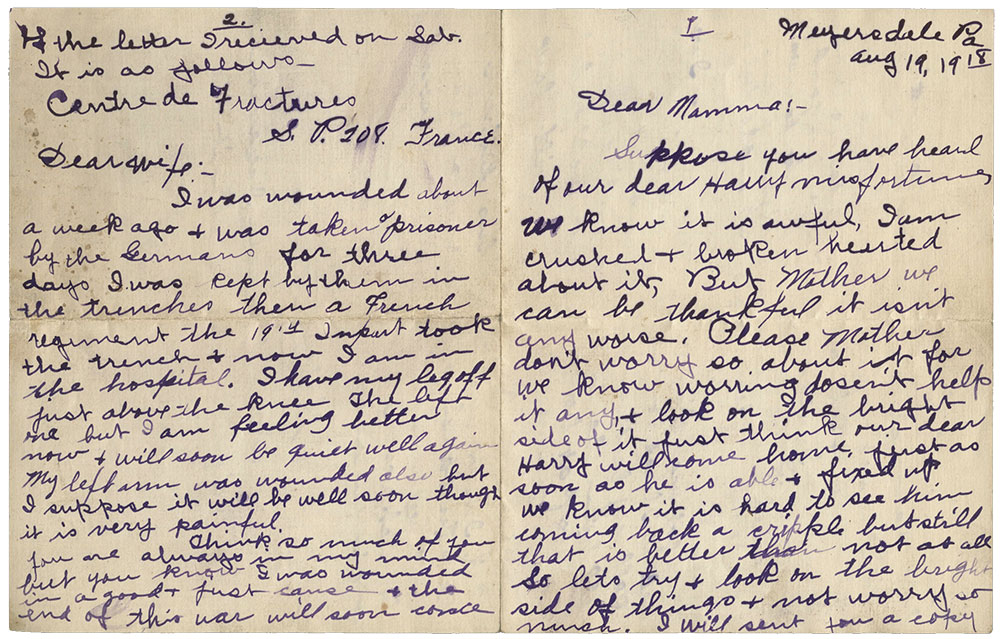 Transcription
Meyersdale Pa Aug 19, 1918
Dear Mamma:- Suppose you have heard of our dear Harry misfortunes We know it is awful, I am crushed + broken hearted about it, But Mother we can be thankful it isn't any worse. Please Mother don't worry so about it for we know worrying doesn't help it any, + look on the bright side of it first think our dear Harry will come home, first as soon as he is able + fixed up We know it is hard to see him coming back a cripple but still that is better than not at all So lets try + look on the bright side of things + not worry so much. I will sent you a copy [p. 2] of the letter I received on Sat.
It is as follows -
Centre de Fractures S.P. 108 France
Dear wife:-
I was wounded about a week ago + was taken a prisoner by the Germans for three days I was kept by them in the trenches then a French regiment the 19th Impart took the trench + now I am in the hospital. I have my leg off just above the knee The left one but I am feeling better now and will soon be quiet well again My left arm was wounded also but I suppose it will be well soon though it is very painful
Think so much of you You are always in my mind but you know I was wounded in a good + just cause + the end of this war will soon come
[p. 3] now Tell My dear Mother not to worry about me + I hope you will stay with her I am always thinking of you both Tell old dad not to worry, that I was wounded by the dutch + I know how dad he loved them!!! I will come home in good time - I think our whole company was smashed to bits even our officers on the Chateau Thierry front. I brought down 6 Germans with my gun but when they got me they took my revolver + I was sad as I loved it it was an old friend Tell my brother about me + not to worry tell him he is to be a good boy + tell the boys at home to work well for dad
Good by my dearest wife with love + best wishes
P.S. I have written this letter for your husband as he cant write he is getting along better now + I hope he will soon be quiet well I will write again soon and give you news
Sincerely [signature illegible] a French name I nor none of the rest can't make it out.