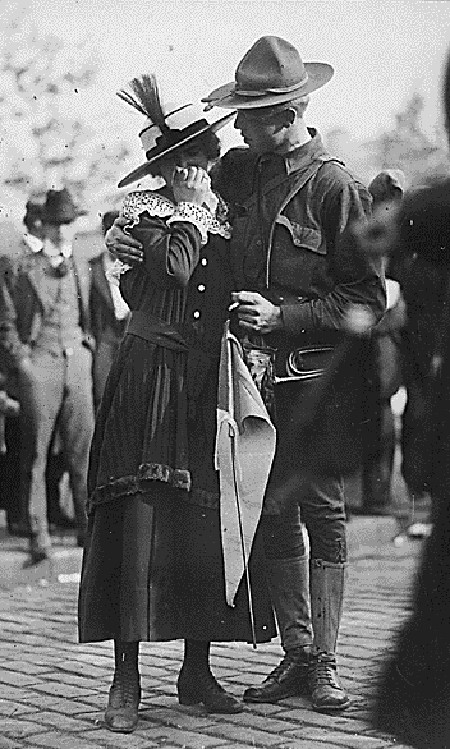 Description
Courtesy Andrew Huebner
High school graduation was coming up for Mae Dees when her husband headed for army training at Camp Wadsworth, South Carolina. In this letter, Dees recounted tales of parties, but promised that she was lonely without him. She described tearing up when she saw anything patriotic as it reminded her of him, and dismissed the "slackers" for avoiding service to their country. She praised her husband's conduct and looked to the future: "I know you will amount to any thing that you want."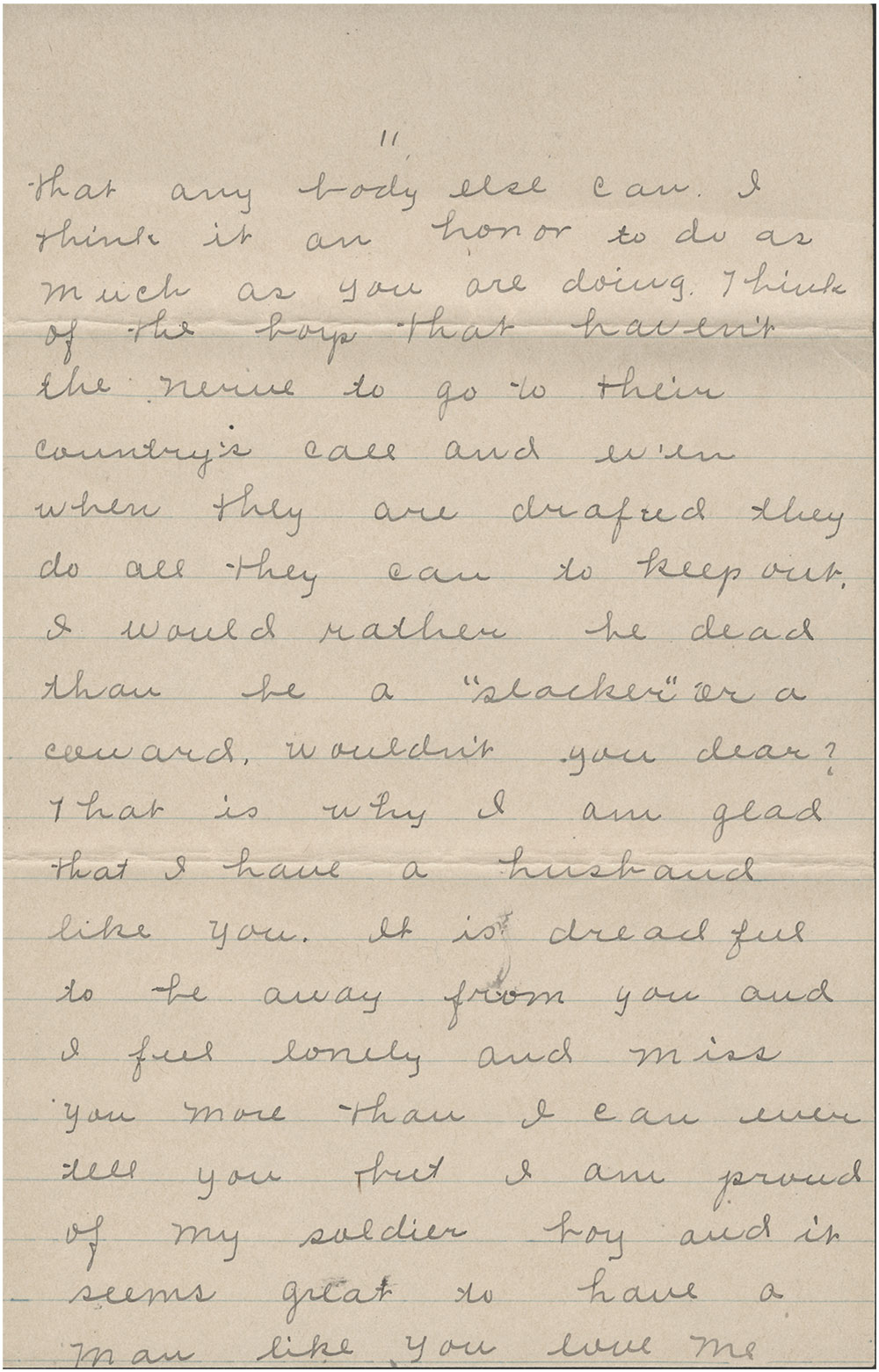 Transcription
Williamsville, Mo. Thursday May 9.
My dearest husband;
You can't begin to imagine how glad I was to get your letter this A.M. I was going to write you a letter anyway and tell you about my experience, last night. My! It's a wonder that I am able to sit up. You know when the seniors graduate they all want to be a member of the Alumni, and then we feel like we are real high school graduates. But mercy me! the initiation. We are not supposed to tell but its no use because Clara and two more of the Sophie [sophomore] girls and a lot of boys clim[b]ed up in some tall trees where they could see right into the auditorium and of course Prof in his excitement forgot to lower the windows and the shades and they could hear every word that was said and see us too but we were ignorant of the fact. We have always heard talk of the goat but believe me, we saw it last nite. We were in the hall and we heard something – a queer kind of a noise on the steps and when we looked two boys were bringing a real sure enough goat, with horns – up the stairs. You may not believe it but we all sure beat [?] it, I mean the girls. All the Seniors were ushered into the office and locked in. But we were not in a presence of mind to keep quiet. We were so much excited. Well we stayed in there a long time and finally all three of the H.S. teachers and the former graduates – the Alumnist came in and our hearts were in our mouth. Well the first thing we did was to take the pledge – which I have already forgotten it was so long – and we had to place our left hand on the good book they told us and afterward found it to be a dictionary. As soon as that was done we had to register and Prof told me to be sure and sign my name right. When that was over we were all lined up in a straight row and had the badge – which was a green onion pinned on us with a safety pin. Then they all went away and left us locked in and soon one girl and boy and Prof came back. The boy shuffled our names up in a box and drew one. It was Sleepy Estes and he was to be initiated first. Well the girl Myra Stokely put a blind fold on him and led him away, into the other room. We all peeped through the double windows and tried hard to see but the wings of the stage were in front of the doors to the next room and all we could see was the shadows of him as he went through his awful test and of course we could not tell much by that. While they were giving him his test we saw the boys pass the door and we motioned to them through the glass to come back and we told them if they would only take that goat away that we would get them any kind of drink or eat that they wanted as we managed to get them to go in when the door was not locked and lead him out, so we made so much noise while they were going out with him that Prof couldn't hear them walking. We all sang our song gave our yell and jumped around until we saw that miserable goat outside and safely out of Prof's reach.
When my time came to go in they all told me good by and promised me faithfully that if I was killed they would send my husband a telegram. I am still alive however though I went "over the top" had the "nerve test" the "physical examination," was "vaccinated" had the "questionnaire" and what else have I forgotten except the "right hand of fellowship" which was shaking hands with all my fellow men, blindfolded and the last one that gave me his hand had on a glove heavily soaked in molasses. Oh yes! I forgot the speech. Mr. Davidson told us what to say and first he told us to make a low bow and of course the result was a pan of ice cold water held in front of our face and of course we upset it all over us. I would tell you about each test only it would take too long and when I see you I can tell you that. I know I was awfully glad when we were all through and they took us down to Mrs. Creath's and believe me we were just as unmerciful on their pocketbooks as they had been on our patience and nerves. Well I suppose you are too busy to read any more about my Alumni so I'll tell you something else.
To night we are invited to Mr. Becker's to a party and we can take a special friend. I wish you was here to go with me. As you are not I have asked one of my girlfriends Mertie Sidwell. I have been up almost every night for two weeks and I am beginning to feel the effects of it too. But there isn't any prospect of me getting to go to bed for a week more. I mean not until 10 or 11 o'clock. I haven't had a lot of fun and I would not have gone out only it was my class and I had to do what the others did and be social you know. I was always so lonely though for you and when I see the other girls and boys having such a good time and all them together I can't hardly keep the tears for I want you then more than any time only at night then I want you so bad. I can't go to sleep for a long time. I just keep thinking of you and wondering if you miss me and if you are thinking of me. I wish I could lay my head on my dada's arm and then I wouldn't worry about anything. I would have some body to cheer me up. I guess you don't want to see me any worse than I do you. I am always wishing for you. I can't see anything patriotic any more without crying. It makes me think of you so much. This afternoon at school 8 little girls had a flag drill and marched to "Columbia" and then sang it and somehow it all seemed so sad and yet so sweet that it made me feel miserable. I was thinking of you and almost forgot to stand up when they played "The Stars Spangled Banner." I don't think there is any use for you to say that we will never amount to any thing Lige. Don't get that in your head. We are going to amount to a lot some day. It's up to us; we can be what we want to be and can do what we want to do. I think we can do any thing that any body else can. I think it an honor to do as much as you are doing. Think of the boys that haven't the nerve to go to their country's call and even when they are drafted they do all they can to keep out. I would rather be dead than be a "slacker" or a coward. Wouldn't you dear? That is why I am glad I have a husband like you. It is dreadful to be away from you and I feel lonely and miss you more than I can ever tell you but I am proud of my soldier boy and it seems great to have a man like you love me. I know you are doing your duty and Lige it makes me hate any body when they try to talk about giving up things and having to make so many sacrifices for the soldiers. I think people like that ought to be made go to the very front. So please darling don't say such a thing any more when you have already amounted to more than most of the cowards around here and I know you will amount to any thing that you want to and as for me I think I can do what any other woman can do. I feel like that about it. We must not quarrel though. We must make that our motto and then we will always be happy. We are never going to quarrel. Are we Lige? I will do my best to do as you said. I will try to keep from taking things to heart so much and I know I am awfully easy to get mad and I guess I have been a baby to pout but I am going to get out of that all if I can and try to do a lot better and not be so easy to take offense. I didn't know I was a baby until I have had so many knocks and have tried to get over it. All my best friends began to tell me that I was too easy to get mad and that I pouted and all that. At first it made me mad at them and then I began to consider the matter again and it [I] took it to heart and I thought that perhaps they were right since you told me the same things I have decided that I must be partly to blame and so I have decided to try to be different. I hope you will forgive me for worrying you so much. I really didn't know how bad it was to write you so much of my silly little troubles. I didn't think about your troubles. So I must not worry you anymore and I hope I can do something to make you happy. I know that when we get together for good that we will be happy and get along good. I won't ever let anybody come between us. But I guess you know that as papa tried it hard enough. And I hope you will not listen to their foolish talk if anybody does ever say anything about us. So dear please just think that we are o.k. and will always be good to each other and then we will be. It is all in the way we look at things.
How do you like your new situation by now? Tell me all about it. I hope it is a nice place and that you will have a fine time. I certainly hope that you can come home this summer and I wish I could go down there with you. You asked me how that would suit me. I would be tickled to death. Anything suits me if I could only be with you. It does seem awful don't it dada for us to be apart like this, when we are both young and could enjoy ourselves and have a lot of fun and pleasure like the other young people? But I guess it must all be for the best and I will try to be cheerful and not grumble for it won't do us any good as I suppose we must take what comes.
Are you getting tired of this letter? If you are I'll not write so much next time.
Grace was out here Tues and she said she was crazy to see you and that you must write to her. Her little baby is sweeter than ever, she can talk good now, and Grace had her fixed up so sweet.
I had a letter from Alice yesterday morning and she said that you had not written to her in so long that she was worried to death about you. I guess they are all like I was, they forget that you are busy and don't have time to write so much. I guess I am selfish though I want you to write to me often if you can't write to the others and I can tell them all about you. They are not as lonely as me for they have their husbands with them and their babies and I haven't anybody and I know they can't think as much of you as I do. I won't have very much to do when school is out so I can write you as often as you want me to. I will write just anytime I want to and if you don't have time to read all my letters you can tell me not to write so much ha!
School will be out tomorrow and I will be so glad. The seniors have to practice our farewell song and our chorus this evening and a drill and then the party. The teachers think we are made of iron I suppose.
Will was over last Friday night when we put our play on the stage. He told me that he was in Poplar Bluff and saw Bert Mitchell almost drunk and Bert told him that he ran away from the army and was not going back for 2 or 3 days. Wonder what he will get done to him? Old Walter Howell ran away once and when he went back and stayed awhile longer they gave him a discharge and he is about insane. That was why he got out I think.
I think you are tired of this letter so I guess I have written enough. So be good and write me a long loving letter soon.
By-by, with a lot of love, Your affectionate wife, Mae, xxxxx.