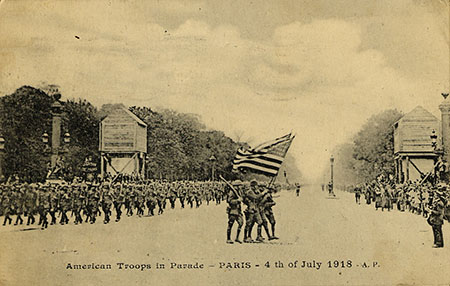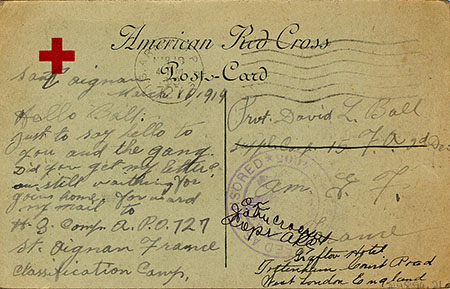 Transcription
[Address side]
[Message]
Sant Aignan March 16, 1919 Hello Ball – Just to say hello to you and the gang. Did you get my letter? am still waiting for going home. Forward my mail to H.Q. Co. A. P. O. 727 St. Aignan France Classification Camp.
[Postmark]
March 19 U.S. ARMY [illegible] 727
[Marks]
[illegible] PASSED AS CENSORED – [#]005 OK John Crosart Capt. ARC
[To]
Prvt. David L. Ball [crossed out: Supply Corp. 5 F.A. 2d Div. Am. E. F. France] Grafton Hotel Tottenham Court Road West London England
[Reverse side]
[Caption] American Troops in Parade – Paris – 4 th of July 1918 - A. P.