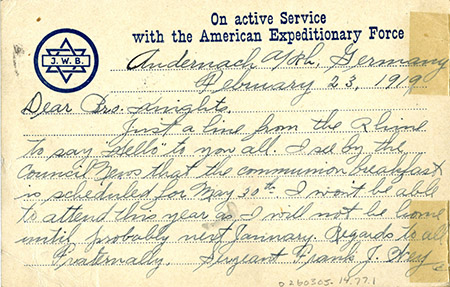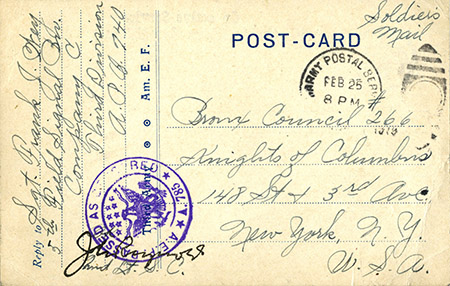 Transcription
[Address side]
[Frank]
Soldiers Mail
[Postmark]
ARMY POSTAL SERVICE FEB 25 1919 8 PM
[Marks]
A.E.F. PASSED AS CENSORED A. 785 [signed]
[To]
Bronx Council #266 Knights of Columbus 148 St & 3rd Ave. New York, N.Y. U.S.A.
[From]
Sgt. Frank J. Wey 5th Field Signal Bn. Company C Third Division A.P.O. 740
[Reverse side]
[Message]
Andernach A[m Rhine] Germany February 23, 1919 Dear Bro. Knights, Just a line from the Rhine to say "Hello" to you all. I see by the Council News that the communion breakfast is scheduled for May 30th. I won't be able to attend this year as I will not be home until probably next January. Regards to all Fraternally, Sergeant Frank J. Wey
[Caption]
On active Service with the American Expeditionary Force [logo] J. W. B.