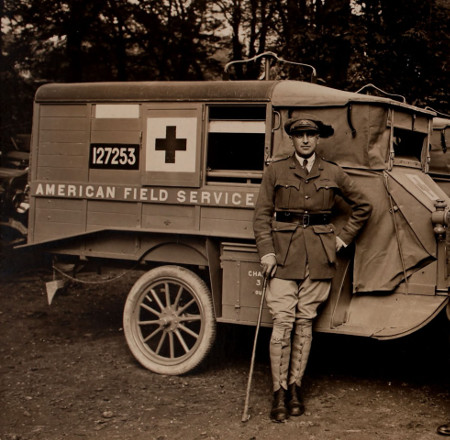 Description
Courtesy of the Archives of the American Field Service and AFS Intercultural Programs
A. Piatt Andrew traveled to France in December 1914 to volunteer for the American Hospital organized by expatriates. Later, he worked to create a separate ambulance service to help the wounded from the front. The American Field Service recruited American college students and eventually had 2,000 volunteers even before the United States declared war. Philanthropist Anne Vanderbilt visited in 1916 to meet with Andrew and the staff. Her support was instrumental—she donated funds, and helped expand the hospital and organize the nurse corps.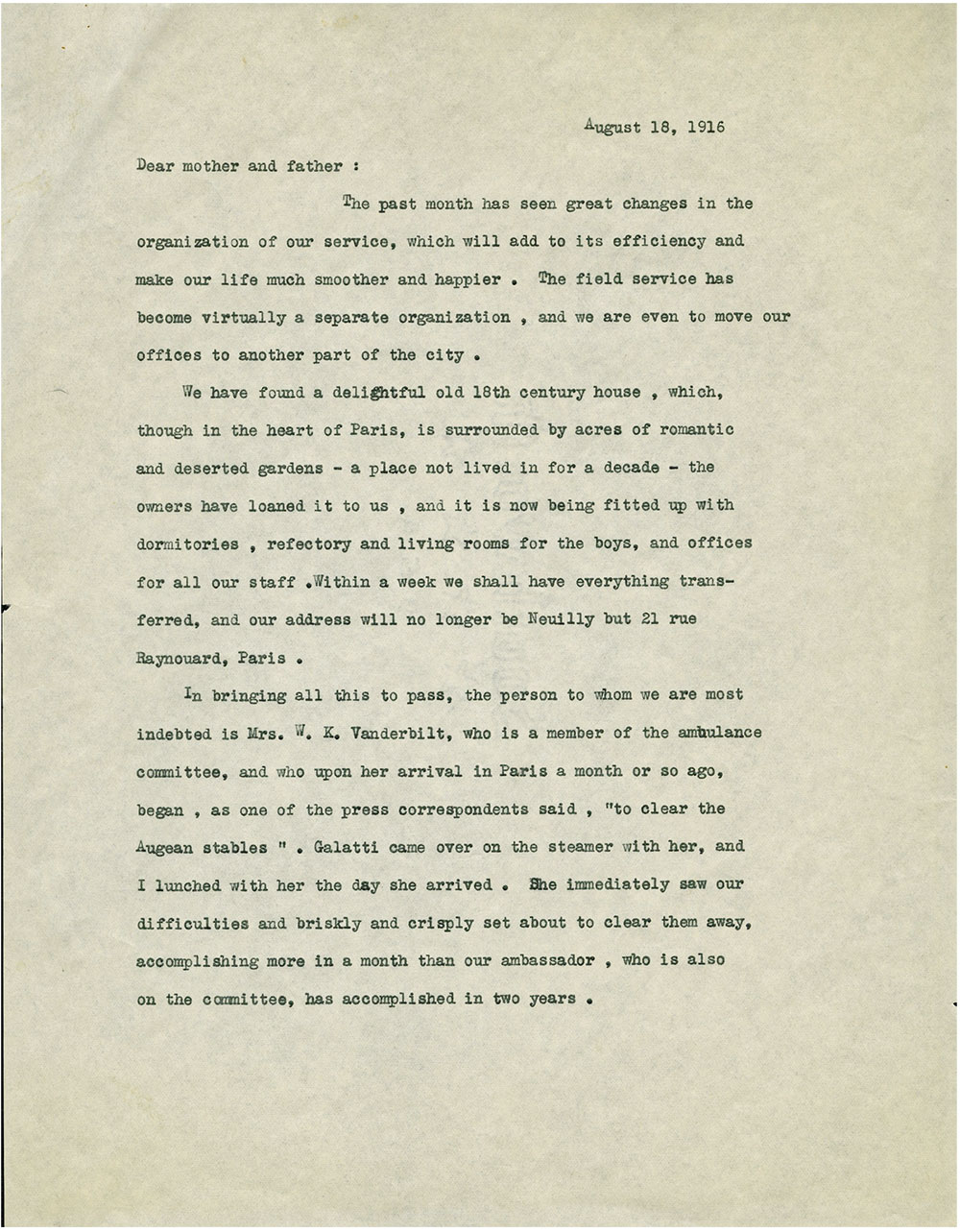 Transcription
August 18, 1916
Dear mother and father:
The past month has seen great changes in the organization of our service, which will add to its efficiency and make our life much smoother and happier. The field service has become virtually a separate organization, and we are even to move our offices to another part of the city.
We have found a delightful old 18th century house, which, though in the heart of Paris, is surrounded by acres of romantic and deserted gardens - a place not lived in for a decade – the owners have loaned it to us, and it is now being fitted up with dormitories, refectory and living rooms for the boys, and offices for all our staff. Within a week we shall have everything transferred, and our address will no longer be Neuilly but 21 rue Raynouard, Paris.
In bringing all this to pass, the person to whom we are most indebted is Mrs. W. K. Vanderbilt, who is a member of the ambulance committee, and who upon her arrival In Paris a month or so ago, began, as one of the press correspondents said, "to clear the Augean stables". Galatti came over on the steamer with her, and I lunched with her the day she arrived. She immediately saw our difficulties and briskly and crisply set about to clear them away, accomplishing more In a month than our ambassador, who is also on the committee, has accomplished in two years.
[p. 2]
Aug.18, 1916
Mrs. Vanderbilt is a wonderful personality. She has a man's intelligence and force and a woman's grace and charm, very frank, utterly genuine, distinguished in appearance, interested in everything, and what I particularly like, a fine individual perspective about the things in life that are worth while. She reminds me often of Mrs. Gardner and above all in this, that she never thinks twice of her physical comfort when it might interfere with an interesting experience.
I have felt very grateful to her for everything she has done for us, and one night I rented a cinema machine and ran off our pictures in her house after dinner, and last week I arranged to take her to the front with me on an inspection trip. We left fairly early on Saturday morning in my open motor, she and I and de Clermont-Tonnerre and the driver, and after an all day drive, arrived in the late afternoon in the surroundings of Dieulouard and Pont-a-Mousson, which were so familiar a year ago. The section that used to be there last year was transferred to Verdun in February at the beginning of the battle, but Section 3 – the old Vosges section, which has recently been sent there, is living in the same villa in Pont and running to the same posts. We arrived at Pont about six of a sunny afternoon, and were greeted by Charley Codman and the rest of the boys, whom a month ago I had seen haggard and unshaven at Nexuills near Verdun, now clean and well rested. They were naturally a little curious about Mrs. Vanderbilt - it being an almost unheard-of thing for a woman to visit the lines - but she was rather perturbed because everything seemed so tranquil and smiling. "I know," she said, "it will be
[p. 3]
Aug. 18, 1916
my luck never to hear a gun. But I shall never admit when I get back that I haven't." And though a little anxious myself on the same account, I assured her that if we did not hear them at Pont, I would guarantee to take her where she would hear them. We had just time before dinner to run up to the dressing stations - so we drove up through Montauville, past Clos Bois to Auberge St. Pierre, a ruined road house, the furthest point to which the ambulances of last year used to go. As we neared it, one of our batteries hidden in the bushes close to the road suddenly roared, and gave my companion a start, and a few minutes later we saw clouds of dust in a neighboring field as German shells arrived in return. At Auberge St. Pierre we visited the rooms where the wounded are brought in and the deep shell-proof shelters which have grown since last year, and walked a little way into one of the trenches leading to the front. When we got back to the villa and a happy dinner with the boys, Mrs. Vanderbilt felt, I think, satisfied with her glimpse of war. After dinner in the twilight, with several of the boys and Lieutenant Derode, the charming French officer in charge of the section, we strolled through Pont looking at the ruined houses - and then along the lovely slow-moving, shadow-reflecting Moselle - everything serene and silent except for the mitrailleuse which from time to time tap, tap, tapped, like woodpeckers up in the woods on the hill.
When we said "good night", Mrs. Vanderbilt was very grateful for what she described as "one of the most interesting" days of her lite. The town was utterly silent (but I thought it just as well to find in what room she was sleeping in case by any chance
[p. 4]
Aug. 18, 1916
something should occur during the night.) There are still electric lights in Pont, and I had one at the head of my bed and read myself to sleep as usual - a deep, tired sleep.
During the night I was suddenly awakened by a series of heavy crashes like claps of thunder, and then I heard the familiar whistle of shells overhead and more crashes, and more crashes, and gradually it dawned upon my drowsy consciousness that the city was being bombarded. Whir-r-r bang! Whir-r-r bang! Bang! Crash! Bang! Whirr-r-r, bang! They were coming in fast and falling very near. The light would not turn on, and I could not find a watch, but I pulled on a pair of socks, and in them and my pajamas felt my way into the hall. The boys downstairs were calling, "Doc, Doc, come down in the cellar." I called, "Mrs. Vanderbilt!" and got a quick reply, "Yes, yes." "Let's get down in the cellar." We reached a dimly lighted shelter where already twenty or thirty half dressed Americans and Frenchmen were gathered. Some had come in from the street or neighboring houses. Some were in pajamas, some had their shirts outside their trousers - no one was really dressed - and when I looked at Mrs. Vanderbilt, I laughed until she was almost annoyed. Her lovely white hair which usually forms a proud pompadour was in a light braid down her back. With all its contrasts, the scene was amusing and not to be soon forgotten. Bang – whir-r – bang – the bombardment went merrily on outside; and from the cellar door we saw clouds of red smoke mounting into the dark sky from houses that had caught fire in the vicinity. It all lasted about three-quarters of an hour
[p. 5]
Aug. 18, 1916
and then suddenly everything became silent. The Germans had had their revenge for a French aeroplane bombardment of Metz. They had ruined a few more houses in poor old Pont - but I doubt whether they have killed any of the people. Everybody knows enough now to run to the cellar as soon as the shells begin to arrive, so few are hurt by them. We had no calls for ambulances during the bombardment.
Next morning we breakfasted with the boys bright and early and had much laughter in recounting the experiences of the night - and before leaving Pont we crossed the river (one has still to cross the bridge separately, because the Germans can see you from the neighboring hill and might take pot shots at a group) and we visited the old ruined cemetery on the hillside - with its gaping graves and shattered tombstones - the cemetery where Mignot, our orderly of a year ago, is buried.
Then once more on the road - and on and on - this time following fairly close to the lines around St. Mihiel and up toward Verdun, running much of the time along roads protected from the German view by screens of burlap on evergreen branches. At Campigny we got out and visited the ruins of President Poincare's summer villa. The Germans have shelled it day after day for no particular reason except childish "Schadenfreude", but everything was silent about the place while we were there. The house is on the slope of a sunny hill, and we picked an armful of roses from the President's deserted gardens. In the neighboring village, not a single soul remains - everything silent, serene and like a dream.
[p. 6]
Aug. 18, 1916
Once more on the road - we passed a troop of several hundred German prisoners - many of them mere boys. I snapped a group or two in my camera as they passed - and they grinned as I did so. I think that they were glad to be out of the war – poor driven cattle that they are.
During the day we visited four of our sections in the neighborhood of Verdun – had lunch with Section 2 in their barn at Les Montharions – spent an hour or so with Section 8 in an open field at Dugny, had dinner with Section 4 in their tent at Ippecourt and saw Section 1 in a wooded camp at Triancourt. Incidentally, too, we drove through the ruins of Verdun itself. (Very few buildings have escaped and many are in complete ruin, but the city is not "flat on the ground", like Ypres or Nieuport.) After such a long day, we were glad to climb into comfortable beds in the Hotel Mere Dieu at Chalons sur Marne.
It was a day well spent, and Mrs. Vanderbilt's interest and sympathy must have cheered the men a great deal.
On Monday, we were off again for Rheims and Paris – another day of sunshine and good luck. I had been in Rheims a few weeks before but had not been in the cathedral since sixteen or seventeen years ago when in my student days I once spent an Easter there and, climbing the belfry, helped to ring the bells on Easter morning. We met a priest in the street and he took us through the wonderful old structure. I was happy to find it still so much intact. The marvelous old thirteenth century glass is mostly gone; some of the stone window traceries are shattered and there are a few holes in the walls and roof, but the cathedral is so vast that these effects of bombardment
[p. 7]
Aug. 18, 1916
seem only incidental. With the windows gone, the cathedral has become infested with pigeons and the great aisles roar with the sound of their many wings.
We found the Hotel Lion d'Or which faces the cathedral had been reopened, and sitting at the open windows, through which we could look out at the majestic facade, we had our lunch in a room whose walls and partitions bear many scars of shells and bullets. We all felt that the vast cathedral had never been as beautiful as it is today. It still stands majestic and invincible. Many of its old carvings and statues are mutilated beyond possibility of repair. Its front is charred from fire - but the cathedral in its immensity still stands - and like the face of a beautiful woman who has passed through suffering, it has a beauty today which it never had before. As Mrs. Vanderbilt said, it is only right that the great agony that France is passing through today should leave its traces upon a building so closely associated with the history of France during the past six hundred years, and that the memories of 1914 and 1916 should thus be commemorated along with the souvenirs of Jeanne d'Arc and the wars of France in the centuries that have gone before.
I was happy to have been able to arrange these wonderful days for Mrs. Vanderbilt, as she has given us such full-hearted sympathy and has worked so hard to help us achieve our independence.
We are moving away from the hospital altogether and forever. I shall get a little apartment near by and move from Neuilly next week when my lease expires.
With much love,
A.P.A.