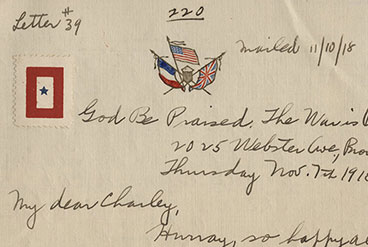 The letters and postcards presented in this exhibition provide a view into America's role in World War I as recorded through the unique lens of personal correspondence written by military service members, social welfare workers, and their loved ones back home. Letters contain the stories of these men and women in their own words.
Censorship rules and social expectations influenced what and how people wrote. With few other forms of communication readily available at the time, letters were a lifeline for maintaining relationships, hope, and morale at home and in the trenches.
This program includes transcripts for all of the letters and postcards presented in the exhibition. Original spelling and punctuation usage are retained in the transcripts in order to more fully present the writer's style and wording. Due to the frequency of non-standard language and grammar, the notation "[sic]" has not been inserted. Notations in brackets indicate editorial additions to enhance clarity and understanding without changing the intent of the original letter.