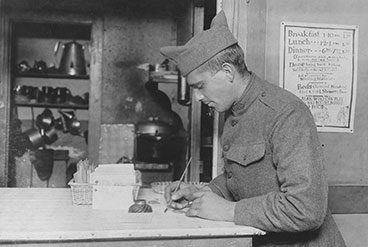 Browse the World War I Topical Reference Page to discover resources related to World War I on the museum's website. »
Read articles on World War I topics published on the museum's blog. »
Connect to the US World War I Centennial Commission for information on the history of the war, centennial programs, and events across the United States.
Publications that Include Letters in this Exhibition
Carroll, Andrew. Behind the Lines: Powerful and Revealing American and Foreign War Letters—and One Man's Search to Find Them. New York: Scribner, 2005.
Includes a translation of the March 4, 1919 condolence letter from Madame J. Armand to Mrs. Saunders upon the death of her son Corporal Carl Saunders.
Carroll, Andrew. War Letters: Extraordinary Correspondence from American Wars. New York: Scribner, 2001.
Includes transcriptions of two items in this exhibition: Ship's Cook Third Class Hugh Alexander Leslie's letter to his parents, dated June 16, 1918, describes the sinking of the USS President Lincoln; and, Dwight Fee's letter to his son Private William Fee, dated October 1, 1944, has a World War I veteran's perspective on duty and service.
Cart, Doran L. With My Knees and a Gas Mask as a Table: American Letters and Diary Entries from World War I, 1917-1919. Kansas City, MO: Liberty Memorial Association, 1998.
Includes letters from US Marine Corps Private Dean Robertson to his family during the Battle of Belleau Wood.
Harris, Stephen L. Duty, Honor, Privilege: New York City's Silk Stocking Regiment and the Breaking of the Hindenburg Line. Washington, DC: Potomac Books Inc., 2016.
Includes excerpts of letters written by Private Raeburn Van Buren, who was the art editor for the 27th Division's publication Gas Attack. Digital copies of Gas Attack are available through the New York State Military Museum and Veterans Research Center:
https://dmna.ny.gov/historic/reghist/wwi/infantry/27thInfDiv/Gas_Attack
Kessler, Verne and Estella. A First-Class Fighting Man - The Struggles of a WWI Christian Conscientious Objector as Told Through Letters and Diary Entries. Marion, IN: Blessed Read Editions, 2013.
Includes letters by Maurice Hess and other conscientious objectors.
Stimson, Julia Catherine. Finding Themselves; The Letters of an American Army Chief Nurse in a British Hospital in France. New York: The Macmillan Company, 1918.
Includes letters from Julia Stimson to her family between May 1917 and 1918. The book was published in September 1918 with a forward by her father Henry A. Stimson that explained: "Though writing with no thought of publication, as the war lengthens out, these letters have become of especial value as the record of first impressions and experiences which for those concerned were startlingly new."
Thornton, Marilyn. Letters from Edgar's Trunk. Washington, DC: Politics and Prose Opus Books, 2016.
Includes letters from Private James Edgar Thornton, his wife Sarah, their five-year-old son Charles Edgar, their thirteen-year-old niece Clarine Payne, and many family members as they sustain their love and lives throughout the war.
Postal and Philatelic References on World War I
Center for Military History. United States Army in the World War, 1917-1919. Volume 16: General Orders, GHQ, AED. Washington, DC: Center of Military History, US Army, 1992.
Includes orders about wartime postal service and mail censorship.
Ingerick, Wallace L. Account of Personal Experiences in the U.S. Postal Agency in France. United States : s.n., 1938.
A memoir by a Post Office Department clerk who was sent to France to work the mail for the AEF.
Townsend, A. C. "The World War Mail." Third American Philatelic Congress. 1937: 81-84.
An article by Captain A. C. Townsend who worked at the Military Post Office port of embarkation at Hoboken, New Jersey.
United States Post Office Department. Annual Report of the Postmaster General for the Fiscal Year Ended June 30, 1918. Washington, DC: United States Government Printing Office, 1919.
Annual Report for 1918 describes mail service for the first year of the AEF. See also the annual reports for 1914-1917 and 1919 for US Post Office Department activities during the war.
United States Post Office Department. Daily Bulletin of Orders Affecting the Postal Service. Washington, DC: Post Office Department.
See issues with postal service updates regarding the war from 1914 through March 19, 1918.
United States Post Office Department. The Postal Bulletin. Washington, DC: Post Master General.
See issues with postal service updates regarding the war starting on March 20, 1918.
Van Dam, Theo, Editor. The Postal History of the AEF, 1917-1923: A Handbook Compiled by the World War I AEF Study Group of the War Cover Club. 2nd Edition. Fishkill, NY: Published for the War Cover Club by Printer's Stone, 1990.